Why should a student choose your institution?
This needs to be the bread and butter of your higher education marketing strategy. We're here to invite you behind the curtain to see what's what in content marketing for universities and other third-level institutions.
The ceaseless transition within the employment market exerts more pressure on universities. To keep up with new demands in the labour market; consistently deliver a quality workforce and attract students whose expectations are higher than ever before.
So now let's debunk the myths surrounding high education enrolment marketing.
As you know, filling up classrooms with bright-eyed students and achieving enrolment goals is not a walk in the park. There's no doubting that the unique landscape of higher education marketing is challenging to navigate successfully.
Here are the misconceptions you should watch out for before
drafting out your next enrolment strategy.
1. More leads = more students in classrooms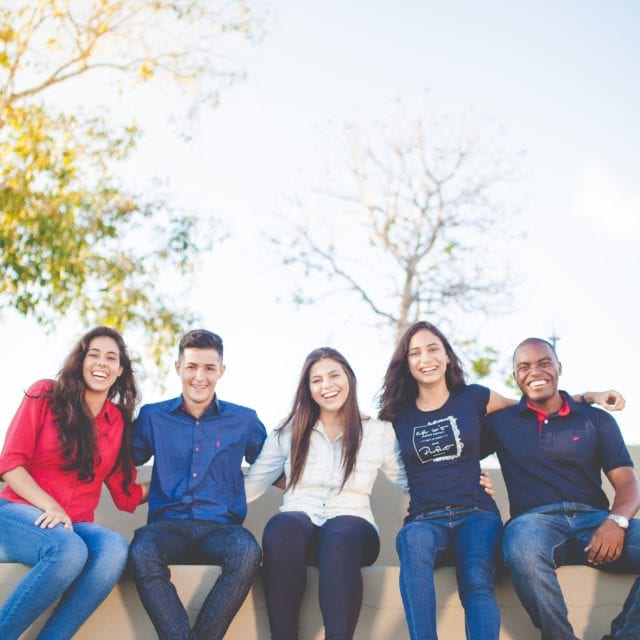 Filling courses with students require more than prospective and generic email campaigns. To begin with, you capture leads and employ a handful of competent salespeople to achieve covetable conversion rates.
The higher education industry is seriously competitive. One that actually has quite a few barriers to convert leads into customers. Attaining high-quality leads is a blend of data and creativity that these university marketing campaigns are acing.
Universities face the challenge of producing promising leads.
Many universities have high enrolment standards and it's not that easy to get
in as a student. Young people need to make sure their grades are at an
excellent level, that they have good recommendations, and above average grades,
whether it's the Leaving Cert or A-Levels.
So don't get too excited if your marketing efforts have brought
10,000 applications to your school (OK – a little bit of cheering won't hurt). At the end of the day, many of them won't pass
your institute's entry requirements and another portion will have their sights
set on another university altogether.
That initial 10,000 lead figure becomes much more sobering when
only a small percentage meet the enrolment criteria.
Overall, it's essential to streamline your marketing efforts by targeting only the most relevant audiences on the most prevalent platforms.
2. Uni sites only exist for course info and listing campus events
Your university's website is usually the first touch point on
a prospect's journey to becoming a student.
Attending fairs and hosting campus tour days are great but
ultimately most people will turn to your website for more information. Your site
works best at funnelling leads when it's packed with valuable info.
Also, a delightful user experience will set you apart from your competitors; university websites tend to have a reputation for being clunky and bland. Nothing frustrates Gen Zers more than a dated website that's as old as they are.
With skilful design and an innovative content strategy, your website can become your strongest marketing tool.
Let's check out the University of Surrey and how they portray what some deem to be a sleepy suburb.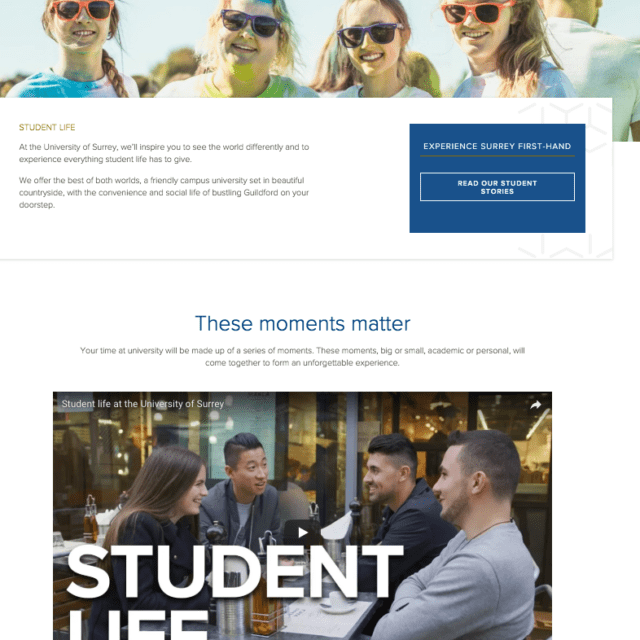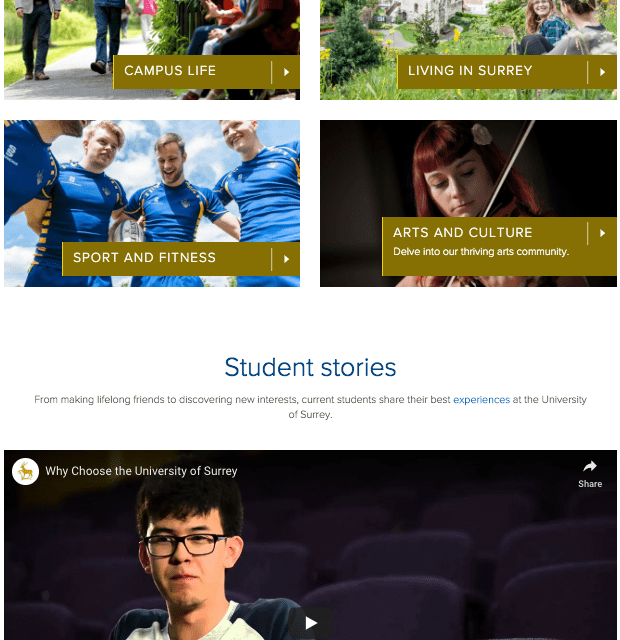 The prospective student immediately interacts with a
light-hearted clip that gives honest, unscripted views of Surrey from the students'
perspective. You can then pop in to see what Leo and Alice have to say about
their experience.
Finally, to round off this solid display of inbound marketing, they've created a quiz for students to find out their undergrad "type". This is a lead generation tool and proves that if you provide valuable, engaging content on your site, it'll pay off in building those crucial mailing lists!
Make sure to invest some effort in optimising your pages for search engines. Next time somebody types in their browser "best business postgrad in Ireland" you would want to see your school's name hitting the top spots of the results page.
Alongside this, another good practice in higher education marketing is to take hold of those SEO rankings. Apart from figuring out what your audience wants to read, it also means getting creative with on-page content that engages potential students.
It's also essential to get technical, making sure your pages download in a flash and that these pages are also optimised for the Google crawlers. As a result, your school will gain organic visibility.
3. Our main selling point will send students in their droves to our centre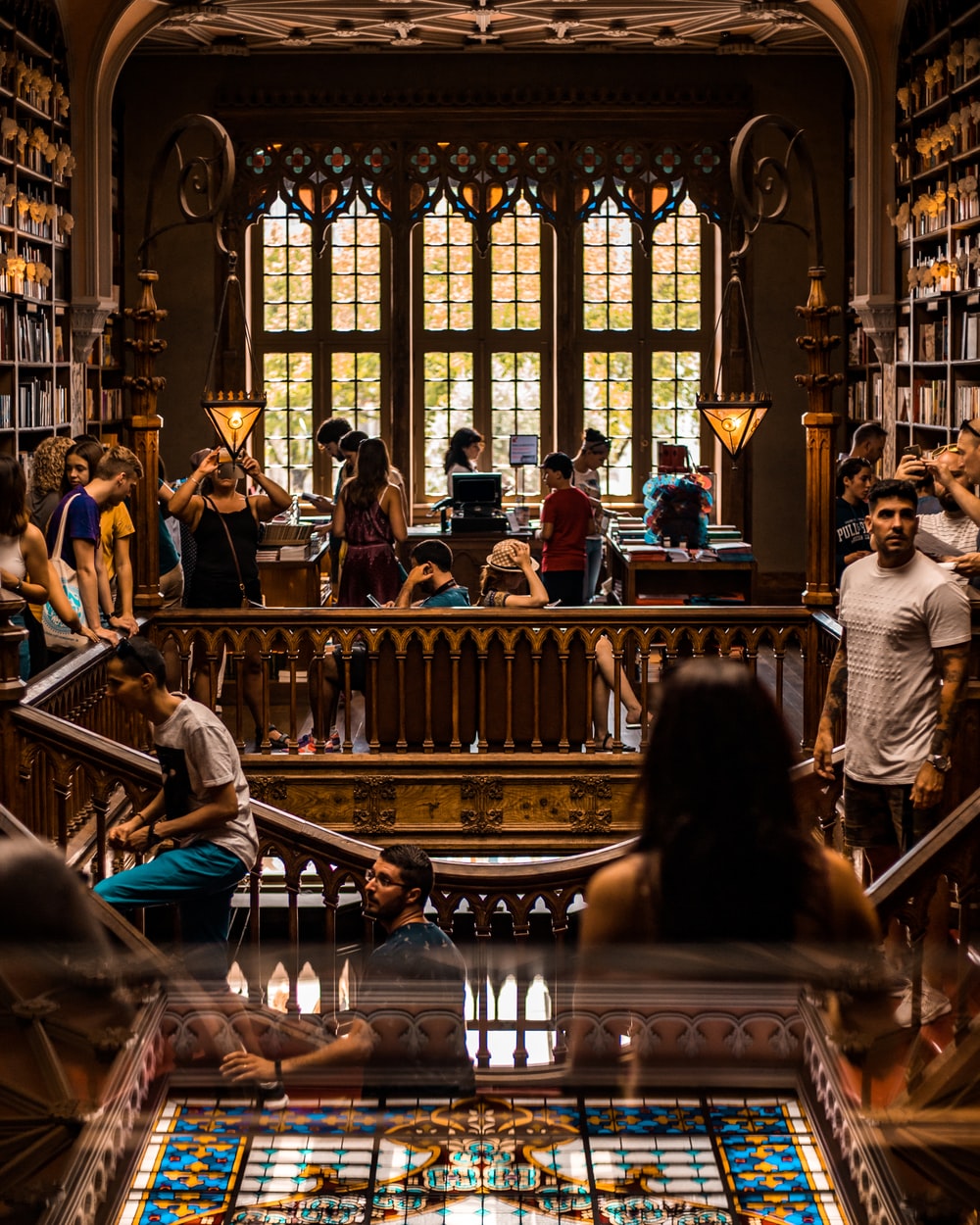 Accolades and prestige are great – but a college or university marketing campaigns need to be holistic. Strike a balance between reputation and vibrant content that brings your campus to life.
A great way to tick all the boxes in your content marketing campaign is to split students' criteria for choosing a university into three sections:
Internal;
External; and
Ambassadors.
Firstly, with internal, we're talking about the courses on offer, graduates' prospects and industry accreditations. In other words, s howcase everything that your institute can offer a prospective student.
Above all, you need to show how your university works in tandem with other organisations to produce a course that will enable students to fulfil their career goals. Revealing that your route is the most direct way to get qualified in a given field is a major bonus. In other words, those wanting to follow a specific, qualified career path will find your brand incredibly enticing.
Also, dive into what goes on in campus life. A great way to achieve this is by amplifying your range of clubs and societies. For instance, a single page mentioning their existence isn't going to entice prospective students to put you at the top of their application list.
Bring your campus to life with interactive online campus
tours, as well as videos and blogs that show how downtime at your university is
more exciting, more communal and more diverse than anything they'll come across
in the search for their future campus.
And back to those external factors, you've got to look at your location and find the hidden gems surrounding you. As a rule, don't forget to emphasise the array of alluring spaces and activities on your university's doorstep. Whether it's the chic coffee culture, endless events, killer music scene or epic adventure activities, it's time to market your university by panning the focus around to other elements outside the lecture halls.
Of course, your city's cost of living (if favourable), night scene and overall vibe are other tools to consider as essential to your marketing toolkit. To sum up, your location is part and parcel of your higher education marketing package that attracts future students.
Likewise, it's crucial to get creative with how you relate this content to students. In this case, think student guides, interviews from current students or alumni, even interactive content like quizzes. The ulitmate aim here is to stand out not blend into the academic wallpaper.
For ambassadors, think current and past students whose opinions and feedback are so important. For example, i nterviewing a past student who has gone on to achieve great things after their experience at your university inspires others to follow in their path.
Next, it's time to consider capturing the buzz of your university and amplifying it digitally, is what it essentially boils down to. Namely, this requires the university's marketing team not only to utilize but also implement social media, email campaigns, landing pages and blogs.
When marketing for universities, it's great if you can connect to the core of what a student needs and wants out of their degree. Compared to focusing solely on your awards of excellence which will leave your strategy fixated on the university, this place the focus on the people that you're trying to recruit.
For that reason, d on't lose the opportunity to connect with what a uni student wants out of their years as a third-level student. You're offering more than a few contact hours and a framed piece of paper at the end of it.
Awaken the dream that your university provides!
Branding needs to be locked down with a style guide, so
every post, tweet and email reflects the absolute best image of your institute.
In reality, higher education marketing is much like marketing any other consumer product or service. And remember, inbound marketing is king. Providing your leads with engaging, data-led content is going to work in your favour to make sure that students are enticed by what your university has on offer and are confident that choosing you is the best decision for them.