Whether you're an aged veteran of social media marketing who started in the early days (circa 2006) or if you're just starting out, you'll know how difficult it can be to navigate through this ever-changing landscape.
Every couple of weeks there's a hot new platform that'll soar and die, or new updates and formats that you have to try.
Much to your horror, you might jump on a trend only to find that the marketing plan you carefully put together a month ago is already 'so July 2018'.
Yikes.
2018 has been especially difficult for marketers as every month seems to bring a new disruption to the industry. Social media has gone through a complete transformation because of privacy issues and tech advances.
Let's take a look at the five biggest factors changing social media and how you can prepare your brand for the future.
1. New technology
Social media has become one big playground for its users – and brands really need to get creative and think outside of the box if they wish to grab customers' attention. Luckily, myriad new tech is here to showcase your brand's creative side.
Facebook, Instagram and Snapchat are true pioneers in experimenting with new tech for commercial purposes.
Augmented reality for social media ads is already a thing and it's one of the most immersive formats out there. AR may well be the future of social ads as Facebook and Snapchat have invested a lot of time and money in developing the tech.
Snapchat has been the most creative platform of all as it was first to offer AR experiences to its users.
Snap Ads allow brands to create unique and fun ads in the form of lenses, filters and vertical videos. Advertising on Snapchat is a great way to drive engagement and reach younger audiences who are usually less responsive on other platforms.
With the creative use of filters, AR and lenses, Snapchat actively engages users to deliver the advertisers' message interactively.
Check out this example of how artist Jeff Koons used Snap lenses to turn the whole world into his art gallery:
AR lets you create captivating content that is bound to stand out on a busy newsfeed – and that's key to survival in 2018 and beyond.
2. New targeting challenges
A month and a half has passed since GDPR took effect and there's no sign of the forewarned apocalypse. Let's face it, GDPR is great! (Caveat: for smart marketers. )
Sure, your customer database lost some of its body but the ones who stayed are meant for you likely interested in your wares. Working with a smaller database gives you a better picture of what your customers want and how you need to communicate with them.
However, GDPR did do some damage on social media by taking away some of the most valuable resources marketers had. Facebook's targeting options were some of the most advanced in the digital world and it allowed brands to approach their customers on a very personal level.
(Potentially too personal when you consider that brands advertising in America had access to data on everything from renew dates for insurance to average online spending.)
GDPR (and Cambridge Analytica) killed these options by axe-murdering partner categories (detailed targeting based on consumer behaviour, income, education and more) and limiting custom audience visibility (you can't see potential reach or how many Facebook users match with your database anymore).
This affects brands' marketing strategies by limiting targeting options, especially for brands that heavily relied on custom audiences. So how can you overcome this obstacle?
Well...you can't.
GDPR is here to stay and to protect consumers from potential privacy invasion so create great offers, convert your customers, and wow them with your email marketing.
Now all you have to worry about is the FBI watching you lip sync for your life to the newest episode of Drag Race through your webcam.
(Just us?)
To deal with GDPR and lesser targeting options, you should shift your strategy from consumer data-led to being content oriented.
Ask yourself: what does my ideal customer want to see? What do they want to read? What kind of message would delight them?
If you take this customer-centric approach, you'll notice that the leads coming in will be of higher quality and that the overall perception of your brand will improve.
3. Generation Z
Gen Z were born after 2000. They're the kids who grew up with iPads in their hands and who think laundry detergent pods are an acceptable snack.
However, they also represent a growing group of consumers who will sooner or later become your target audience. Naturally, their social media habits are different to their forefathers – and social platforms will inevitably change to suit how they use them.
So why is Gen Z causing such a stir?
For one, Gen Z's consume content differently. Gen Z have a short attention span; they crave exciting content and they have a low tolerance for unwanted content.
Let's take a look at a real life example: Red Bull. Red Bull is a shining example of how marketing is more than just mindlessly pushing ads out – and how good content is a brand's BFF.
Red Bull produces shows, creates amazing videos, and sponsors events to promote its brand without flooding users' feed with ads that scream, "BUY OUR PRODUCT. BUY IT NOOOOOOOOOW".
The clip is from Red Bull's YouTube – and it's exactly the kind of video that Gen Z would enjoy, engage with, follow and love.
Maybe these youngsters aren't your audience yet, but they are growing up fast so you'll need to know the best way to approach them.
4. Influencers
Gen Z brings us to another phenomenon on social media that keeps growing without any intention of stopping – social media influencers.
If utilised well, influencer marketing on social can be a serious win for your brand. Influencers have a faithful following, a personal connection with people, and are present on almost every platform. Instagram is a real goldmine for influencers and it's no surprise that 92 percent of marketers will connect with influencers this year, or make the effort to start an influencer marketing campaign.
And it's not all a case of emperor's new clothes, as Google's stats on YouTube influencers and how they affect consumer behaviour are seriously impressive: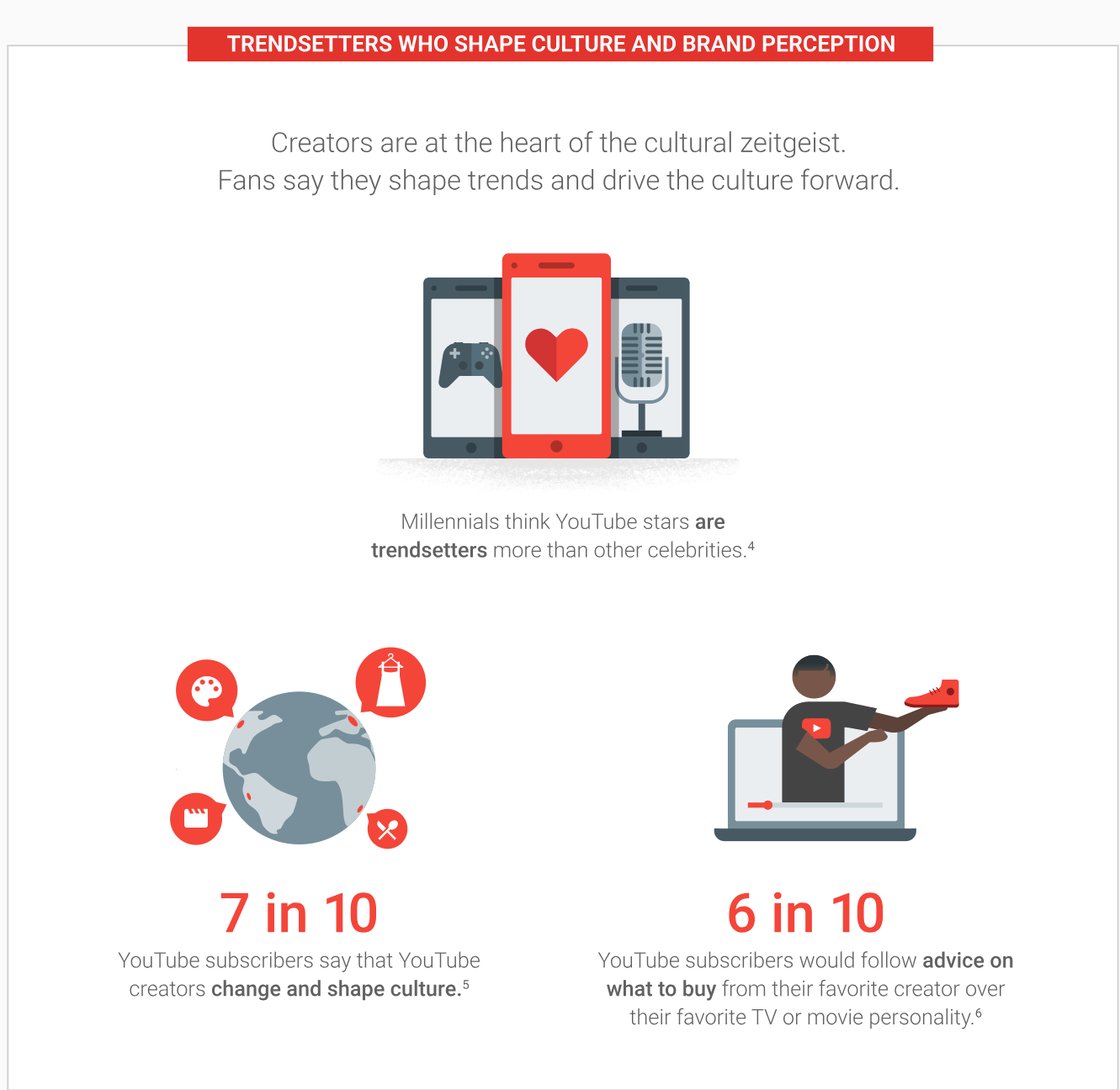 Influencer marketing is appealing to consumers because it's a form of content that isn't aggressively sales-focused, and it's communicated on a personal level by a person consumers trust and admire. This type of marketing is especially useful if you want to market to younger audiences like Gen Z.
5. Messaging apps
Facebook Messenger, WhatsApp, Instagram DM, Snapchat DM, Kik, WeChat… These are just some of the most popular messaging apps out there and they are completely changing the way people communicate on social media.
We used to share messages on our friend's wall for everyone to see (remember Bebo's very public wall and love-giving system?) but this type of social media communication is almost dead. People are focusing more on private communication between their closest friends and family.
Likewise, brands are seeing a decrease in shares on their content because dark social has taken over, with friends either tagging each other on posts or sharing them 'darkly' on their messenger service of choice.
Messaging apps are popular for their ease-of-use and inherent creativity, with users sharing videos, gifs and links in a matter of seconds.
Creative possibilities, growing popularity and the large number of monthly active users means that marketers need to focus on messaging apps as a viable platform in and of itself.
Just take a look at these stats: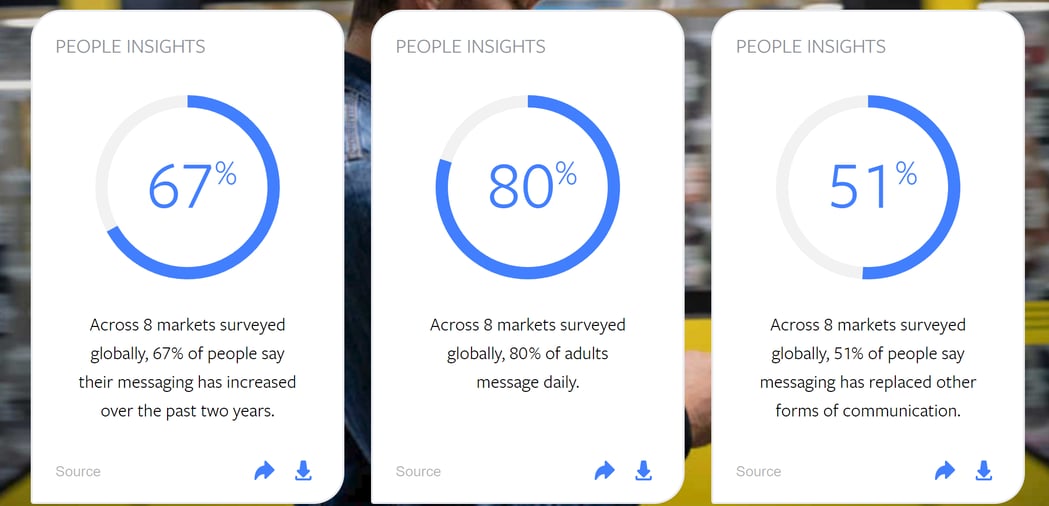 Using messaging apps as part of your business means that your customers will be able to reach you quickly and easily through platforms that they are very familiar with. This will improve customer experience and make your brand more customer centric.
Ultimately, change is good for business and even if an update seems to be consumer-focused, it likely comes with an opportunity for smart brands.
Don't be afraid to test new features and follow new trends. It'll set you apart from your competitors and it'll keep your customers interested in your content – and that's the main thing, really.
Do you need a guide through the exciting world of social media?
At 256, our team of experts can help you create a knock-out social media strategy and content. Get in touch to find out more about our services.