What is all this talk of 'Buyer Personas' and why are they so important for your brand?
A persona is a true-to-life narrative of your consumer which reveals juicy insights, buyer motivations and pain-points which are used to inform all aspects of a brand's strategy. In a nutshell, a buyer persona is the secret sauce to any brand's success.
Creating a persona is like getting to know your customer like they were your next door neighbour. Your customer suddenly becomes more than just an ABC1 segment or a marketing objective.
They become a real-life person who feels guilty for eating doughnuts and who secretly knows all the words to Frozen's 'Let it Go'.
However, when you want to get to know someone inside out, it can difficult to ask the right questions and get a relevant picture. Luckily, Hubspot have created a 'Make my Persona' tool, which is a bit like The Sims for marketers. There are few brands out there which know more about building personas than Hubspot, (although we may come close!) and this brilliant tool will help you map out a template of your persona, step by step.
Make an Alliteration Annie
First, you get to name your persona, and you get to have lots of fun with alliteration. You can choose Trendy Trish, Make-shift Mary, even poor Workaholic Wayne. It seems to be an unspoken understanding that your persona will be given an adjective which best 'personifies' them, and which matches the first letter of their name.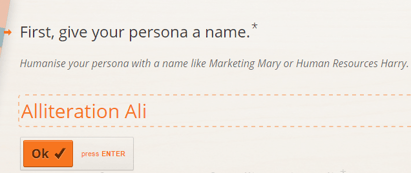 Then, put a face to the name
Then you can go through some endearing stock photos and put a face to your persona. (At this point you may feel a small but poignant bond begin to grow!)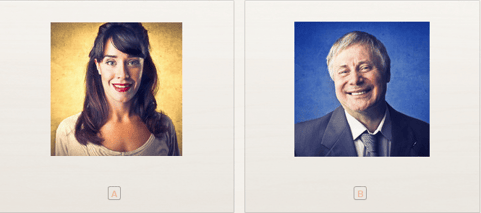 Lastly, you colour in their personality
Now you have to colour them in, and this is the hard part. Where does your persona work and what do they do in their spare time? A nice feature from this tool is that if you can't answer a question, you don't have to start over again; Hubspot prompts you to continue on your merry persona journey at a later stage.

Our two cents
What the Hubspot Persona tool offers is a structure on which to hang your insights. It gets the ball rolling and gives you and opens your mind to how a customer could need your brand.
One thing which the tool does not address is the amount of unique insights which are needed to inform a brand's user's persona. Every industry and certainly every brand is different (because how else would they charm their personas?)so there is definitely room for encouraging users to think about the unique traits their own persona would have.
Does your persona put their make up on in the car every morning and do they have a cheat-meal day on a Sunday? Your personality map is made up of small but crucial behavioural insights into your customer's daily life and it colours the approach you take to all aspects of your strategy. This process involves observational/behavioural research, and it will produce different results for every brand.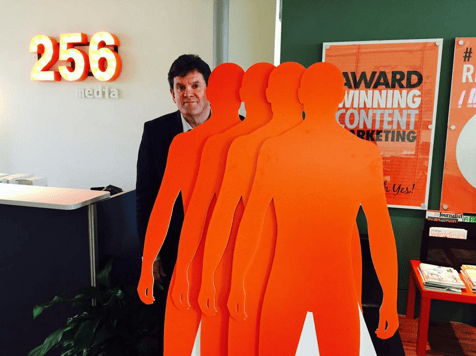 Here at 256 Media, we're experts at persona building, (Have you not seen our orange 256 men floating around Dublin?) We guide brands through this crucial process from the initial naming phase, to pinning down those insights and using these to create a sharp content plan.