In the 1989 spiritual baseball film, Field of Dreams, the lead character hears a voice while walking through his cornfield. The spectral voice says, "If you build it, he will come."
He builds the baseball diamond in his field and Shoeless Joe Jackson, a long dead baseball player, appears to play catch.
It seems mad – but it spawned a line that's since become infamous in business settings, though with a small tweak: "If you build it, they will come."
If you work in content (or marketing in general), you'll have heard it too.
But, unfortunately, it's not actually true.
For years, digital was built on creating content of a certain length, mentioning a keyword a certain number of times per paragraph and posting a certain number of times in a week. And for a time, it worked a treat.
In recent years, however, search engines have upgraded their algorithms for relevancy and quality.
This means companies have had to change too, by focusing their efforts on creating great, relevant content to keep their customers happy. But this has led to a content overload.
To put the content overload into perspective, it's estimated that close to six billion Facebook posts are liked each day. Six billion, and that's just Facebook! No matter how great your content is, you're fighting against huge amounts of noise.
Unless your latest piece features these kids ruining their Dad's live interview on the BBC, (which broke the internet recently and still has us in stitches), you won't see huge traffic right away.
https://www.youtube.com/watch?v=m3ktsl6_Rpg
While good content does build traffic over time, six months is generally a good window to see your traffic build.
This can lead to many businesses, and marketers, letting their inbound marketing slip, which is a bad idea in today's digital market.
With so much competition, paid content/promotion gives you the opportunity to get ahead of your competitors – but only if you're smart about it.
What are the benefits of paid promotion?
Once you have created your stellar content for your market, you need to decide which platform(s) you want to promote it on, from Facebook and Instagram to LinkedIn and Google Adwords.
Keep your target market in mind for this; there is no point spending money on LinkedIn if you're selling to teenagers who have yet to discover the world of adulthood and employment. You are more likely to find them on Facebook as there are 9.8 million Facebook users aged 13-17.
HubSpot have just released this handy demographic infographic of social media platorms.
There are huge benefits to using paid for social: increased engagement, traffic, and leads. As an agency, we work most extensively with Facebook ads. Facebook has the best CPM (cost per thousand) as shown in the graph below from Moz, and there is an average of 89 percent reach to your intended audience compared to 38 percent of other online advertising.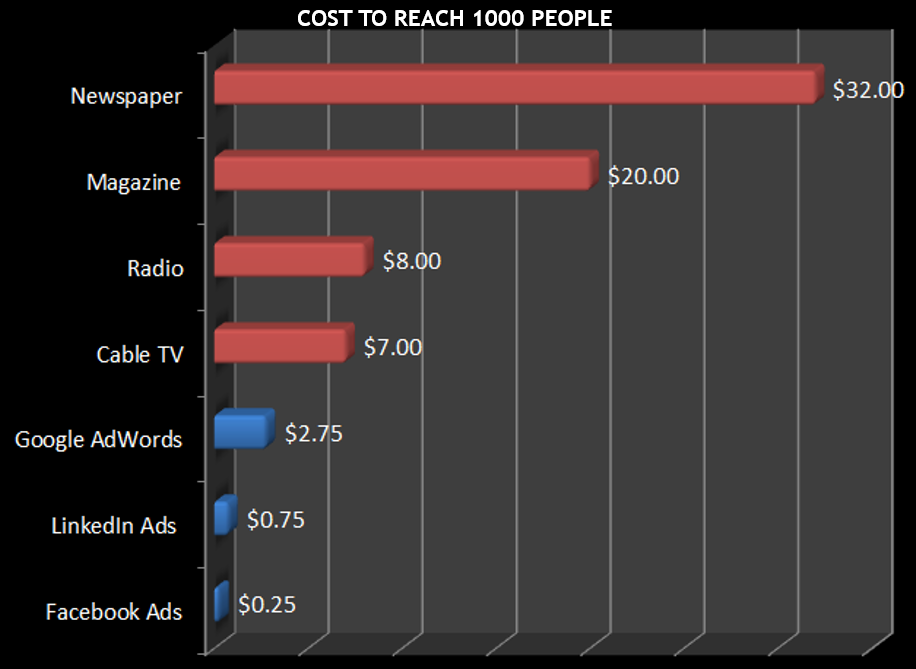 Facebook has the most detailed targeting options of all the social platforms (by proxy, Instagram does too).
Facebook allows you to target your audience by age, location, interests, and gender. You can even pick the time of day you want your ad to appear, as well as having the option to exclude certain interests that are not relevant to your target market.
Moz suggest a daily spend of $1 which will increase your reach by up to 4,000 people who wouldn't have seen your content otherwise. That is 4,000 potential leads for as little as $356 (€343).
It goes without saying (but we will say it anyway) that if you increase your spend, you will increase your reach also. Facebook even has a tool called Campaign Planner where you can estimate your reach/placement etc. based on spend over a time frame, or the amount of times you'd like your audience to see your ads over a given period.
It's a nifty tool, and it takes the guesswork out of drawing up campaign budgets.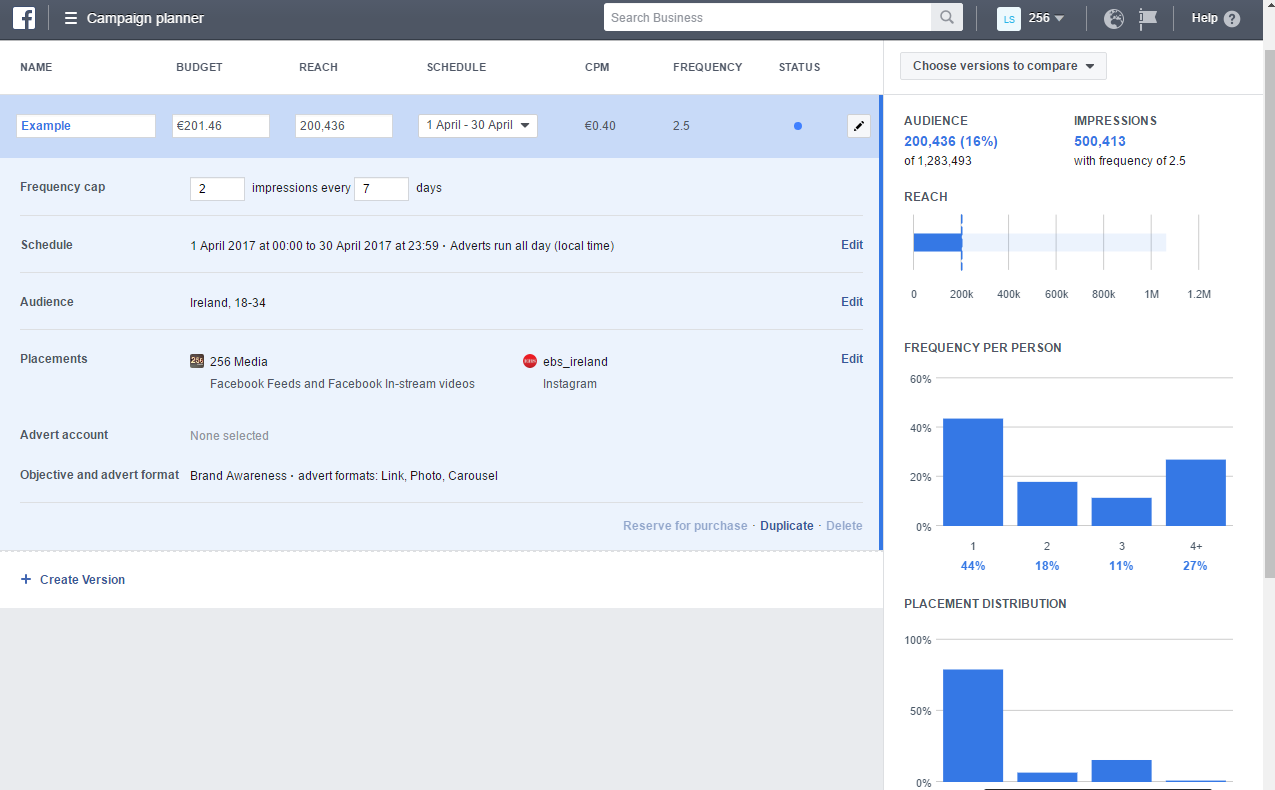 Once you know what you're spending, you can brief in your creative team and get thinking about your targeting. The structure of Facebook ads gives reassurance too: you won't pay more than your upper bid or your budget. (If you are bidding manually, watch your conversions/results. Bidding too low or high can cause issues on either end of the scale!)
If you're not sure about setting your bid yourself, you can let Facebook's algorithm bid for you based on your various objectives e.g. cost per click or cost per acquisition.
The cost of your results is further affected by factors including the:
Quality of your ad
Number of your competitors bidding against you
Size of your target market
Ad type
Time (of year and time of day) you are targeting your ads
Expect to pay more at peak season. For example, your CPM will likely increase around holidays (particularly Black Friday) as online retailers rush to push ads out.
How to keep the cost of your ads down
The quality of your ad
The quality score comes from a Facebook algorithm - and while they won't tell anyone exactly how it works, we do know that the main things they score for include the relevancy of your ad and how people engage with it.
If your ad isn't relevant, people won't like it and your cost per [objective] will increase. Generally, the higher your relevancy, the lower your cost per [objective].
Keep your ad copy relevant to both your target market and whatever your ad is promoting. You can try and scam the system with cute puppies and while more people may click, they will bounce right out and your score will dive.
Your target market
As mentioned above, detailed targeting is where Facebook does its heavy lifting – even on a small budget.
Let's take an example. When we worked with the Irish Store, their target audience was Irish Americans – but their budget was relatively small meaning we went hyper-targeted with our content. The blog post in question was 'A gentleman's guide to buying an Irish wedding ring'.
Instead of taking a blanket approach, we targeted men aged 24-40 who lived in the US. They also had to be engaged and have interests in both wedding related topics and Irish related topics. Out of an original target audience of millions, we narrowed it down to a final audience of 33,000.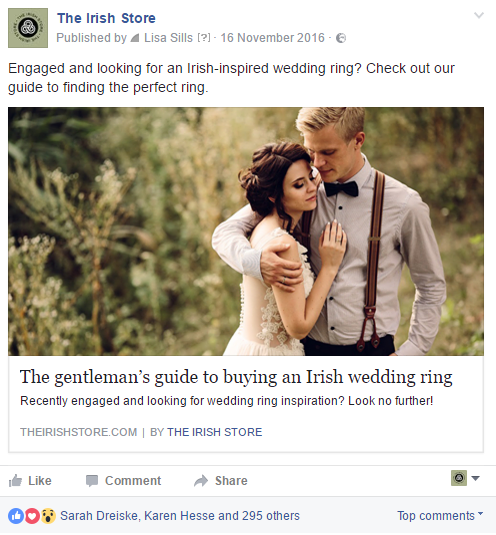 The creative always wins
When we were in Facebook HQ for Agency Day last year, the one thing we were told over and over again is that the creative always wins. Nine times out of 10, an effective image can save the day.
Having images gives posts over twice the engagement than posts without images. But no brand worth their salt will be promoting sans images, so make sure you use images that relate to your product, choose images that are eye catching and bright, and be sure to resize them too.
If you use text on your images, make sure it covers less than 20 percent of the image. While Facebook have stopped outright banning images with more than 20 percent text, your engagement will still take a nose-dive relative to more text. Adespresso has a great list of 15 places to find Facebook ads images.
Test your ads
With A/B testing, you can learn so much about what your customers like and click on.
You can test different images, different offers/taglines or different descriptions but be sure to only change one at a time so that you can test which works best for your customers.
Sometimes a simple tweak can lead to a mammoth increase in engagement. This example of The New York Times from Connectio.io shows one way you can test the body copy from your ad to see what your customers respond to more.

Make your ads work for you
Your Facebook pixel is one of the most powerful tools you have access to as a marketer. You install the pixel to your site and it pings back data to Facebook itself.
The pixel gives you access to audience insights that allow you to see a whole host of information: the devices your customers are using to check out your content; conversions; and audience insights. Your pixel also gives you the means to create lookalike audiences and find customers to retarget.
Naturally, this opens a whole new avenue for most marketers. If you're creating content, promoted spend should be a valued part of your strategy.