If you've got graphics that need editing and no access to a graphic designer, you'll be stuck with Paint to do the job. Paint is excellent for screenshots, the very basics, and drawing boxes around things, but if you need to do anything more complicated it's going to look amateur at best.
Now, if you've got Photoshop, even basic knowledge will make it work, but for a one-off project, paying a monthly subscription fee seems like a waste of money that could be better spent elsewhere.
And that's where PicMonkey comes into play. A free website for picture editing and graphic design, it's a handy alternative to Photoshop...or Paint. (Not to minimise Paint and the fun I had on it when I got my first computer at 10.)
As with many of our Friday Freebies, PicMonkey is freemium though enough of its tools are free that you can make a real go at photo-editing.
Now we've got the pitch out of the way, you probably want to know how to get cracking with PicMonkey.
How do I use PicMonkey?
As with all basic photo editors, PicMonkey resizes, crops, adds texts, and does basic 'transformations' like rotating, red-eye removal, and blemish retouching. More advanced features include filters, overlays, and weight loss.
Yes, weight loss.
Any features marked with the crown belong to Royale, the paid option, but there's enough there to get you fairly long into the process, and without needing too much tech savvy or photo-editing knowledge.
If those features weren't enough, PicMonkey's next stand-out is its blog where their team write about all things graphics, design, and photography. It's a great read if you'd like to learn more about photo composition and design in general. So two thumbs up from us there, PicMonkey.

We made this image in Paint. Sorry, PicMonkey.
The image above is the PicMonkey menu bar, which pretty quickly lays out your options: Edit, Touch Up, Design, or Collage. Each is pretty self-explanatory.
In Edit, you'll upload the photo you want to edit and be presented with a nice-looking dashboard, with your editing options to the left, including tools like Crop, Exposure, and Colours. Most of the features work on a slider and are pretty intuitive, though some adjustments need some fiddling.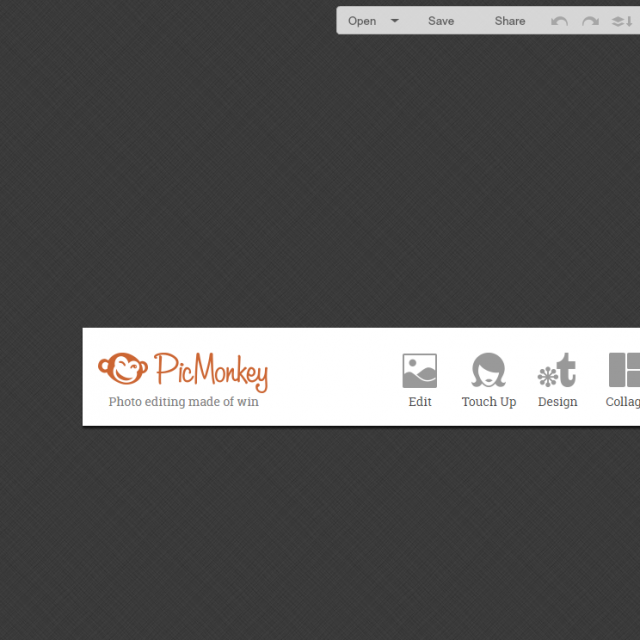 In Touch Up, most of the features are paid for, and include fairly typical touching up options like Spray Tan and Blemish Fix. We're not quite sure why a brand might need all these features but for fashion photographers or designers who need to quickly retouch their photos, it's a quick and easy option.
That said, the Touch Up features are nearly all Royale and the Royale trial involves entering credit card details, so make sure you cancel your payment before the end of your trial if you're only using it as a once-off.
Design gives you the basic social media sizing options so you can design or create a photo from scratch. If you're not sure what you're doing or are a newbie to graphic design, Design will probably be a fun feature.
Last but not least is the very self-explanatory Collage option, where you can upload multiple photos and create a collage.
The interface is drag and drop, and you use your mouse to adjust size, move images around, and upload or delete photos. It's super simple and an easy way to make photos to share on social media.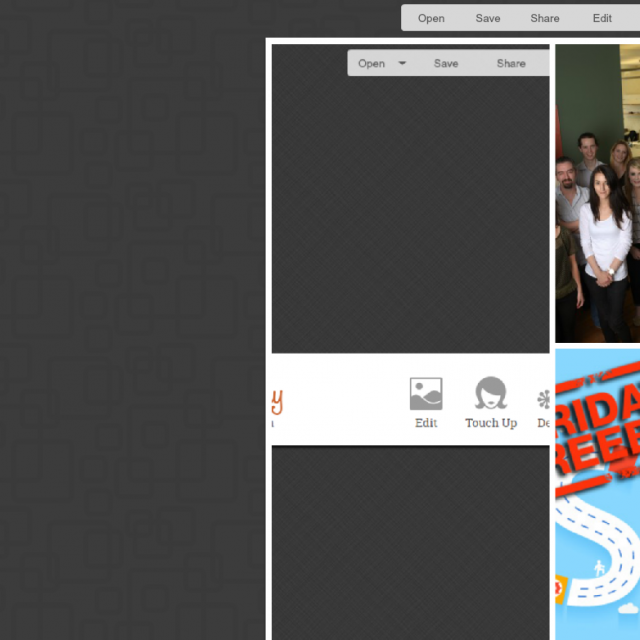 Want professionally produced photos or graphics?
Get in touch and our design team can create infographics, infozines, and any images you can dream of. For interesting tools and tips on all things content marketing follow us on Facebook and Twitter.
It's worth it, we promise!