It is not an uncommon thing to have a love-hate relationship with your email account.
One click of a button can be enough to make the sanest of marketers laugh manically or weep quietly. It is the only task you can spend hours of your time on, and afterwards you're left with more work than you started out with. It is also one of the most demanding aspects of our working lives.
Did you know that 36% of marketers spend 3-4 hours on their email every day? Yikes.
Then there's that niggling self-doubt of email prospecting. It's been one week since you sent that important email, and you're waiting like a love-sick teenager on that email update. You may be tempted to send them a few follow-up emails (just in case).
'Hey! It's me again. Just checking in to see that your server is working and you received one of my ten emails...'
You don't want to be that guy or girl.
It could be time to get email on our side and turn it into a trusty sidekick. So this week we are reviewing a tool called Sidekick: an email tracking tool from Hubspot which is like Batman's Robin or the tomato ketchup to your chips. This tool is an extension to your browser which gives you an instant pop-up if anyone has opened your email or the link you sent.
Is this not weird and slightly creepy one may ask. Not in this day and age, and also only if you make it weird, the guys at Hubspot insist. You can use this tool strategically and tactfully to offer relevant and insightful follow-up information when Sidekick says the time is right.
So let's take a look at all the reasons why you should recruit a trusty sidekick for your email.
Why you should give email tracking a try
Sidekick will give you peace of mind and email etiquette by preventing you from sending unnecessary follow up emails
But more importantly, in my opinion, it will cleverly tell you whether your recipients are reading your email from their desktop, or whether they are on their mobiles and on the move. This is quite a cute feature as it can give you the green light signal when it is a good time and place to contact your prospect– so you can strike while the iron's hot. Catching your client when they have you top of mind and front of screen could be crucial to developing a lead
If you have Hubspot, you can integrate your account with Sidekick to instantly track if your recipients are visiting your website after opening your email
A brilliant feature of Sidekick is the fact that the tool sends you a notification every time someone re-opens your email. This is a blessing for prospecting, as it shows a resurgence of interest from your client and notifies you that it is possibly time to reopen communication lines
You can view your recipient's company information and any contacts you may have in common with their organisation; a nice touch for networking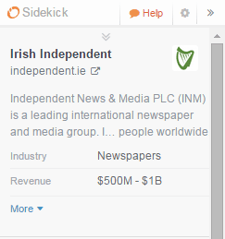 If you have sent an email to a colleague which requires consultation for a project, you are going to receive an avalanche of notifications every time your recipient decides they need to re-check a stat or download an image. However, Sidekick very niftily allows you to block an IP address if you need to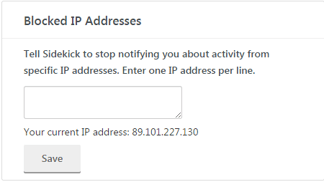 Last but certainly not least, James Bond uses it:

The not-so-great things about email tracking
A surprising drawback is that Sidekick does not support Office 365. It does, however, make promises of this occurring in the near future. Well, if you say so, Sidekick. A silver lining on this cloud is that the tool is compatible for the desktop application Outlook Express, which can be integrated with Office 365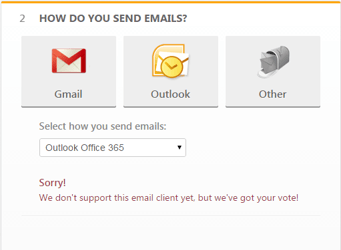 Email notifications are not always reliable – no matter what tool you are using, there are certain circumstances in which you will not receive a notification. Sidekick places an invisible image or pixel in your email, and when someone opens your email, it is this image which triggers the notification. However, what if security settings on your recipient's email prevents any images from being downloaded? Houston, we have a problem. What you can do to combat this is to include a real image in your email or email signature, (like your company logo) which will prompt their email server to ask your recipients to 'display all images.' A pain in the neck? Perhaps. But it is necessary if you want to ensure a notification.
Sidekick neglects to tell you that there are in fact two important steps to take if you are using Outlook Express and setting up the tool for the first time. If you find that there are tumbleweeds blowing through your Sidekick profile (not even one notification), that is probably because you have only taken the first step in setting up the tool–you must go into settings and select 'set-up email provider' to prompt a desktop application download.
In order to track click-throughs to links, it's not enough to give the URL – you need to make sure you include these as hyperlinks. Why? Well it's best to take this straight from the horse's mouth:
'Signals only track URLs that have been formatted as hyperlinks by your email client'.
Ah. Well that's useful, but it did rob a dear fifteen minutes from my Thursday morning to figure out why my links weren't being tracked.
Monitoring or tracking your business emails can be all well and good for closing that sale. However, to create click-worthy emails and to increase your Sidekick notifications ten-fold, you can get in touch with us at 256 Media for fool-proof email strategies.