More than anything, the rise of UX shows just how important the consumer is. It's not about the brand anymore.
User experience, or UX, refers to a person or audience's total experience when using a particular product or visiting a website. Essentially, we want the user's experience to be as smooth as possible; giving them the easiest and most convenient platform possible to engage and subsequently convert. Find out what they're engaging with the most and if they're following the path that you want them to follow.
How do we get a complete and honest insight into how our audiences are typically engaging with out websites or landing pages? Sure, Google Analytics can give you metrics for pages that people are visiting, along with (the confusing) behaviour flows, but numbers and data don't really paint a pretty picture.
Wouldn't it be great to know exactly what your audience is doing on your website so you can learn and enhance the process? Well, do I have a treat for you, my friend. I expect a thank you card in the post.
See it all with HotJar
HotJar is an SEO, UX and analytics tool that helps you get a clear insight on how your audience is using your website, and let me tell you, this is a real treat for any UX buff out there.
Get access to heat maps and an insight into what people are clicking on, record visitor's activity to see exactly what they're doing, create forms for your website, get feedback from users about your product/content/website, and create surveys all in one platform. I know, so much to take in...
All you have to do is sign up, install the HotJar pixel on your site and you're flying. The heat maps are a great way to see what people are actually engaging with the most when they're on your website and exactly where they're clicking.
The most impressive feature by far is the recording feature. Just pick a page you want to record and hit record for at least 24 hours to get a variety of visitors. You might be surprised by people's browsing habits on your website. HotJar lets you exclude your own IP address, just so you're not watching yourself scrolling and clicking - unless you're into that. If so, whatever floats your boat.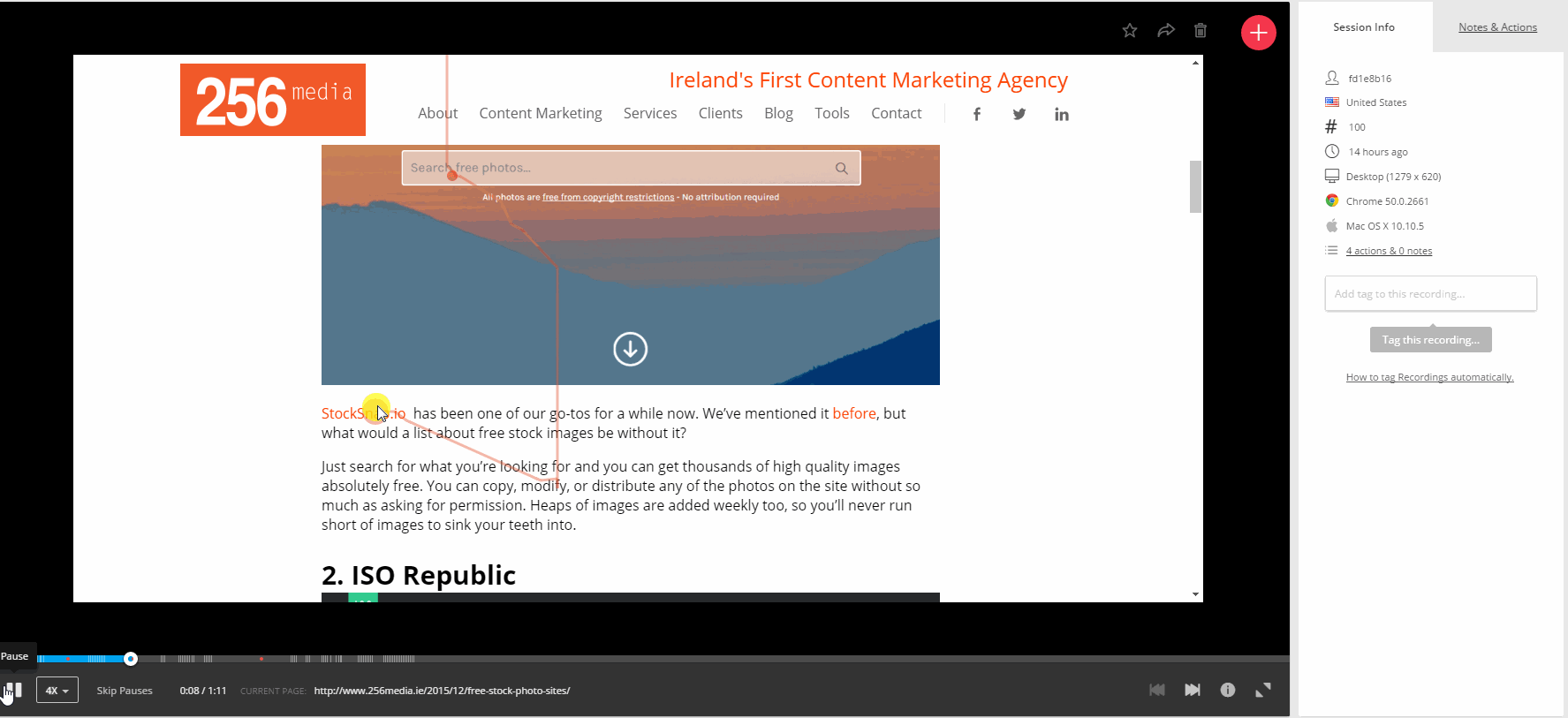 You'll also see what people are doing on your website from mobile devices if your site is mobile-enabled.
Overall, this tool is pretty impressive. With big names like Microsoft, Nintendo and Ikea on their client list, you know they're doing something right. If you've just done an overhaul of your website, want to make the buyer's journey a little bit better or you're genuinely curious about how people are interacting with your site, this tool has a lot to offer.
The basic package is free to use, but if you want a bit more freedom, the 'PLUS' package will give you unlimited heat maps recordings and up to 10,000 pageviews a day if you're gaining a lot of traffic. All of this for €29 per month... A serious steal if you ask me!
Want to enhance UX through the powers of content?
Are you looking to use content to nurture your audience and significantly improve the user's experience? You can get in touch if you want to make content that people can't ignore or if you want to talk about content marketing.
In the meantime, follow us on Facebook, Twitter, and Instagram to keep up to date with all the latest news on content marketing and all things digital.