Last night at Inbound in Boston, Mass., Gary Vaynerchuk (nee Vee) spoke about how we're currently in the greatest era for communication.
Later he briefly touched on Trump and Clinton – and how could he not on the eve of an extraordinarily divisive election? Trump v. Clinton is the first election that's played through the lens of social media.
As the results trickled in, I kept coming back to Vaynerchuk's opening talk and that one line.
He's right, too, of course: smartphones have put possibility in our pockets.
The possibility to communicate, create, and share. To watch an election play out: joy for Trump fans and a dawning ache for Clinton's campaign trail.
This morning, David Meerman Scott made an evocative point too: Trump is, he said, a marketing genius. It's extraordinary when you crack open the stats of the campaign. Trump, he argued, knew exactly how to tap into the voting zeitgeist. He knew his audience – his buyer personas.
The earned media of the Trump campaign is where it gets really interesting from a marketing point of view. Through the breadth of his campaign, Trump's earned media value logged in at around $5 billion.
Regardless of political persuasion there are lessons to be learned from the Trump juggernaut:
1. Earned media can build an empire
Jeb Bush's campaign died, in part at least, because he used old tactics that worked for his brother and father but it's 2016 and he failed to adapt, relying on traditional media and massive spend for peak saturation.
2. Realtime marketing is priceless
Real-time marketing, said Meerman Scott, is a mindset. Its bed buddy is news-jacking – the art or science of inserting your brand into a story.
Trump (and later Clinton) used real-time communication as their trump card. Sure, Trump was provocative, but there's a certain calculation there that earned the billions of free media.
A simple little example is how Trump live-tweeted the VP debate, fully aware that his tweets would land in newspapers and online in droves. Clinton had her moments too: at one point, her site was running a 'Trump yourself' option. It looks like this:
Inbound was a major player in the political campaign, and it's absolutely something that could only really have happened in the last five years. 2016 was the perfect firestorm of events and platforms to necessitate an election like this one.
Earned media and other stories
Larry Kim, unicorn connoisseur and founder of WordStream, a PPC management software, touched on earned media too within the context of paid spend – something that, while not as pertinent as the very-recent election, was still a hot-button topic of Inbound.
Paid ads, said Kim, are the most scalable content promotion option for any brand to turn visitors into sales. Music to the ears of every struggling marketer.
Always happy to share his knowledge, Kim offered 10 hacks/takeaways for optimising Facebook and Twitter.
1. Utilise relevancy
Audition your content, said Kim, as he spoke about first using organic as a barometer. In non-abstract terms, it's simple but effective: test your content on your lists and organic platforms and promote the top 2-3% that gains early traction.
Generally, if a post doesn't swim straight away, it never will. Throwing it headfirst into the spending pool multiple times probably won't help.
2. Know your audience
Knowing your audience should be at the apex of your brand. Knowing and understanding them will feed into the keywords you'll target. What do they like? What don't they like? Go specific.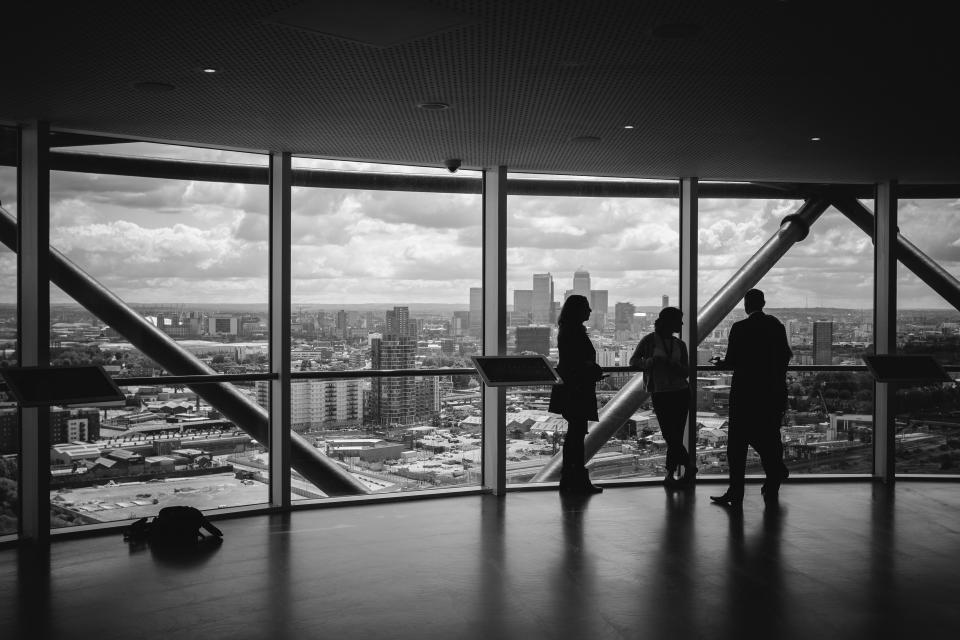 3. Free clicks – earn engagement
This one is pretty self-explanatory, but free clicks are the knock-on effect of a post taking off. You're targeting Person A who shares your content to their timeline. Person B, outside of your targeting bucket, sees the content and clicks.
Victory is yours, friend.
4. Video ads
Pro-tip: video ads increase the core relevancy by two, which means automatic greater reach and potentially better engagement.
Video was mentioned multiple times through-out day one of Inbound. HubSpot co-founder Dharmesh Shah has billed it as one of the core trends of 2017, alongside (somewhat unexpectedly) chat bots.
5. Custom audiences
Kim dropped all metaphor for a quick case study on the power of audience targeting: a couple of years ago he wrote a post about Facebook being far more effective than Twitter and put $50 behind it. The post went into the world and blew up.
The key? Kim was smart about his targeting, honing in on employees of the sites he wanted to be featured on. Business Insider picked up on the post, and Kim swiftly found himself on national TV – a five-minute slot offering exponential earned media on the back of a $50 ad spend.
See, it's that old earned media chestnut again!
6. Cross-promote
Post your content on multiple platforms: Reddit, Digg, Medium, Pulse, etc. etc. Often it'll go stale or be ignored but Kim is an advocate for unicorns, so he suggests scraping information (e.g. Twitter usernames) from a platform like Reddit or Medium and retargeting these users with your content.
They're already on the platform – all they need is a little nudge to acknowledge your content.
7. Hack RankBrain
In recent conferences, machine learning and Google's RankBrain have been a throughline for the changes in SEO.
Higher CTR and lower bounce rates are slowly redefining how Google measures great content.
Google's algorithm is changing. Change with it.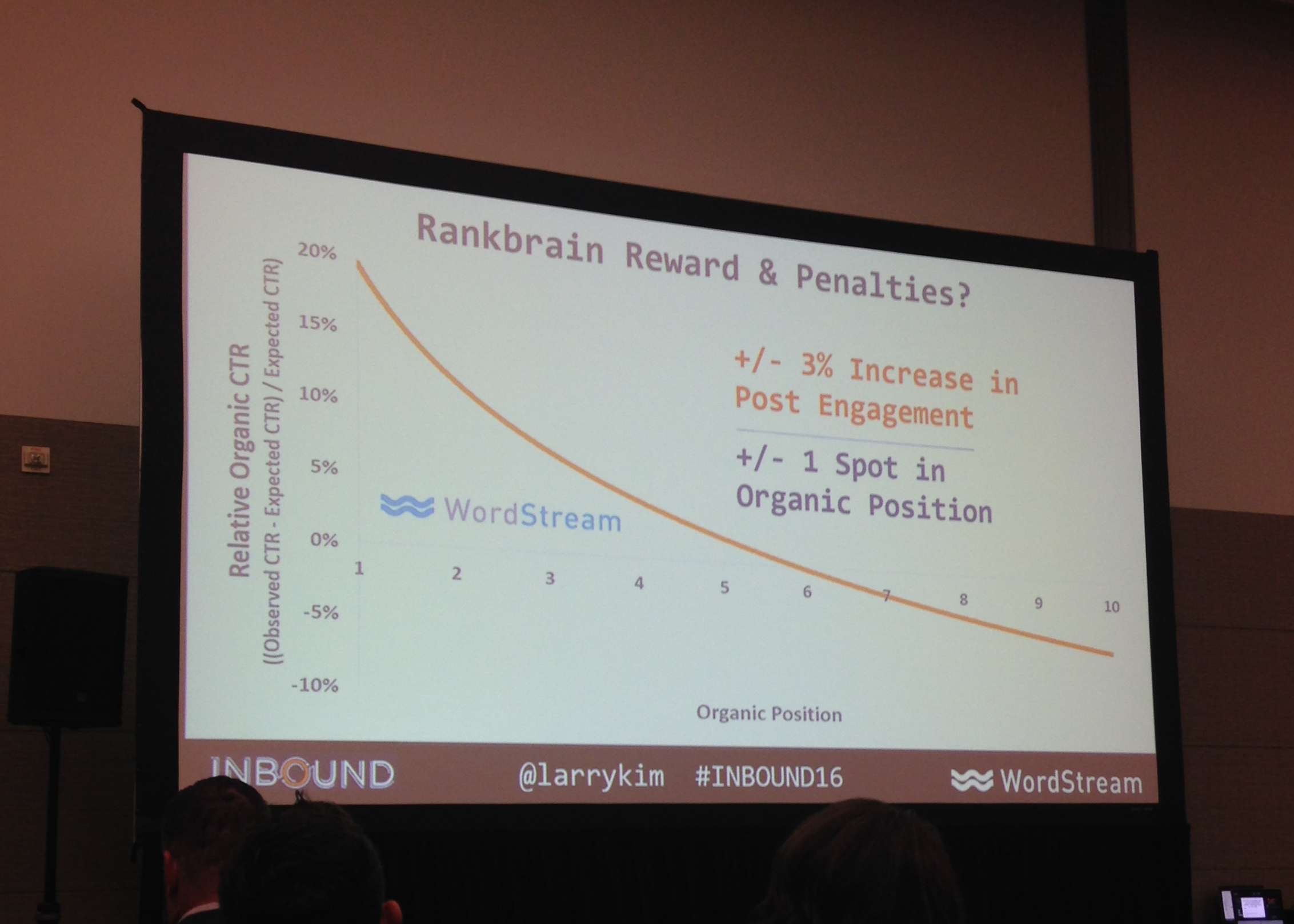 8. Remarket
Remarket, remarket, remarket. Build a niche. Create content and buckets of users: target your most involved audience and shuttle them down a funnel.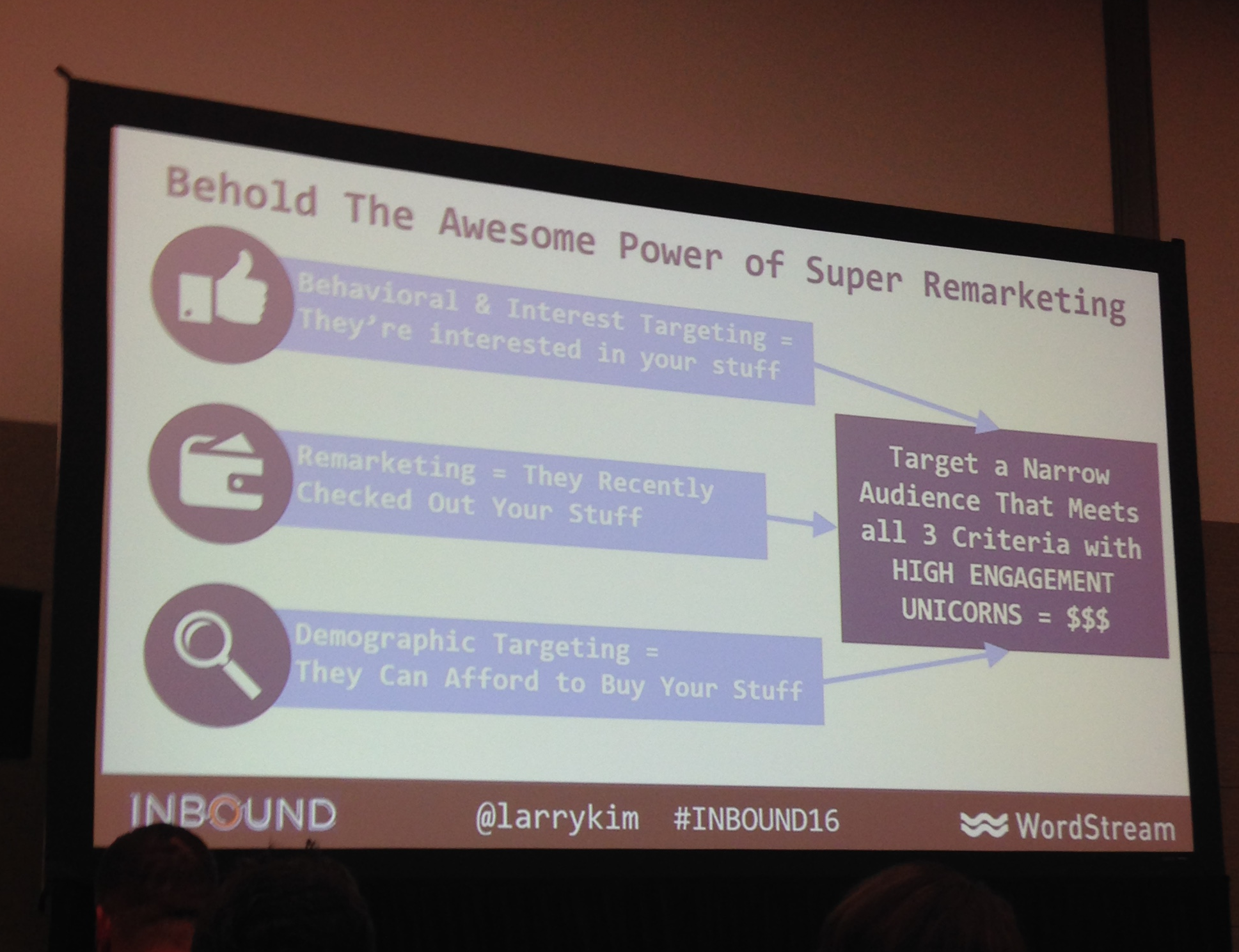 Target in three:
Behavioral and interest targeting
Remarket those who have checked out your stuff
Target those who fit the demographic
And then segment and retarget almost like you would an email list.
9. Be multi-channel
Or combine all the things. Marketing shouldn't exist in a silo. Digital marketing that works best is holistic. Inbound, content, and social make for a particular sexy trifecta, but we're a content agency so you might call us biased.
10. Leverage brand affinity
Customers who are loyal to a brand are 2-3x more likely to click on a post. While building for brand awareness might seem empty for a conversion-drive CFO or CMO, Facebook now offers KPIs for brand/ad recall.
Building for brand affinity is building long-term. To quote Dharmesh Shah, in 2016 your brand is competing for millimetres [of space] on an infinite shelf. Supply is way up; demand is flat. Brand affinity is fickle.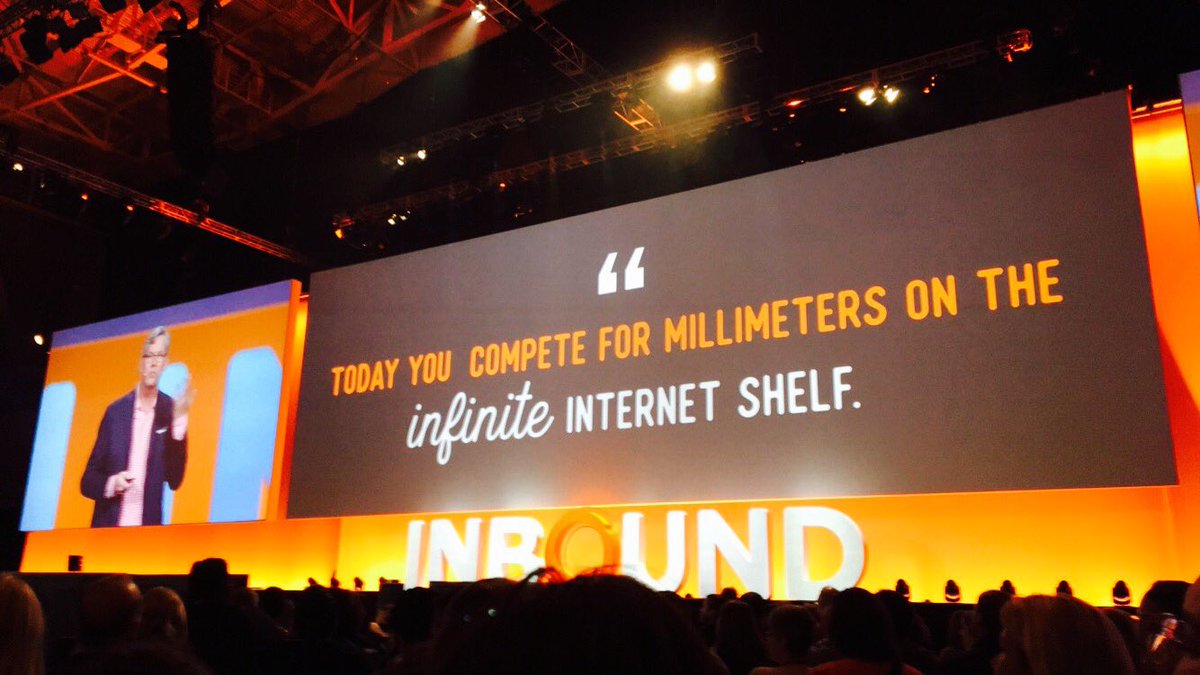 And that's why it matters so much! The ability to communicate with our audience is arguably the most powerful tool of the digital age.
It was a point that was hammered home on day one of Inbound, and not just in Vaynerchuk's keynote.
Digital is forever evolving. Just look at RankBrain or Shah and Brian Halligan's talk about the evolution of media in the last 10 years.
Traditional media can tell a story and the voting electorate can still chose to ignore it. Campaigns are won and lost on social media. Start-ups begin and flourish. Opportunity is everywhere.
Regardless of audience or niche, there are people in every walk of life waiting to be communicated with and as marketers we get the pretty cool job of creating the content that gets to them. Creativity, said Vaynerchuck, is the variable to success.
Be creative. Tell stories.
Communicate.
And that, above all else, is everything Inbound stands for.
Want more? Follow us on Twitter or get in touch.