What's all the fuss about Facebook's new ad feature? Facebook Lead Ads are a clever way to collect leads through the social platform. These Facebook Ads look like standard Newsfeed ads, and they act like 'em; but there is one fundamental difference.
When someone clicks on a Facebook Lead Ad, a form will appear, which has been pre-filled by Facebook (remember, Facebook has access to crucial demographic info and contact information for many of their users, and this new ad format is a nice example of Facebook putting this info to good use).
Okay, so a form might not sound that impressive, but this is a sweet deal for marketers, for many reasons.
For instance, this form could remove the need for a landing page, and therefore remove a step in the buyer journey - and one small step less for the customer is one giant leap for your sales process.
Lovely! Why else should I love Lead Ads?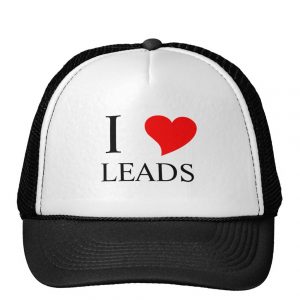 The reasons why marketers love leads so much is because they made the first move. It's a bit like being out at a bar and a good-looking person coming up to talk to you first. You know the person is interested and that takes a lot of the sting out of the future attempted sell.
A whole lot of money and persuasion power isn't needed to sway them (as leads - mind out of the gutter!), as these people have expressed an interest in your product or brand. That's also why Lead Ads shouldn't be used as a sales pitch, like some of your standard ads, but more on that later.
Lead Ads allow marketers to reach people who are interested in their brand, meeting them where they spend their time (in the feed!). There are more than 1.5 billion users active on the Facebook platform daily (that's a whole lot of people).
They are socialising, watching, listening, commenting, liking, and sharing. The last thing they want to be is interrupted by your link driving them to a tedious landing page. Lead Ads side-step this issue and maintains a positive user experience. Yay!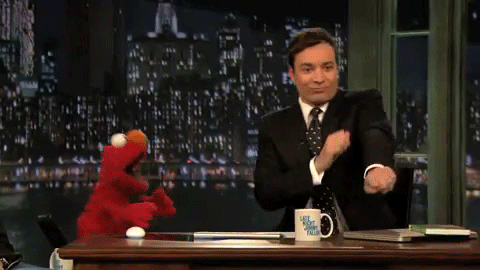 In case you need more convincing, here are fours reasons why should jump on the Lead Ads bandwagon pronto.
1. Facebook users stay on Facebook
The more trouble there is for the user, the more likely they are to get frustrated, bored, and drop like flies. And believe us, 'trouble' could simply be a page taking more than 3 seconds to load.
On a standard Facebook ad, users are driven away from the comfy confines of the Facebook platform when they click on the ad link. This means more tabs, more page loading, and more interruptions for the user experience. Now the user can share their valuable information with you without ever leaving the feed.
2. Facebook does the hard work, so you don't have to
"I just LOVE filling in forms! Yay, it's so much fun..." said no one ever. The reason why so many brands are affected by cart abandonment or other high bounce rates is due to badly designed forms. Or just the fact that people can think of a dozen different ways to spend those 10 minutes of their lives!
3. High Quality Leads in abundance
Facebook Lead Ads help you collect High Quality Leads at the lowest possible price.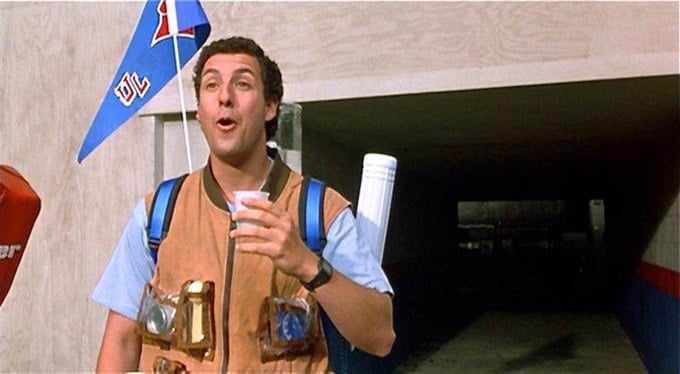 As your ad clearly states your intentions, it will filter out people who are just not interested in opening up the channels of communication and in being seen as a potential customer – so you won't waste your budget on engagements from them. With lead capturing as the end goal, you'll end up with a far more streamlined set of respondents. You can then build a very strong database of high quality leads (these will also make for dynamite custom audiences for your future Facebook campaigns).
4. Lead Ads are mobile-friendly
Many digital marketers will claim just how great mobile is for engagement, and how low the Facebook CPC (Cost Per Click) is for mobile too.
But what many don't discuss is that, although engagement is very good on mobile in general, it's not so hot on landing pages. And there's no point having a cheap CPC if users are going to click through to a landing page form, sigh with frustration, and leave again (well, unless they have tiny fingers and thumbs – but let's face it, the majority of us have fat-thumb syndrome when it comes to filling out forms on our phones).
A prefilled form is the perfect solution!
Okay, so now you're familiar with Facebook Lead Ads let's get to it, and start a Facebook Leads campaign.
How do I create a Facebook Lead Ad?
At the moment you can only create a Lead Ads campaign with Facebook Power Editor, so if you haven't used this tool before, it's as good a time as ever to get acquainted. Here's a really useful tutorial from Jon Loomer (a great guy for Facebook marketing tips, by the way).
1. Open the all-powerful Power Editor
Facebook's Power Editor may look a little daunting at first (we have to admit, it's not great for user intuitiveness). It's no wonder that not many social marketers use it on a day-to-day basis. You can access this from the Ads Manager Dashboard.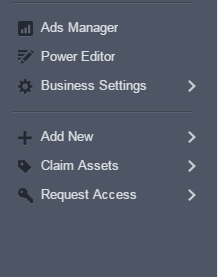 2. Select the 'Leads Generation' Objective.
Have your Ronseal moment and do what it says on the tin.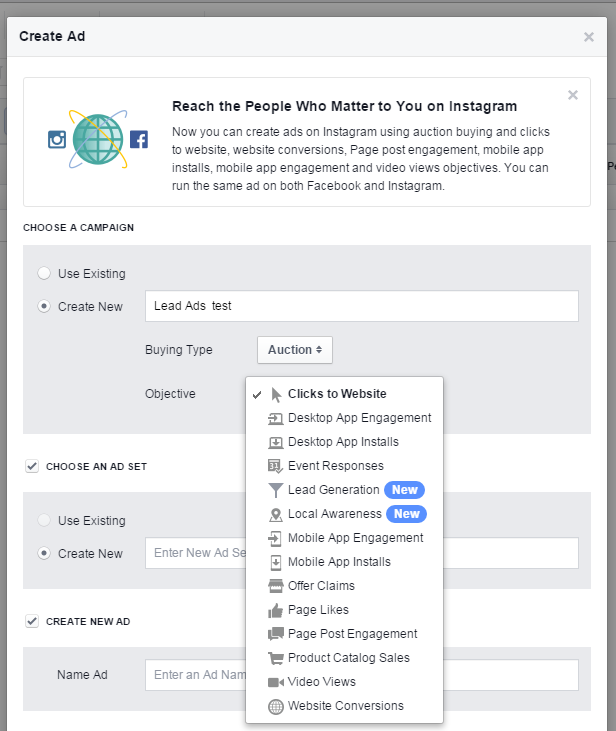 3. Get creating your ad.
It's important to remember here that the wording is everything! Of course, this goes without saying for all adverts. But this is even more relevant for Lead Ads, because it may be easy to forget that your audience is a very defined one: people who are genuinely willing to part with their information.
Given this, it's important for your copy to be straight-forward. Now isn't the time to be overly witty, or to use emotional or cryptic marketing language as 'click-bait'. Because when the user clicks, they are not being led to an article or landing page. Instead, they're handing over their info so you need to be clear on that to avoid disgruntled clickers.
The ad copy needs to work hard to inspire the user to click and to inform them that they will be signing up in exchange for something. Yes, you do have to give them something in return – nothing in life is free!
Otherwise, if users are fooled into clicking with enigmatic and enticing copy, there will be a high click through rate, but a high bounce rate too, with a reaction along the line of: 'Heeey! Why am I suddenly being asked to fill in this form? That wasn't the deal!'
Your copy should also concentrate on a user pain-point, and use this to promise a solution. A simple example is the following: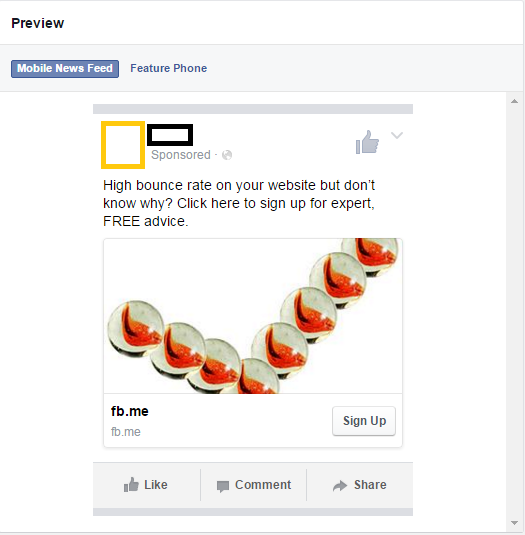 4. Select a CTA
There is a limited selection here, but I would choose 'Sign Up' as the most appropriate option.
5. At the bottom of the page, select 'create new form'
Now you get to create your form.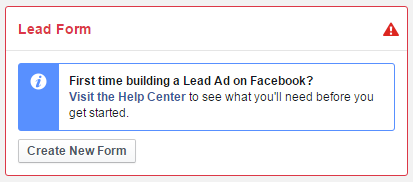 The automated fields include email address and user name, but there are lots more options to choose – from 'car make' to 'field of study'. You can also create your own tailored questions too.
Quick tip – don't be greedy; ask for the really essential stuff only. Think about it: how much personal info is your offer really worth? Otherwise, you'll scare them away.
Well, that's all, folks! You're now ready to start your own Leads Generation campaign on Facebook. And if you're looking for a leading social media strategy and award winning content to go with it, get in contact with a member of the 256 Media team today. In the meantime, follow us on Facebook, Twitter, and Pinterest to keep up with all things content and digital media