One of the first things we do on a new computer is install Open SEO Stats, a super-useful browser extension for quick bursts of SEO info on you, your competitors, or pretty much any site on the internet.
Yes, this much power really is jam-packed into one handy little browser extension.
What does Open SEO Stats tell you?
The extension is packed with a whole bunch of features and while none of them are particularly revolutionary, it is handy to have them all collated in the one place. The main use of OSS is that it shows the Google PageRank of any site you visit in real time as a figure in your browser bar.

Now, Google stopped updating PageRank a while ago, but it's still a quick, nifty tell to figure out how respectable a website is. PageRank is shown in a numeric value between 1 to 10 (or a ?), and generally lets you know how much Google trusts a site. Facebook is 9. Moz is 6. As PageRank hasn't been updated in over a year, it's not as accurate as it used to be but it's still handy for spying on your competitors.
The features
For one small extension, Open SEO Stats has a lot of features packed into it:
Google PageRank – the PR of any page. As we said, though Google stopped updating PR a year ago, it's a nice indicator as to how much Google trusts a page. Facebook was the guinea pig for our screengrabs. Thanks, Faceboook.
Traffic stats – a graph of current traffic, if they're available, from Alexa and Quantcast. This is helpful for bigger sites, but isn't particularly useful for smaller websites that don't have a huge amount of traffic. The graph can be segmented to show traffic over specified time periods, as well as charting reach and unique visitors.
Site Info – this includes info on everything from on-site e.g. robots.txt and sitemaps, to Geolocational info and social signals.
Page Info – breaks down the on-page elements of a page including Headings, meta tags, and descriptions. This is useful to get a quick overview of your competitor's onsite SEO and how it stacks up against yours.
Link stats – a breakdown of the internal and external links of a page.
Page Load – like Ronseal, this does exactly what it says on the tin and tells you how fast a page loads. Compared to other page load apps and tools, we can't entirely vouch for OSS on this one as its results can vary widely. In two tests, Page Load gave Facebook wildly different load times of 22.8 seconds and 3.2 seconds. Pingdom pegged it as 799ms.
Tools – a dashboard of handy resources for webmasters and fans of SEO that includes links to Webmaster/Search Console, Keyword Tool, IP Lookup, W3C Link Checker and more.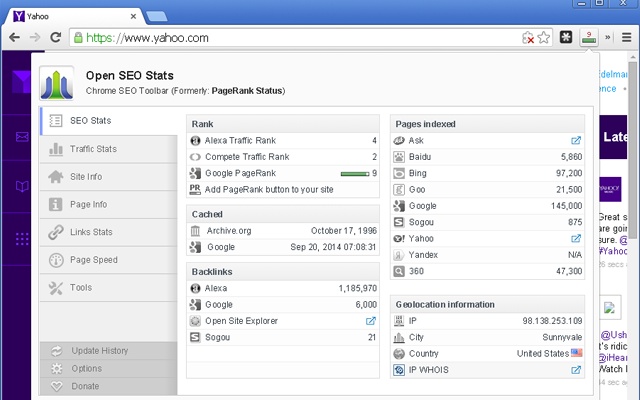 How dependable is Open SEO Stats?
While we're not suggesting you use this free browser extension as the lynchpin of your SEO strategy, it's handy to get a quick gauge of what your competitors or industry leaders are doing. It's also useful for pinpointing some of your site's SEO flaws. Don't have a sitemap? Sort it. Is your on-site a mess? Open SEO Stats will give you an idea as to structuring and where you've gone wrong.
While it's not going to do your SEO for you, it's a nifty little tool that will definitely help you along the way. If you do want someone to sort your SEO for you, get in touch now!