Website content that changes based on who is looking at it?
Sounds like something from a science fiction film, doesn't it? The dawn of A.I.
Well, we're not far from it.
Behold... Smart Content Marketing
Let's get personal
94 % of companies claim that smart content marketing, or content personalisation, is critical to current and future success. And when you see the results from the Monetate/eConsultancy Study you'll understand why. Smart Calls to Action (CTAs) deliver a 42% higher submission rate and a 19% uplift in sales.
But despite the benefits of taking a smart content marketing approach, few Irish businesses are implementing smart content marketing techniques.
For the majority of Irish companies their digital and Content Marketing consists of multiple channels, including email, blogs, social media, SEO and that all important website. The company website is the base of operations, the mecca. But the biggest issue across all these platforms is that the content is static. Stuck in the mud. Forever fixed.
Twitter posts may fly by in an instant but the website content often stays the same. It's a one-size fits all approach.
...Enter Smart Content Marketing.
So, what exactly is Smart Content Marketing?
I'm glad you asked.
Smart Content is content that is intelligently personalised to your customer's needs.
With Smart Content you can deliver content that is specifically tailored and relevant to the individual viewing it. You can make sure, without thinking about it, that your content is always aligning with the right stage of the buyers journey. Smart Content lets you target content based on your knowledge of your contacts.
With smart text (including images and video), smart CTAs, smart forms and personalisation tokens there really is no more one-size-fits-all. But it can be a lot to keep track of and can get complex quickly, so we recommend starting slow.
Take the homepage as a prime example.
How would you change the experience of your homepage for a lead compared to a first time visitor?
Let's take a look at Lynton Web, an inbound marketing agency who uses Hubspot as a platform for their inbound marketing needs. With the understanding that the interests and needs of their website visitors are going to evolve the more they get to know the agency, when a visitor first arrives at their site, the call-to-action is a bit softer and more educational. They take a gentle approach and don't push first-time visitors to sign on right there and then -- instead, they invite them to "Learn About Inbound."
The Default, Impersonal Homepage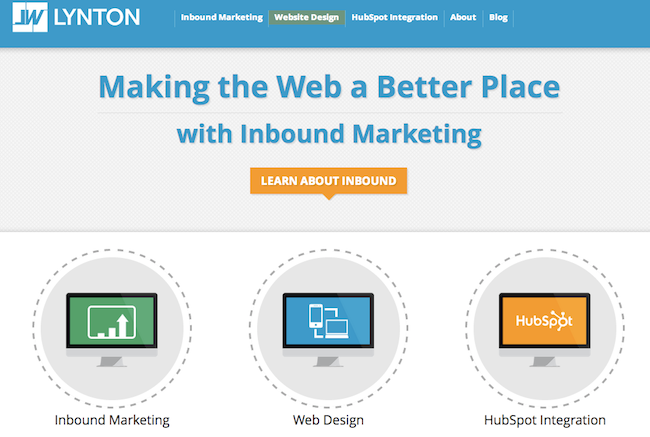 Now, here comes the magic.
Upon the return of the visitor to the website as a lead, the CTA is now more direct and points to services Lynton Web offers. Due to the visitor now being familiar with the website, they encourage them to "Start Your Project Today." Not only this, but Lynton Web also adjusts the text for returning visitors who have mentioned in a previous form submission that they use HubSpot software.
Now the homepage is tailored both to the visitors' interests and to better fit where they are in their decision process.
Personalised Homepage (After Converting as a Lead)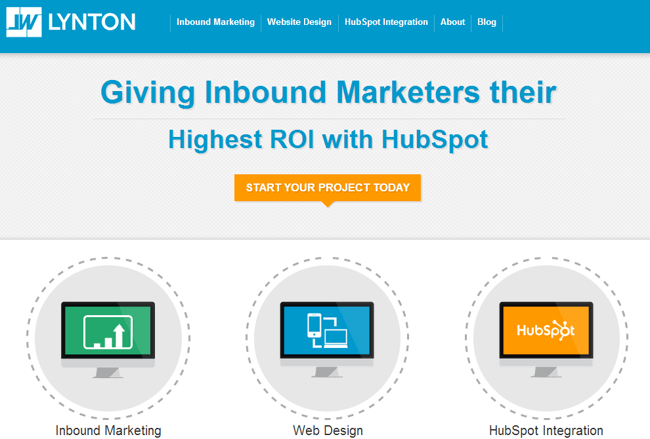 Lynton Web's personalisation doesn't stop at their homepage. They also personalise content to reflect a visitor's company name and other characteristics.
As Dr. Frankenstein would say about their website "It's alive!" You can read more about Lynton Web's personalisation strategy over on their blog.
Another, quick and simple, way of applying Smart Content Marketing is through emails. Emails with personalised subject lines have a 26% higher open rate.
Using the name of your contacts in your database, you can address everyone individually with a " Hi Mark," or "Hi Lucy," without having to manually alter each and every one of your emails.
However, something to keep in mind is that you should use personalisation only in places where it can be most helpful to the website visitor. Over doing personalisation can be, well, creepy. Keep the personalisation tools to places the visitors' won't be surprised to see their name - Email, Thank You page. If when browsing your website each page addresses them personally, they may feel like they are being stalked, which is not the relationship we are trying to build.
Don't personalise just because you can, always think of the user first. Focus on this being the best experience for them.
Wanna know how it all works?
Cookies. The Cookie Monster loves them. So should you.
A cookie is a small piece of data sent from a website and stored in a user's web browser while the user is browsing that website. Every time the user loads the website, the browser sends the cookie back to the server to notify the website of the user's previous activity. Although, this can be sidestepped by the user disallowing cookies, deleting their previously stored cookies or if the user views your website 'incognito' your website will appear in its default mode.
And so, Smart Content is born. If you weren't convinced before, you should be now. And if you're convinced 256 Media is happy to talk you through the next steps.