Content gets you closer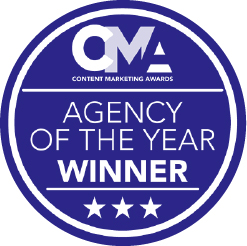 Hello, we are 256, a full-service, creative content marketing agency working with brave B2B and B2C brands to create moments of relevant discovery for their customers.
Born from a team of journalists, we've honed our storytelling skills and our technical expertise to attract your ideal audience. We develop highly efficient marketing ecosystems and fuel them with customer-first omnichannel content.
We provide digital marketing, automation and personalization, creative services, content and social media marketing solutions and SEO honed through our test and learn philosophy.
Data is at the core of everything we do. So much so, we developed SiteSeeer™ a proprietary content audit software. SiteSeeer™ informs strategy, proves content ROI and shows marketing teams what to do and where to focus.
With a roster of blue-chip global clients, we are Ireland's most awarded content marketing agency and the world's only agency to have gained ISO 9000 certification for our content and digital marketing services.

Our experience across B2B and B2C clients is a unique differentiator among agencies.

Talk to us about how we 'make the content chaos' easy. 😊
Meet our hard-working team...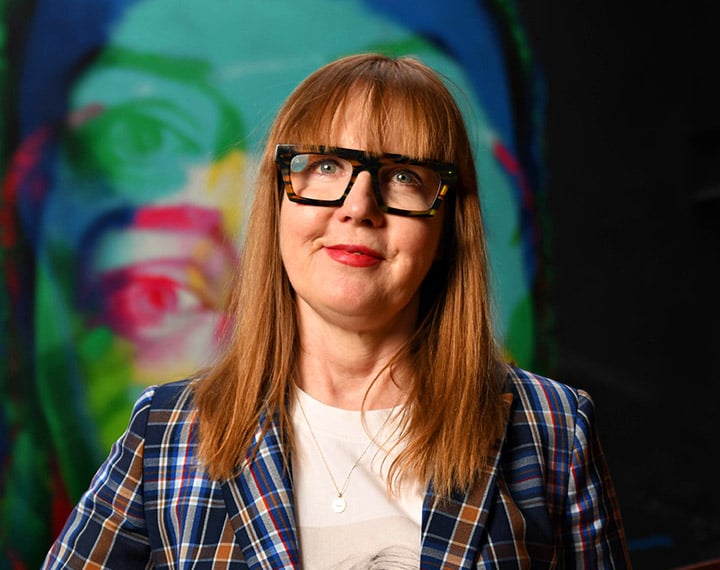 Karen Hesse
CEO + Founder
CEO and Founder of 256 Karen Hesse set up 256 as Ireland's first full-service content marketing agency in 2013. Since then, not only has she helped clients in Ireland and abroad embrace content marketing, she's helped start an industry here. When not in our office masterminding 256's next great idea, she's exploring the stunning coastline of Donegal - and masterminding 256's next great idea.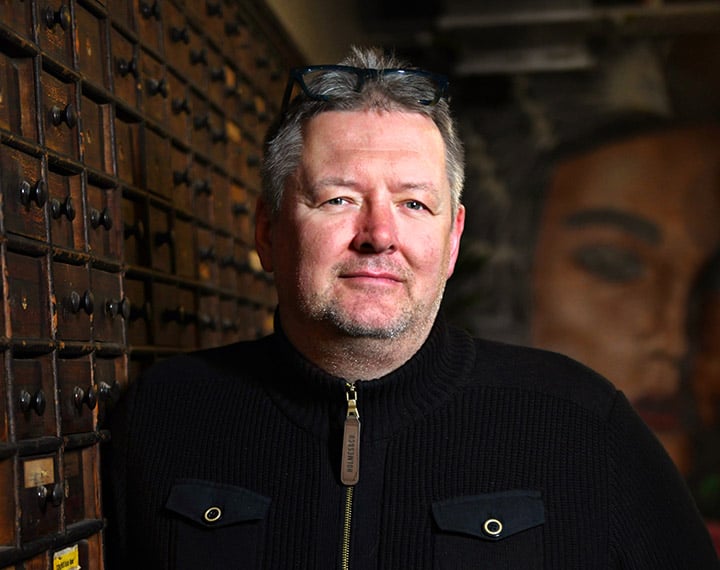 Neil Gordon
Creative Director
Neil's 25 years of experience in graphic design and visual communication has driven 256's creativity with his no-fuss, concise approach as our Creative Director. A fine art graduate and Adobe Certified Expert, he has worked across print, video production, web, illustration and every other medium imaginable. Londoner Neil is a lifetime Tottenham Hotspur fan and season ticket holder, he's often seen following their woes.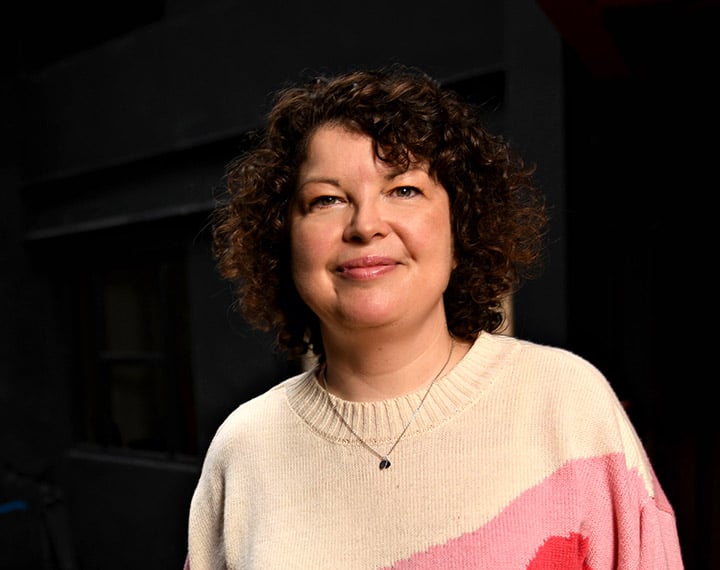 Paula Connor
Chief Content Marketing Officer
Chief Content Marketing Officer Paula Connor has more than 15 years of experience in digital and traditional marketing working for a variety of Irish and international brands in B2C and B2B companies. A multi-global award-winning content marketer, her passion is content strategy development, content creation, and marketing. When not working Paula is either exploring her new area in the Rebel County of Cork or planning her next holiday.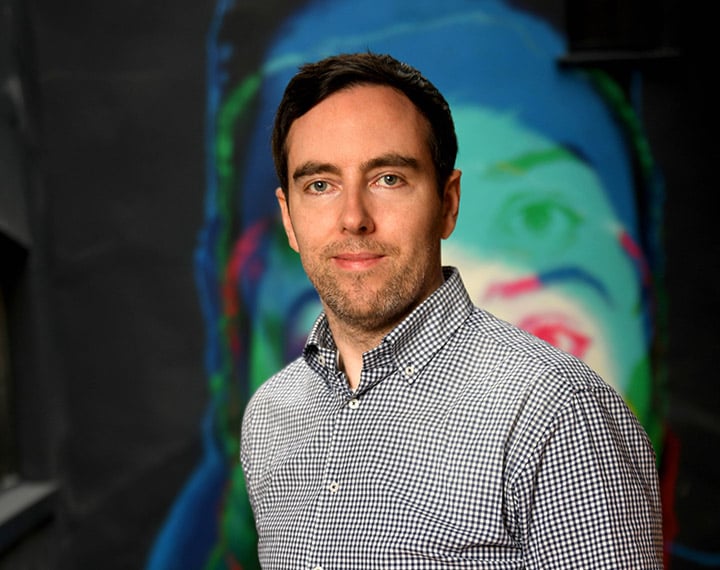 Mark Scully
Head Of Digital, Innovation & Strategy
Mark is 256's Head of Digital Innovation and Strategy leading the development of the agency's proprietary technology, SiteSeeer™, bringing insights to data. Mark uses his extensive knowledge of the Google suite of tools required to unlock digital insights and uses his experience to produce award-winning data-driven digital ecosystems. When not geeking out about data, you'll find him in gaming stores scouring for retro games to add to his ridiculously extensive collection.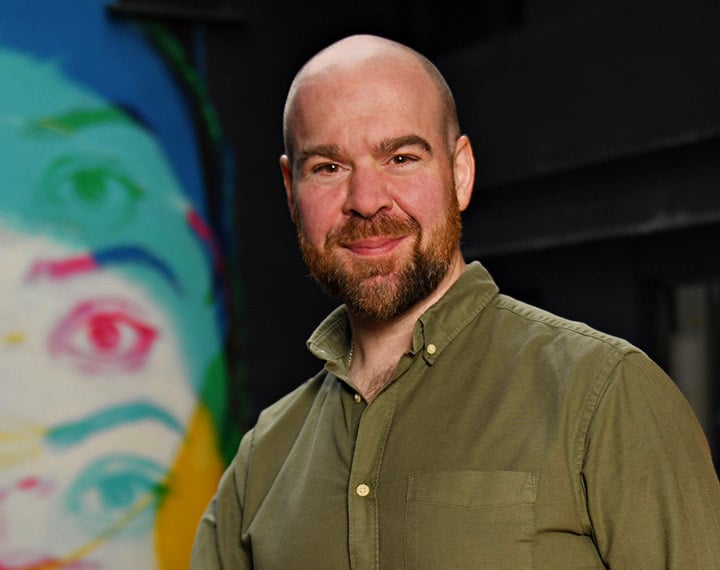 Nico Fell
Head of Content and Social
With a passion for a story well told and creating engaging campaigns, Nico brings over 20 years of experience to 256. A strategic marketing expert who connects audiences with brands for meaningful outcomes. He has created high-impact campaigns for some of the biggest names on and off the island of Ireland. Staying active in his free time, Nico runs the city streets and coaches his local rugby team.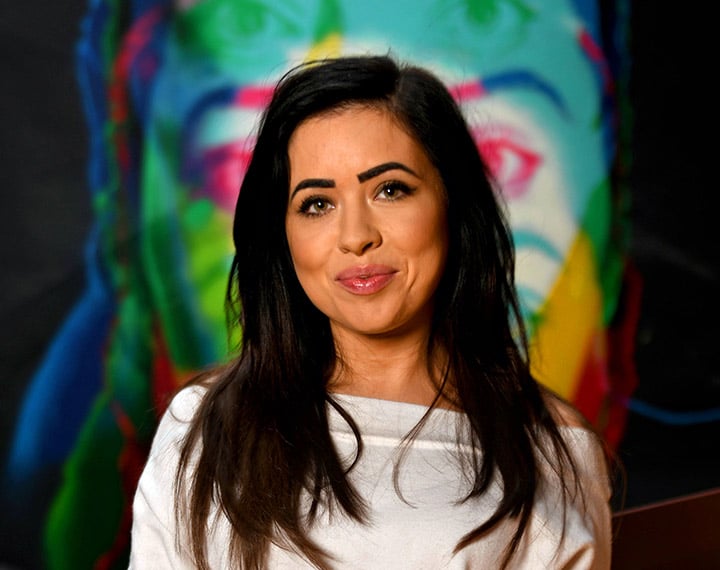 Cara Cowan
Account Manager
Super organised Account Manager Cara Cowan helps all our creative campaigns fulfil their potential. Planning impressive B2B projects that covers toolkit creations, video production and social comes naturally to Cara thanks to her detailed knowledge of the digital marketing landscape. Cara flexes her creative flair even further as the lead singer of an acoustic cover band and trying out the latest TikTok DIY hack about the house.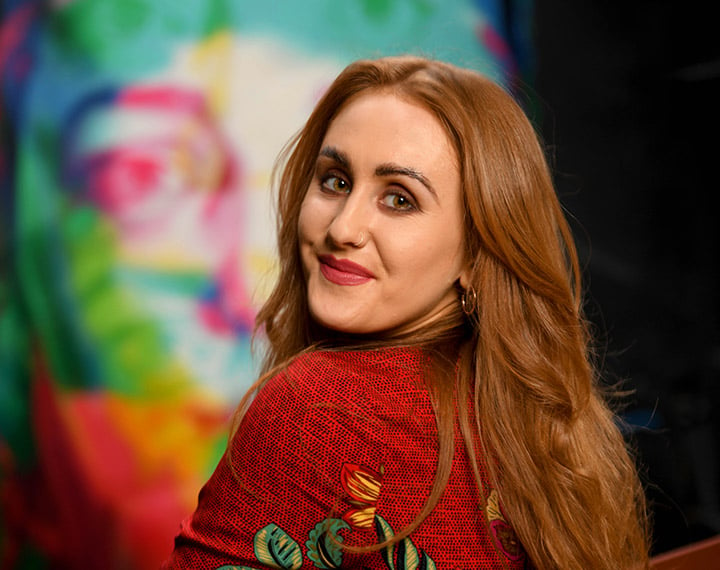 Carla Doherty
Social Media Specialist
Social Media Specialist Carla Doherty knows the magic formula to execute a winning social media strategy. Whether it's paid or organic, Carla makes B2B and B2C brands shine across Facebook, Instagram, TikTok, LinkedIn and Snapchat. As our resident health guru, Carla spends her free time running yoga workshops and hosting amazing interviews on her wellness podcast, Soul Talk Podcast.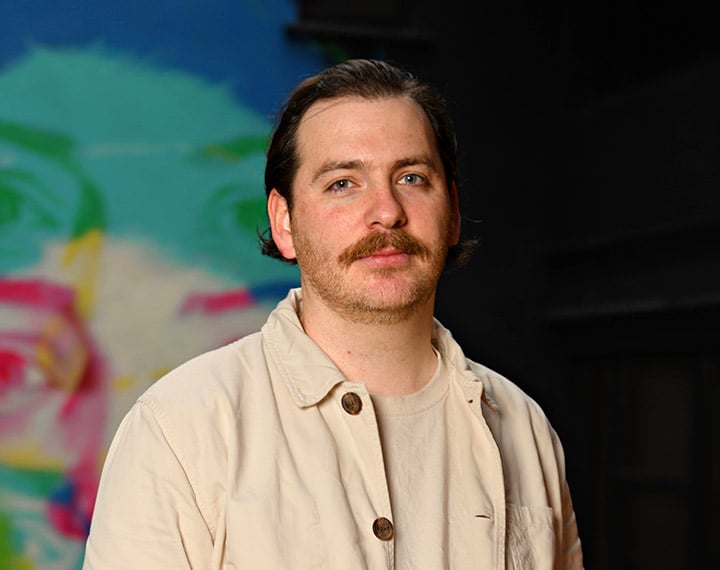 Cian Byrne
Content Marketing Manager
Content Marketing Manager Cian Byrne is in charge of all of 256's marketing. From coming up with attention-getting campaigns and developing our growth in Europe and the US, he loves to balance creativity with robust data and research. When he's not writing our blog or helping our social following grow, Cian is often found somewhere in the outdoors with his camera - either on his bike, on the trails or in his kayak.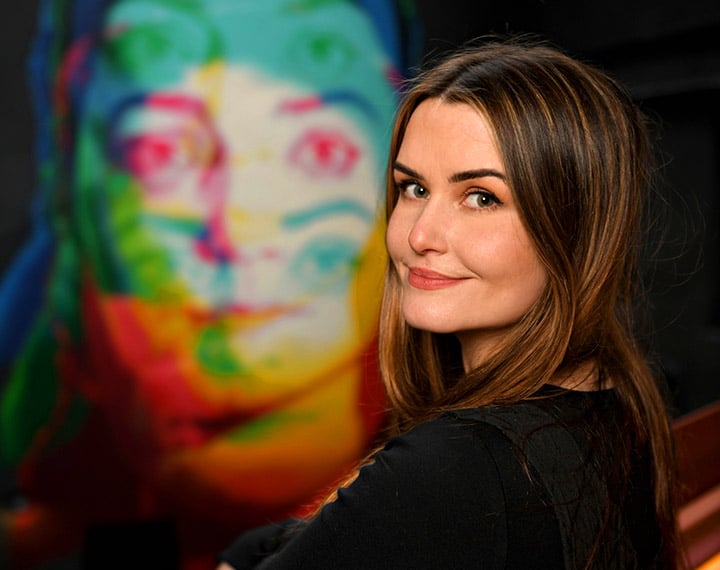 Clara Egan
Executive Assistant to CEO
Clara Egan keeps everything at 256 running smoothly in her role as Executive Assistant to the CEO. Her project management, detailed admin support and organisational skills make sure that our high standards and continued growth never drop. During the week you'll find her drafting the next company newsletter, but during the evenings and weekends, she's either whipping up her next amazing work of art or relaxing by the sea.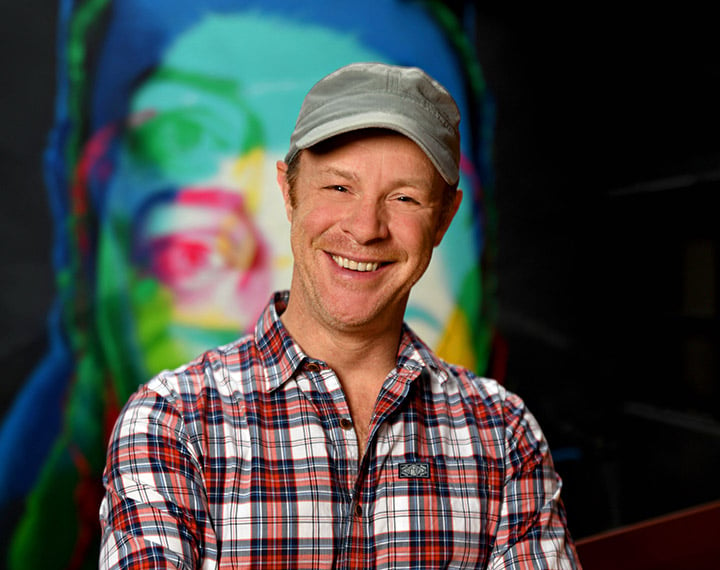 Fred Murray
Company Senior Designer
Senior Digitial Designer Fred Murray is an Adobe Creative Suite master and top-tier magazine creator. Jumping seamlessly between InDesign, Photoshop and Illustrator, Fred has crafted some of the most stunning print publications and online projects out there. Keen cyclist, Fred cycled from Mizen Head to Malin Head, and grew a spectacular combover, on his way to raising over €20,000 for cancer research.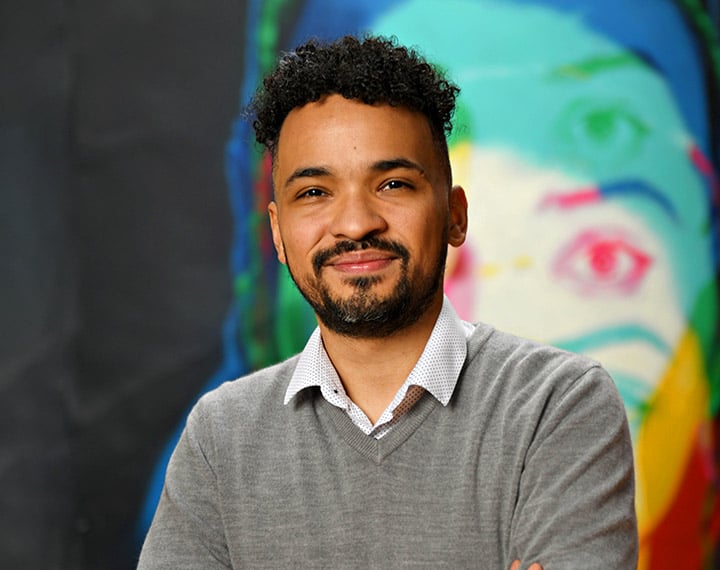 Ismael Kepp
Senior Web & Graphic Designer
Hailing from sunny Venezuela is our Senior Web & Graphic Designer Ismael Kepp. With over 12 years of creative experience across the world, he is a long-term member of our team whose creativity has played a key role in 256 winning many awards and having a host of happy clients. In his spare time, Ismael likes to keep his creativity flowing by making music at home.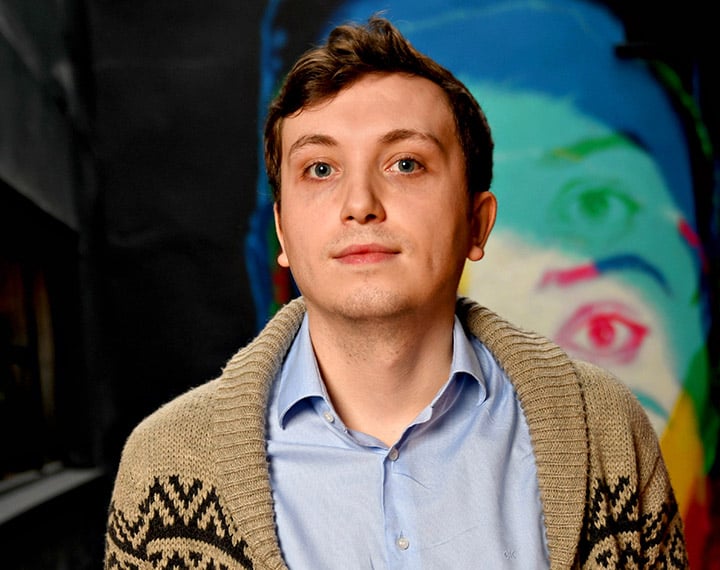 James Caulfield
Website Content Assistant
Talented Website Content Assistant, James Caulfield has an acute eye for detail and a great track record in social media and email marketing. He helps the wider content and design teams with grammatically perfect copy and an ability to master pretty much any CMS out there. Find him trawling through second-hand book shops in Dublin or in the produce aisle planning his next spicy, home-cooked meal.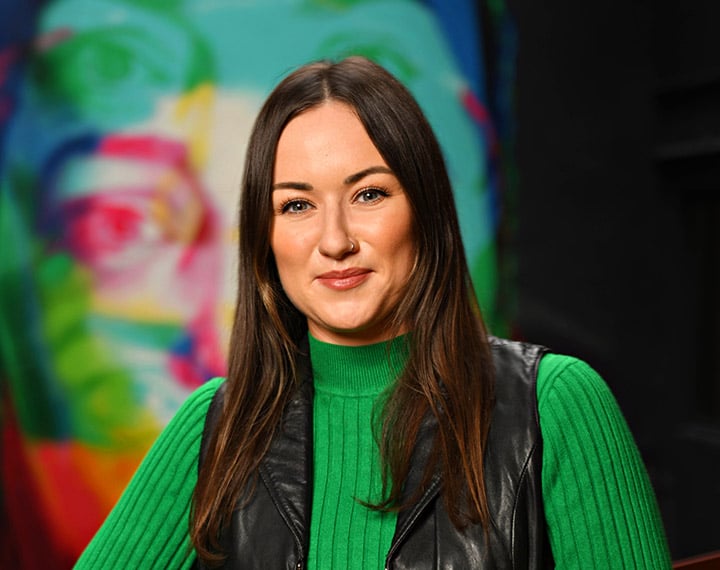 Melanie Ellis
Senior Digital Designer
Making brands stand out through video is our experienced Video Editor Melanie Ellis. With an extensive background in film and TV (including two years working on the series Suits), Melanie has perfected her digital and graphic design skills with a range of clients. As a big fan of live music, Melanie spends her summers checking out up-and-coming acts at festivals across the country.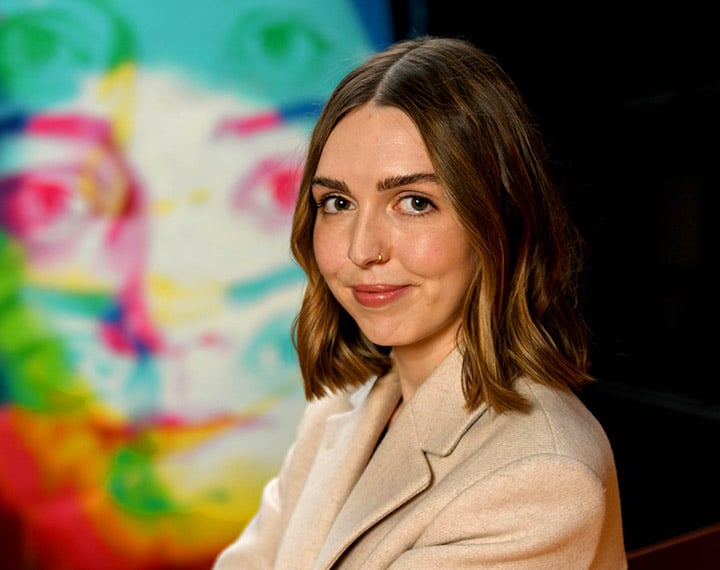 Nicole Thomsen
Content Marketing Manager
Multi-talented Content Marketing Manager Nicole Thomsen is our go-to when our clients need a creative idea. Composing video scripts, researching blog posts, writing newsletters that convert and working closely with our design team are all part of a normal day for Nicole. Braving chilly sea swims during her time off, Nicole likes to warm back up with a flat white and spend time sewing - her latest hobby.
Nicole Zanellatto
Senior Digital Marketing Manager
Senior Digital Marketing Manager Nicole Zanellatto is our long-term strategist who uses her paid digital and inbound skills to help brands grow consistently and continually. As well as speaking English and Portuguese, Nicole is also fluent in HubSpot and Google Ads. Spot Nicole walking her dog, Vanilla through the city, stopping at the newest café to review it for her food blog Taste by Ni.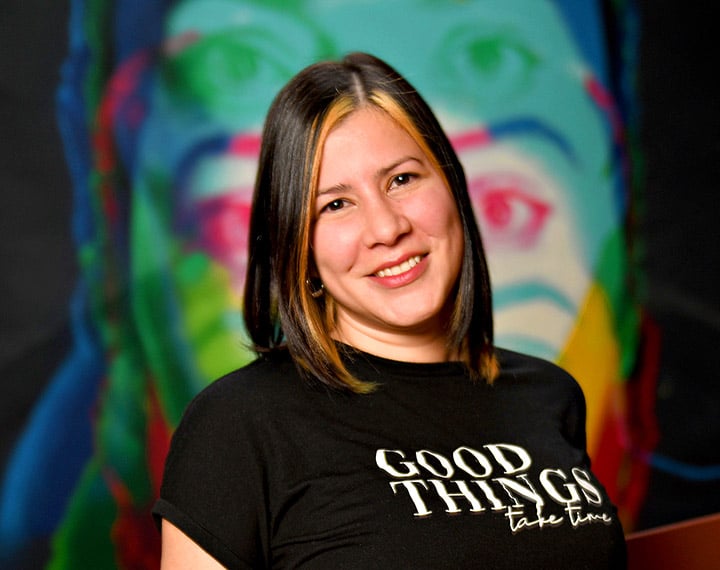 Reyna Lopez
Junior Digital Designer
Reyna Lopez came to Ireland to learn English and brought her knowledge of advertising and love of graphic design with her from Venezuela. Her career has seen her work across traditional media like TV, radio and magazine, since joining 256, she's fully embraced digital platforms. Loving life here, Reyna spends her free time exploring Irish culture and learning more about her new home.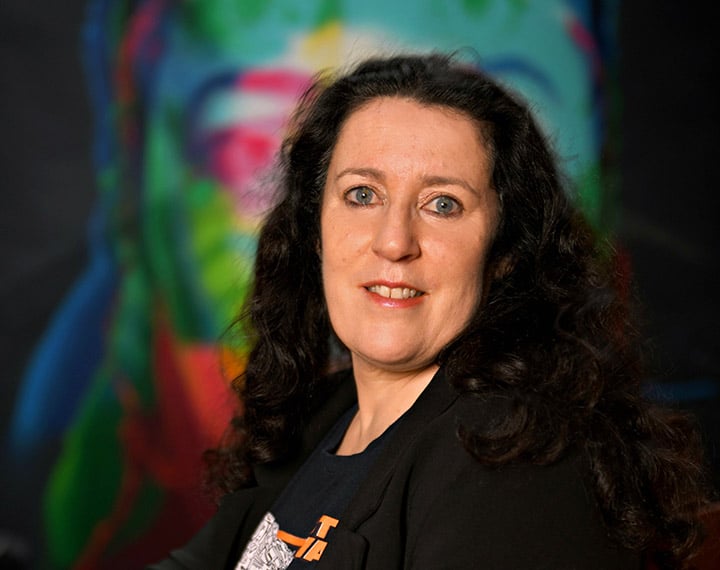 Sharon Hughes
Finance, Payroll & ISO Manager
The wearer of many hats, Sharon has been with 256 since the very start and is now our Finance, Payroll & ISO Manager. With 25 years of experience in the field, she plays a key part in the smooth running and growth of the business. Getting out into the fresh air when she's not at work, Sharon loves to walk her pointer dogs with her family in the Wicklow Mountains.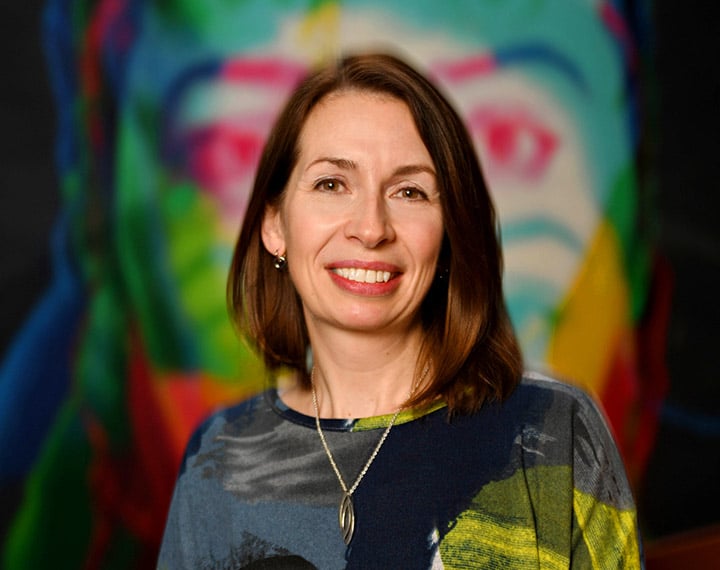 Sinead Mills
Senior Graphic Designer
Senior Graphic Designer Sinead Mills brings visual concepts to life through her design and Adobe Creative Suite skills. With over 20 years of experience across print and digital design, she delivers emphatic and visually striking storytelling every time. As a self-confessed bookworm, Sinead either has her nose buried in the latest bestseller, a Spanish phrasebook or trying a new dish from a cookery book.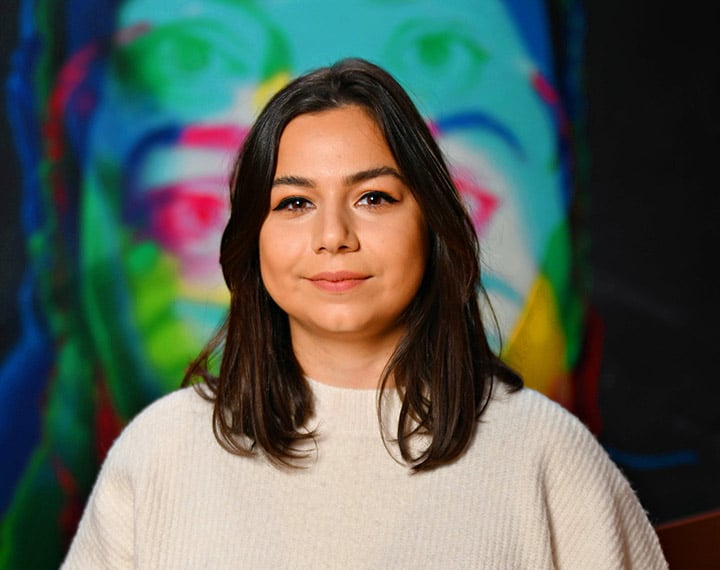 Victoria Ivaylova
Account Executive
Account Executive Victoria Ivaylova connects all the dots between our internal teams and our clients, expertly managing all our professional relationships. With clear communication and a fantastic attitude, she ensures that our client's needs are constantly met and often exceeded. Dog-loving Victoria's ideal Friday night is made up of a visit to her local cinema and doing battle at a quiz afterwards.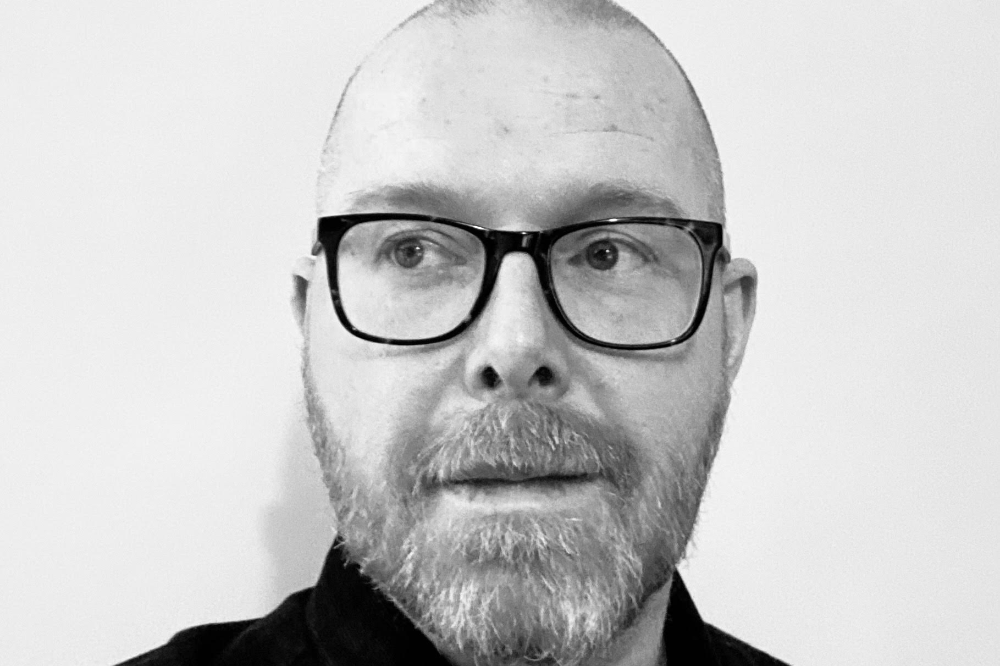 Brendan McGinley
Head of Client Services
Head of Client Services, Brendan McGinley is our resident expert on all things Inbound Marketing and HubSpot. Focusing on implementing high-performing marketing programs and demonstrating tangible ROI against any investment, his email marketing techniques and workflow personalisation has helped numerous brands soar. When he's not helping businesses grow, Brendan is either by the sea with his family or watching Liverpool play.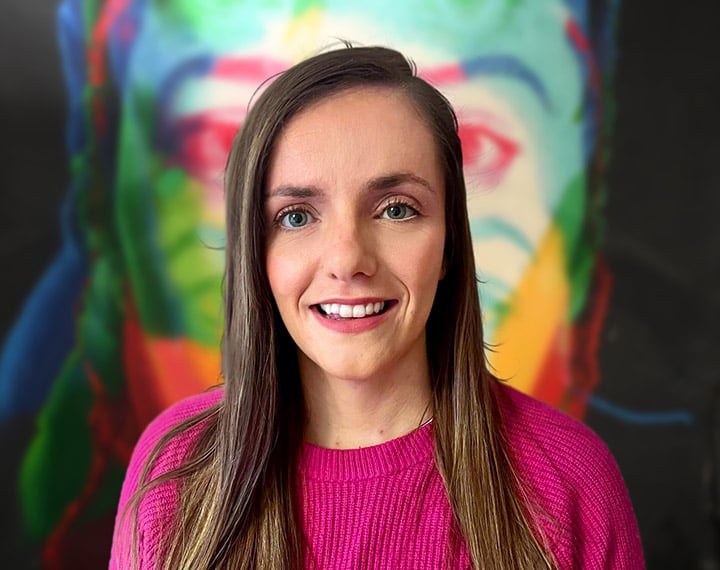 Mary Riordan
Digital Marketing Executive
Social media is name of the game for Digital Marketing Executive Mary Riordan. Managing our client's daily community engagement on every channel imaginable, her strategic thinking and robust reporting make each campaign a success. Swapping social media accounts for the outdoors on the weekends, Mary is on a mission to find the best coffee in Cork and Kerry, spending time at her local beach in between her caffeine fixes.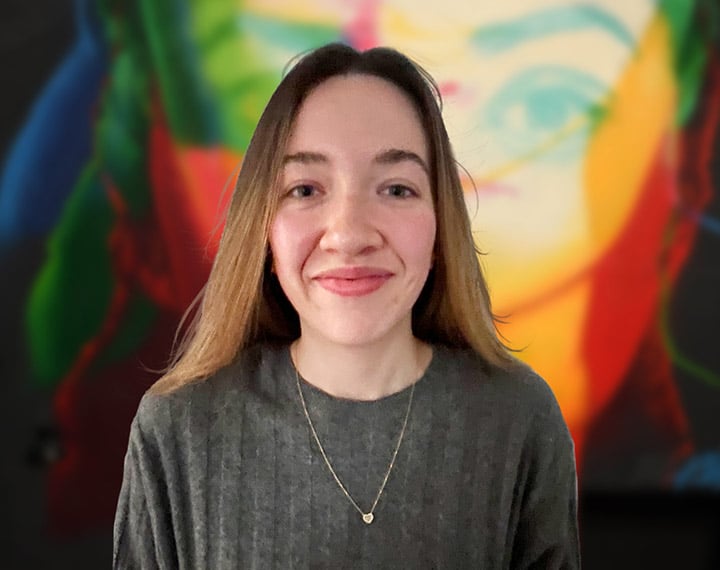 Megan Doyle
Business Analyst
Business Analyst Megan Doyle is all about taking 256 to the next level. Optimising our workflows and time management through her mastery of our project management software and ISO 9001 quality assurance, Megan gathers detailed data and creates insightful reports that shapes our strategies. Hitting up the gym after work and getting steps in with friends, Megan relaxes on the weekend by catching up on the latest TikTok trends.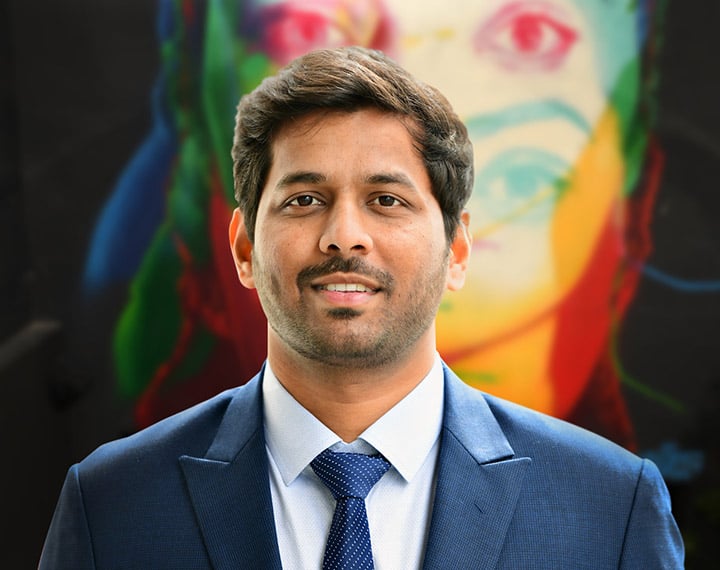 Raj Kupekar
Data Analyst
Finding insights in the numbers is Data Analyst Raj Kupekar. Designing data visualisations and real-time dashboards so our clients can understand their performance at any given time, he is an instrumental part of our analytical team. Raj is also a serious sportsman, and we mean serious. He's excelled in three sports, competing at the highest level back home in his native India and continues to keep active here in Ireland.
Recent Awards
We know, we know, winning isn't everything; but we do like when our client work gets the nod from the experts. Here's some recent global wins we've been celebrating.

2022
CMA
Best Specialist Campaign

2022
US Content Marketing Institute
Best Use of an EBook

2022
US Content Marketing Institute
Highest Conversion Response from a Content Program

2022
GDEA
Crisis response Content Campaign Of The Year

2021
US Content Marketing Institute
Best Use of Technology as Part of Content Marketing Program

2021
US Content Marketing Institute
Best Specialist

2020
US Content Marketing Institute
B2C branded Content of the Year

2020
US Content Marketing Institute
Best Topic Specific Video as Part of a Content Marketing Program

2020
US Content Marketing Institute
Best Use of Multi Channel Social Media in Content Marketing

2019
CMA Ireland
Best Content Marketing Award - Travel

2019
CMA Ireland
Best Content Marketing Award - B2B

2019
CMA
Best Use of Content Curation Award

2019
CMA
Content Marketing Agency of the Year

2018
Eir Spiders
Best Content Creation for Digital Media

2018
US Content Marketing Institute
Best Retail Publication

2017
Eir Spiders
Best B2B Blog

2017
IMA
Innovation of the Year

2017
IMA
Photographer of the Year
Sector Expertise
Travel & Hospitality
SAAS
Financial Services & FinTech
B2B Marketing
Higher Education
FMCG
Get in touch...
It's time to get eyes on your content chaos.
Fill in the form and a real human 256er will get back to you.