What's your content strategy looking like today?
Bliss
Calm
On Point
Intense
Agony
Storytellers change the world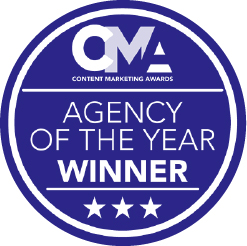 Craft and scale content experiences that grow brand love, build community and drive revenue. Say hello to the Best Content Marketing Agency in the World * #official
Recent Awards
We know, we know, winning isn't everything; but we do like when our client work gets the nod from the experts. Here's some recent global wins we've been celebrating.

2022
CMA
Best Specialist Campaign

2022
US Content Marketing Institute
Best Use of an EBook

2022
US Content Marketing Institute
Highest Conversion Response from a Content Program

2022
GDEA
Crisis response Content Campaign Of The Year

2021
US Content Marketing Institute
Best Use of Technology as Part of Content Marketing Program

2021
US Content Marketing Institute
Best Specialist

2020
US Content Marketing Institute
B2C branded Content of the Year

2020
US Content Marketing Institute
Best Topic Specific Video as Part of a Content Marketing Program

2020
US Content Marketing Institute
Best Use of Multi Channel Social Media in Content Marketing

2019
CMA Ireland
Best Content Marketing Award - Travel

2019
CMA Ireland
Best Content Marketing Award - B2B

2019
CMA
Best Use of Content Curation Award

2019
CMA
Content Marketing Agency of the Year

2018
Eir Spiders
Best Content Creation for Digital Media

2018
US Content Marketing Institute
Best Retail Publication

2017
Eir Spiders
Best B2B Blog

2017
IMA
Innovation of the Year

2017
IMA
Photographer of the Year
Sector Expertise
Travel & Hospitality
SAAS
Financial Services & FinTech
B2B Marketing
Higher Education
FMCG