Back in 2015, animated series South Park episodes "Truth and Advertising" and "Sponsored Content" perfectly summed up how ads adapt to new technologies and somehow always find a way to get to us.
Ads may not be at a level of artificial intelligence packed into the body of a girl (or are they?!) but it's true that advertising is getting more sophisticated. In this new environment as a marketeer , you need something more than flashy click bait to get people to pay attention.
This is why content marketing - and the many tech advancements surrounding it - is becoming more important than ever. Content marketing pulls in the customers with content assets that serve to educate, provide value and delight. This content connects with the right people, giving marketers quality leads that ensure business success.
Content marketing is especially important for industries where the buyer's decision-making process is quite long and demands thorough research. Higher education is one of these industries. To make things even more intense, competition in the education industry is extremely fierce.
Let's see how some universities use digital channels to create appealing pieces of content that can pull in prospective students and turn them into leads.
Bucknell University
If you're not really sure where to start with your content strategy, go for your website first because it's probably the first thing that students will look into when researching for schools. Think of it as your first impression, and we all know that you want to make every first impression a good one.
Here is a great example from Bucknell University in Pennsylvania, where visitors can enjoy not only the appealing design but also the possibility to customise web pages as they like by opting-in for content that's relevant for them.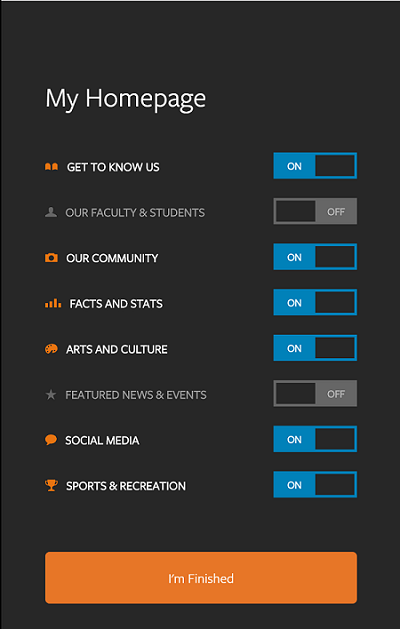 This is a great example of how simple design and decluttered pages ease the customer journey so that prospects can find the information they want.
Having an effective website is extremely important for your university because your website will be the main hub of your digital content. You'll want your prospective students to easily find information on course programmes, be able to download your prospectus and get anything else they might need to help them make their decision.
DCU Business School
It's surprising how many universities out there don't take full advantage of blogs and all the opportunities that they provide. Blogs are more than notice boards where universities post new job openings or occasional faculty news.
Blogs can be packed with educational content that can engage
prospective students and build up SEO.
Here is a simple example from the DCU Business School: Top 7 Reasons to Consider a Career in the Aviation M anagement Sector.
The fine line between informative content and advertising is
almost non-existent in this blog.
This blog post is very short but it manages to deliver all the selling points of becoming a manager in aviation. At the end of the text, it's conveniently mentioned that DCU Business School has a programme that specialises in this exact sector. Now it sounds more like an ad, right?
The blog text is also packed with keywords that will be highly beneficial for SEO. So, the next time somebody Googles "career in aviation management," it's very likely that DCU's blog will pop up and somebody will click on it to find out more.
This is a nice example of using content to spread the word about programmes available at your school. Let's see how you can use different types of content not only to promote programmes but also to get the prospective students into your database.
University of Limerick
A good university content marketing strategy will bring more visitors to your website - your perfect opportunity to turn those visitors into student leads. To accomplish that, you'll need to provide something of value in exchange for contact information. Creating an effective landing page is a first step.
In our strategy for the University of Limerick we used landing pages in combination with paid ads to reach out to potential students who are interested in specific academic areas. For this purpose University of Limerick launched eBooks that cover programmes under different faculties like their Kemmy Business School or Science and Engineering.
The result of this strategy brought UL ten times more leads in their database than before, giving unique insights into the prospect's journey on his or her way to making a decision to apply for a course.
The landing page design is simple and it doesn't distract from the text that lists out all the benefits students get by downloading the content asset.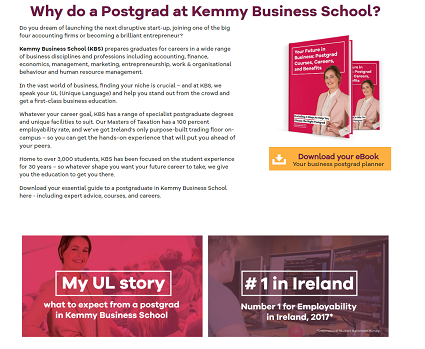 Keeping the client database fresh and populated is highly beneficial. A well maintained and segmented database gives better insights into the market and ultimately informs your own university content marketing strategy.
University College Cork
Once your leads share their contact info, they'll expect to get that valuable piece of content that was promised in exchange. No matter what kind of format you decided to use for your downloadable content, you need to make sure that the information, the design and writing quality are top-level.
UCC's digital prospectus is a good example of university content marketing asset that is valuable enough to exchange for contact info: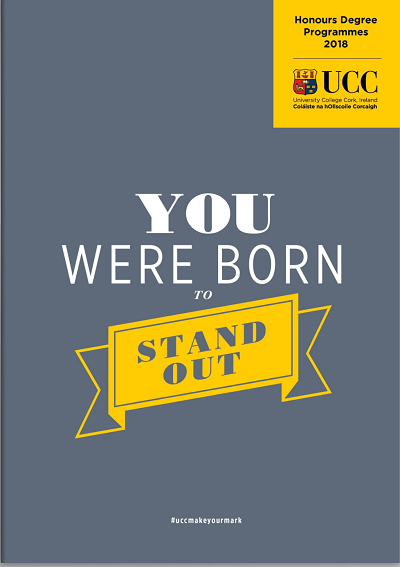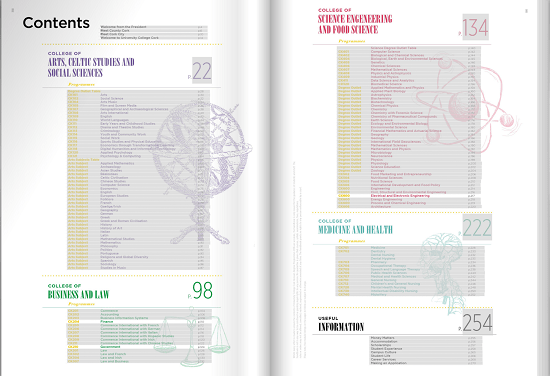 UCC's prospectus has an unassuming but pleasant design that brings out the school's colours. It's also very easy to browse even though it's in a digital format.
Links in the Contents page bring you to pages full of useful info in just one click. UCC wraps it all up in 287 pages where prospective students can find all answers to their questions.
Not all content needs to be almost 300 pages long to pass on valuable info. Sometimes all you need is just one page to make an impact.
Stanford University
Did you know that our brain processes images 60,000 times faster than text? Maybe you didn't know that, but you've probably had an experience where it was easier to read and understand data from graphs and pie charts rather than reading text.
So what do you do if you have to present a lot of data but you want to avoid writing a long-winded piece know that only a few will read? Infographics can be used to showcase numbers and stats in a fun way and make this type of content easy to absorb.
Here is how Stanford University used a very basic infographic to share some interesting facts about the school:

Stanford's example really spells out why infographics are more than just a "cute" content format. In this particular infographic, everything starts very innocently with general facts about the university. Then when you're pulled into the content, the sales pitch starts!
Who wouldn't like to go to a school that produced 30 living billionaires and whose athletes won as many medals as Japan in 2008 Olympic games in Beijing?
Fun fact: This infographic is from 2016 and since then, Stanford acceptance rate fell to 4.3% in 2018 from 6.6% in 2016. It's only one example of how powerful content can be when done properly, as it can serve as a short summary of why potential students should choose your school rather than your competitors.
Content marketing is a long-term strategy for universities
There is no quick and easy solution for attracting students
to your university. Launching a short paid campaign right before the
applications close for the semester probably won't bring you any results.
University content marketing covers all stages of the decision-making funnel and if done well, it will ensure you have contact with your prospective students at each stage of their decision-making process. The best part is that much of the content you've created will keep bringing in traffic and leads long after this years' student intake have graduated.