Rhoda McDonagh, Marketing Manager, EBS Ltd (right) with Karen Hesse, Managing Director of 256 Media.
256 Media has become the first agency in Ireland and one of only an elite few in Europe to win a global content marketing award.
The Dublin based company landed the bronze award for Best use of Infographics, in the Content Marketing Awards in the US on behalf of client EBS Ltd.
Previous winners in the awards run by the Content Marketing Institute in the US include Google, General Electric, Unilever, Kraft Foods, The Walt Disney Company, and Dell.
"Once again this year we were gratified by the number of great brands that entered the CMAs, over 1,100 entries. We were blown away by the brilliance of the best work," said David Murray, program chairman. "The CMA winners demonstrate that, just as fast as content marketing is getting bigger, it's also getting better."
Making research customer friendly
256 Media's brief from EBS Ltd was to make the in-depth research from the bi-annual EBS DKM Affordability Index accessible to EBS customers.
256 Media's award winning content marketing solution is the 'World's First Infozine', a tri-folded printed piece which played to the visual strengths of an infographic but incorporated an editorial narrative. The infozine was distributed through the EBS branch network and also made available online at EBS.ie.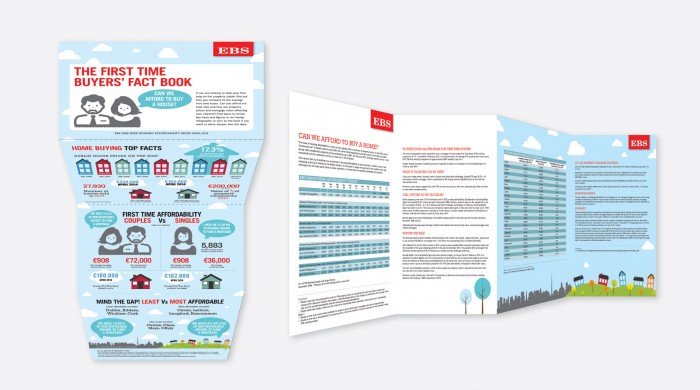 256 Media's ongoing work with EBS includes a blog series created to accompany the current mortgage campaign. However Karen Hesse, Managing Director of 256 Media says that EBS is in a small minority of Irish companies beginning to use a content marketing approach to engage with customers.
Content Marketing set to grow in Ireland
"Content marketing has hit the mainstream in the US where global brands like Coca Cola, American Express and Walmart are adopting a content marketing perspective to better engage their customers and thereby increase sales. And it's working for them. Ireland is somewhat behind, but the rock has started to move", Hesse says.
"The biggest issue for Irish brands is a lack of a documented content strategy", she adds. "Many brands struggle with the idea that they need to become publishers to really get the best return for marketing spend in the digital age.
"Ireland is a nation of story tellers so we have all the skills to become known for providing content services globally in the same way we have done for animation and gaming".
256 Media was set up as Ireland's first dedicated content marketing agency just 16 months ago and has just trebled the size of its office in Dublin with a move to new premises to accommodate growth in the agency's client list. Hesse is predicting strong growth in content marketing for 2015 as more Irish marketers move into the space.
If you want to find out more about 256 Media's services just get in touch.