When it comes to our timelines, it's hard to tell fact from fiction. Is Donald Trump's hair real or not? Is Making a Murderer's Steven Avery the innocent victim social media has painted him to be?
Is Kanye West really the "greatest living rock star on the planet"?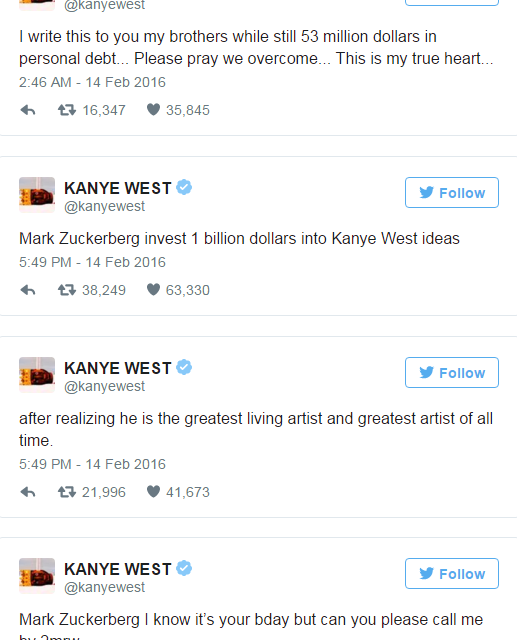 Hell, is Kanye actually 53 million dollars in debt? Who knows, but his wild tweets drummed up a cavalcade of PR. Sure it's like watching a PR car crash, but look past the numerous Twitter hiccups and statements, and we can learn a lot from our friend Yeezy as content marketers.
After all, music has always had a lot of common ground with content marketing.
The better the content an artist releases (and the more it aligns with their brand), the bigger the audience and the more engagement they'll get. Albums and songs have stories and messages that people relate and attach themselves to.
So what can content marketers learn from Yeezy himself? Here are four lessons to help you get Stronger for your content marketing. (Slow clap for anyone who catches all the shameless Kanye song punnage.)
1. Pull a Kanye and find your USP
Kanye West has always been a ground-breaker. His rich discography is a clear example of great content and innovation throughout his career.
'The College Dropout' diverged from the gangster persona with its "chipmunk soul" production style; 'Late Registration' utilises production styles and instruments not commonly associated with the genre; West's departure from the sound of his first 3 records and use of auto-tune in '808s & Heartbreak' was genre-bending, and 'Yeezus' arrived with an abrasive and minimal aesthetic. And that's only the tip of the iceberg when it comes to Mr West.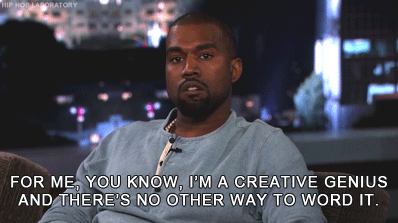 Calm down, Kanye. My point is that so many businesses fall into the trap of creating more or less the same content with a different face to convey the same message. How many rappers are still singing about money, women and fame in their songs with the same lacklustre production each time?
Kanye saw this and decided to establish the missing link and reinvented himself every time to shine through the 50 Cents and Chamillionares and still give the audience exactly what they were looking for.
Look what everybody else is doing in your industry and do it differently. Create a strategy for your target audience that stands out from your competitors. And don't be afraid to take the risk. If it's in-line with your personas, it'll work out. You might even see your competitors imitate some of your moves.
Kanye's music inspired a generation of producers and rappers. Do it right, and your content may well have that same effect.
2. Get over yourself
Kanye's attitude may seem humorous at first: like a little toddler telling you that he's a big boy. It's easy to brush it off and tell yourself that it's cute. But over time, that same old message can start to get pretty annoying.
Kanye has always said he's the greatest, but that all went into overdrive when his notorious interview from 2013 with Zane Lowe came out and his ego took front and centre.
While Kanye will always have an audience and superstar status, his approach seemed to divide his audience. On the one side, you have the loyal fan base who will always preach his words like gospel. On the other, we've got fans who started to lose interest because of his egotistical disposition.
Indeed, Kanye is in a situation where he doesn't really need to build his audience anymore, but since his album 'Yeezus', there has been a clear definition between the fans and the naysayers.
Unfortunately for the rest of us mere mortals, we don't have the luxury of challenging our audiences for better or worse. Our goal as content marketers should be to constantly grow or nurture our target audiences. An essential part of any inbound strategy is to provide content that tackles a problem or opportunity your persona has. It's not about pushing your brand in their faces.
While Kanye's music is great for the most part, how many more fans do you think he could have gained if everything wasn't always about how great he is? Kanye's music is still just as relevant as his debut 'College Dropout', so he shouldn't need to tell people that his latest record is "the album of life". Insecurity can be a complicated trait.
The lesson? Don't tell your audience why your brand is the best out there: tell them how they can benefit from your services through your content and let them decide. If the content is good, you'll get the results you're looking for. Boom.
3. Know your buyer personas
If you've been following Kanye's antics over the last while, you're probably aware that fashion has been a big focus for the rapper. Kanye premièred his first fashion range with Adidas in 2015. This isn't the first time he has dabbled with fashion, but the 'Yeezy Season 1' line was the first real full range that fans actually had access to.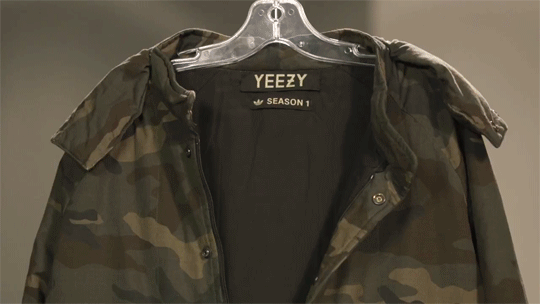 Following the premiere, his Yeezy Boosts sneakers (limited to 9,000 pairs) sold out in just 10 minutes and now fetch for literally thousands on eBay. You can definitely argue that if Kanye released his own range of broccoli, people would eat it up like Domino's Pizza, but hip-hop and fashion have always gone hand-in-hand.
Clothing is an important part of the hip-hop persona. Kanye saw the opportunity to use his name to serve a product that his audience was looking for and it paid off. Knowing his audience helped him design the clothing line they wanted and, well, the results speak for themselves. Some might say that his latest line looks like a cross between Star Wars and Somali pirate attire, but that's neither here nor there.
The lesson here is to know your buyer personas. Get to know what they want, their habits, what they like and don't like and form your content strategy around that. This is essential for any inbound strategy. Knowing exactly who your customer really is Bound 2 (geddit?) make the world of difference for your business.
4. Release regular content to keep your audience interested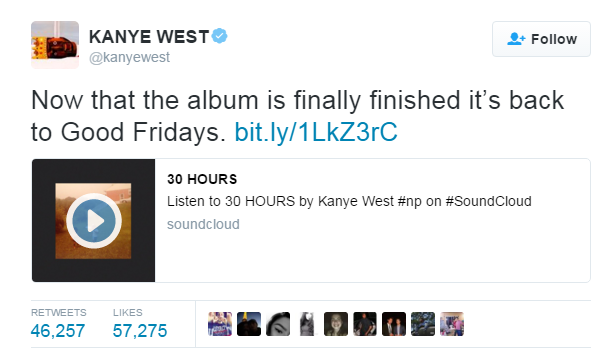 In January 2016, Kanye announced the return of GOOD Fridays (and no, we're not talking about the day Jeezy got crucified). On GOOD weeks, Yeezy releases one new song every Friday, typically a few weeks prior to a record release. Admittedly, this was a stroke of genius from Kanye's camp.
Fans were given fresh content every Friday that they could engage with and share. As a result, this increases awareness of his new records, keeps the fans interested and most importantly, generates leads for his record sales and gigs.
With 85% of B2B marketers saying lead generation will be their most important content marketing goal in 2016, releasing fresh content weekly is essential to maintaining the attention of your audience and generating those leads.
Write blogs and create visual content frequently for your audience to boost your SEO score, engage your audience, and gain leads. If you're not creating content on a regular basis, I'm sorry, but you're living a not-so-beautiful twisted dark fantasy and missing a real opportunity to gain some business. Right, Kanye?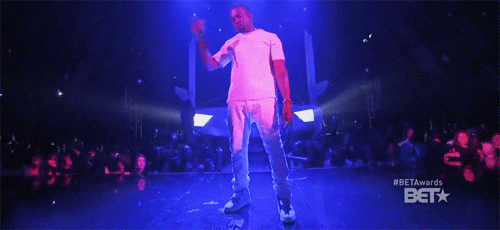 Looking to touch the sky with your content?
Looking to "come up in the spot looking extra fly" and increase business with your content? Why not get in touch with our award-winning team. We'll be happy to chat to you about what we can do for you.
In the meantime, follow us on Facebook, Twitter, and Pinterest to keep up with all things content and digital media.