COPE on a ROPE – How to stop creating single use content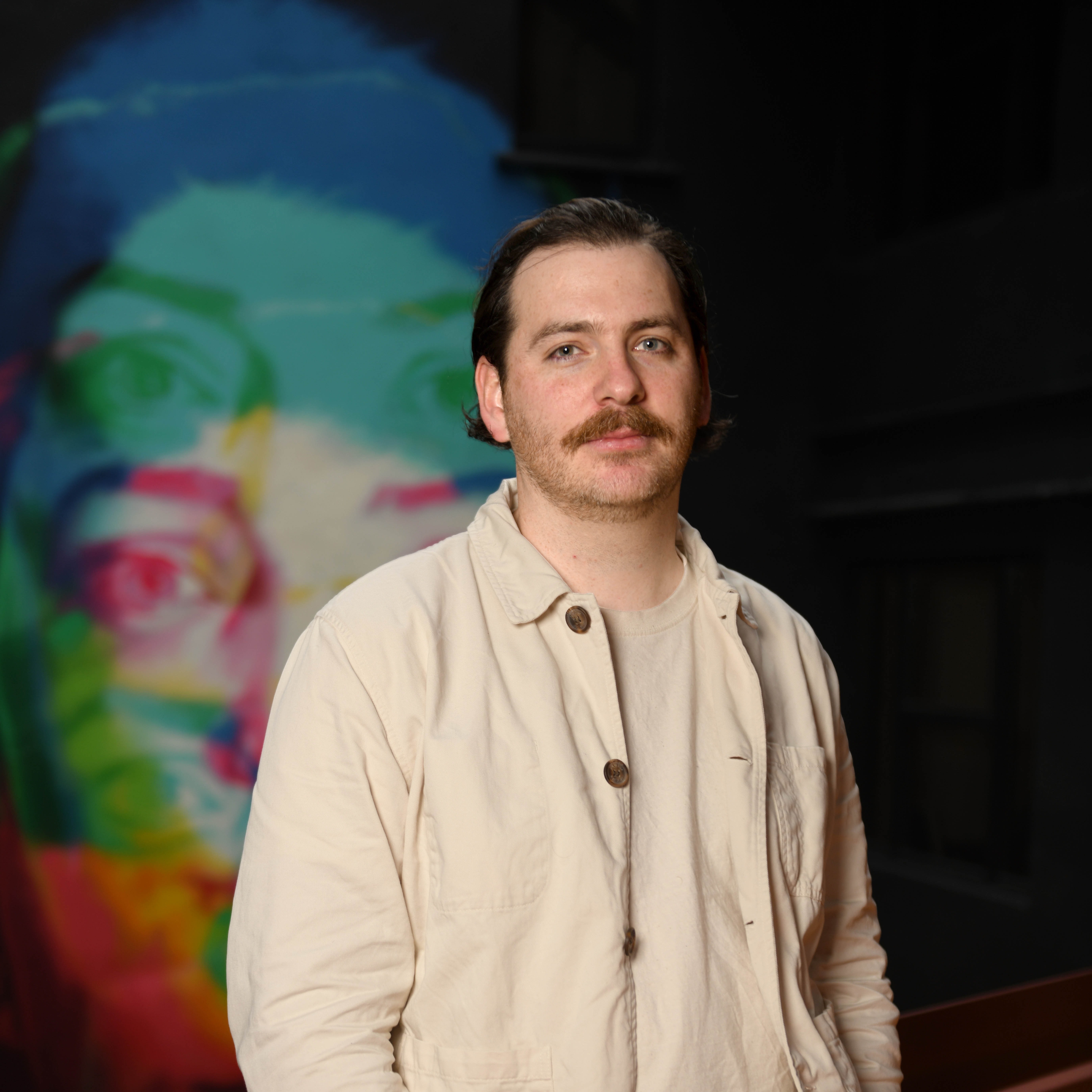 Posted by Cian Byrne
October 12th, 2022
Publishing content reminds me of the 100m sprint at the Olympics.
There's so much fanfare in the lead up to the main event. Expert pundits give their predictions and a buzz emanates from the crowd. Finally, the sprinters line up, the gun goes off and then it's over before you know it. And that's the last time we'll think about it for another four years.
Looking at content through this lens, there's the research, the strategic planning, the creation of assets, publishing and then, all too often, it stops. It's forgotten about.
This one-and-done approach to content marketing has lots of downsides. So many, 256 developed the 'COPE on a ROPE' approach to stop the production of single use content.
What is COPE on a ROPE?
COPE on a ROPE is Create Once Publish Everywhere across Rented, Owned, Paid and Earned channels. It's a mindset of proactively considering and planning to use content in different ways before you create it.
Rented covers social media channels. This is often the default for many content creators. You don't own the platform, but you're also not paying for exposure. Be careful about building your content empire on rented ground.
Owned includes all channels and platforms that your business, well, owns. That's your blog, your email newsletter and your contact list.
Paid covers paid advertising. Google Search, Facebook, Instagram, and YouTube Ads. Focus on what works for your industry and your clients. OOO advertising still works, newspapers work great for location specific campaigns.
Earned is where the press pick ups on what you're doing or when someone reviews your product on their site. This includes UGC – User Generated Content, the brand fuel for social. (But it does not include paid influencer marketing. As the name suggests that belongs under 'Paid'.)


Download our COPE on a ROPE template
No more single use content
At 256 we're on a mission to stop single use content, it's a poor use of resources, so COPE on a ROPE is here to help us, our clients, and you get better results.
But don't get repurposing content confused with cross platform marketing.
We're not reheating last night's leftovers, we're using the ingredients from our Sunday roast to whip up an entirely new meal the next day.
Why you need to repurpose content
Great content takes time. It takes research, expert opinions and talented content creators to bring everything together. It might surprise you, but the average blog post of 650 words takes three days to finish (get more great stats like this in our Irish Content Marketing Report). This process, while absolutely necessary, can take up a lot of resources which is why repurposing content makes so much sense.
The core piece of interesting research or captivating insight is at the heart of every piece of content, we just shape it differently to suit different platforms and audiences. By repurposing the content, we cut out some of the stages in creating content which reduces costs and boosts your ROI.
Repurposing content gives you more tools to get the job done. It turns a single channel approach into a wide sweeping omni-channel approach that connects with your audience when and how they want.
It also allows you to stay relevant with your audience and by tracking your performance you can adapt and move resources across platforms as your audience's behaviour changes.
How to repurpose content
Let's take a look at the MyCU campaign that 256 ran for Mastercard and CUSOP, an electronic payments service for Credit Unions in Ireland.
As some major institutions were leaving the market in Ireland, there was an opportunity for CUSOP to gain new customers. We knew that Irish consumers loved the Credit Union, but we just had to prove it. 256 ran a nationwide survey to gauge just how much people in different regions across the country loved the Credit Union.
This was the key content that was created once and was published across rented, owned, paid and earned media.
The campaign ran across OOH, video, radio, programmatic, print, PR and social with fantastic results and excellent ROI. Read the full case study on this fintech marketing campaign.
256 also brought this thinking to Fáilte Ireland, the National Tourism Development Authority of the Republic of Ireland, when working on their Keep Discovering influencer campaign. Itineraries were put together by the PR agency for well-known Irish influencers to experience the best of Ireland, with the initial goal of driving awareness and engagement via their social accounts.
Taking the content they created, our team repurposed the itineraries into written content for Discover Ireland's website and then spun it out into more detailed interviews published in a supplement in The Sunday Independent.
How your team can repurpose content
Offices (and home offices) can get pretty busy, but the process of repurposing content doesn't fall solely on the shoulders of one team member.
Think of the original content as tasty ingredients for cooking your content strategy. The graphic designer reaches in and shapes it into a series of snackable social media posts, the copywriter picks out their favourite parts and turns them into juicy blog posts, and account managers update pitch decks with delicious stats and key takeaways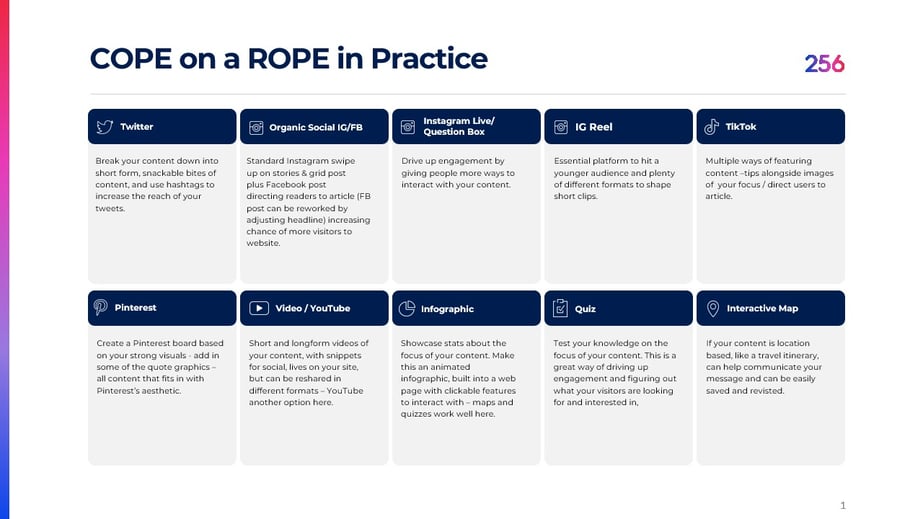 How to make repurposing part of your strategy
If you're shooting a video, make sure your write up a detailed shot list before the shoot, and prioritise it so that you get the footage that you need first. Let the videographer know that you need additional PTC (piece to camera) and snippets for use across different social media platforms.
Prep your interview questions for your podcast, so they can be easily rewritten into a blog post. Structure your presentations to have key takeaways that can be easily lifted and made into social posts and email newsletters.
Repurposing content needs to be baked into your initial strategy. It's much harder, and you lose a lot of the main benefits when you try to tack it on to the end of a campaign.
Don't fall short of the finish line, get in touch with us and let our content team plan your COPE on a ROPE strategy.

Previous Post
What the Winchester House can teach us about content strategy

Next Post

Rock the boat with brave B2B marketing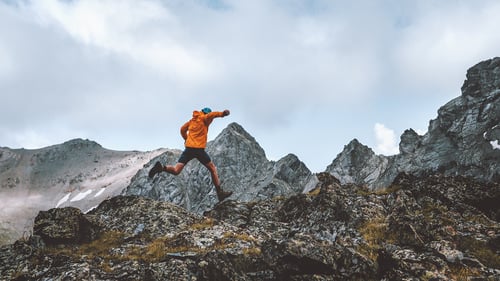 Cian Byrne | Dec 20, 2022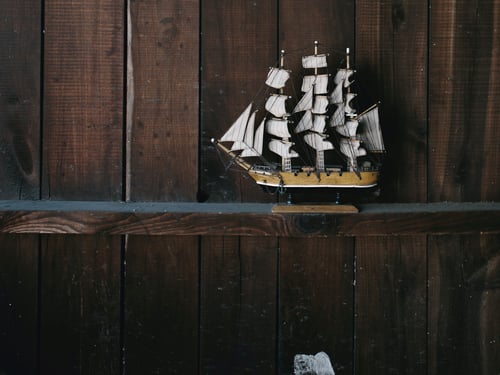 Cian Byrne | Oct 27, 2022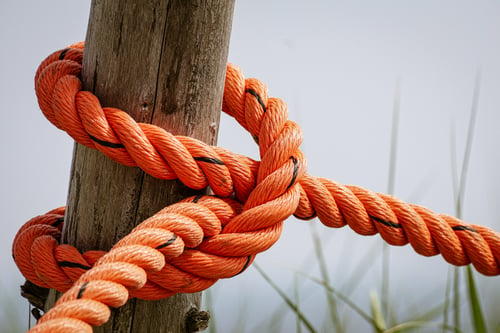 Cian Byrne | Oct 12, 2022