10 ways that content is like that one guy in that one film, how Donald Trump is the candidate that content built, and 101 reasons why you absolutely must be doing content... Content, content, content. Sometimes, it can seem like content is all things to all men, women and family pets. That can create a bit of a content dilemma.
How do you know what kind of content to create if you're not sure what would work for you? Working out what content you should be doing starts with a clear content strategy and some simple questions.
What do I want to achieve? Who is my target audience? What content do they want to see? How can I make something that people want to see? How can I use it to convert them into customers?
It's all about identifying and knowing your audience. Sounds simple right? Well, it can be as long as you avoid some obvious pitfalls.
Avoid style over substance
Content is there to serve a function within an organised content plan. Or at least good content is. Each piece of content should serve one defined purpose. Creating content with no strategy is like trying to bake a cake without an oven – pointless.
You may fancy yourself as a budding Tarantino but there's no point making a video just for the sake of it. Just step away from the camera.
Always come up with the concept before deciding what format is the best way to execute it. Decide what you're trying to do for your target persona and what you want your content to achieve. Then figure out what formats work best for each stage of your sales funnel.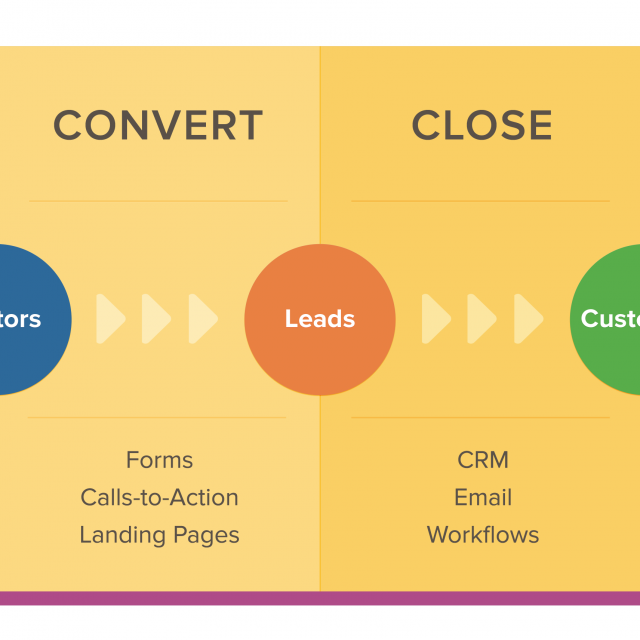 You can use the likes of blogs or keywords to attract visitors to your site. This can be the first step towards getting their business. Are you trying to raise awareness among leads? This is where landing pages or explainer videos can come in useful.
Are you looking to influence prospects? Maybe you could look at how-to videos or a white paper to try to steer them towards a purchase. The likes of reviews or testimonials can be great tools to convert people into customers.
Think about what you want to achieve, how you can do it and then – and only then – should you start producing content.
The long and short of the content dilemma
The debate about long or short form content is something of a prickly topic but it doesn't have to be an either/or situation. Testing different types of content will tell you what works best for you. Just like cake and ice-cream, they can both have merits. Ice-cream cake is always an option too, of course.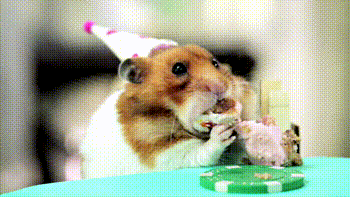 It used to be that short content like 300-500 word blog posts were the weapon of choice for content creators. They were mobile-friendly, easy to read and perfect for people with the attention span of a goldfish.
Short form can also describe infographics, Vines or other snappy content that can be easily-digested. Short form content can still have a big impact.
Remember when Hootsuite's brilliant Game of Social Thrones video went viral last year? It was well-timed to tap into the excitement over the start of Season 5 and it cleverly illustrated the way Hootsuite harnesses social media under one platform with a clever pop culture reference.
https://youtu.be/2zCw_-XsTPE
Google's decision to reward longer content turned many people into long form converts. They now rant at length (no pun intended) about ranking, the SEO benefits and the enhanced credibility that long form offers. So some people swear by long blog posts, white papers, reports and longer videos.
Microsoft doesn't exactly need to sell itself but its Microsoft Stories cleverly use long form articles to tell a brand story. Rather than give dry commentary on the nitty gritty of their technology, it takes an in-depth look at everything from Halo 5 to fast-rising female engineers to the use of data mining in winemaking. If you want to know how to do long form content well, this is a great place to start your research.
Big content demands more time, effort or investment but it can be a powerful addition to your content plan and generate major traffic. Even if it is harder to do.
Lego have become old hands at attaching their brand to major moments, like their Lego trailer for Star Wars: The Force Awakens. They even stimulate user-generated content as the public create their own Lego homages to big events like the World Cup. They've also seamlessly crossed over into video games.
One epic example of big content was the brilliant Lego Movie, which was content marketing genius. Even if it did introduce this annoyingly catchy song into the public consciousness:
https://youtu.be/9cQgQIMlwWw
For most brands, taking a balanced approach ensures that you won't risk the farm. Or blow your entire marketing budget chasing the content equivalent of Moby Dick by trying to go viral with a big budget piece of content.
A balance of long and short form can tick different boxes. Just make sure you maintain a consistent brand voice, regardless of whether you're doing an in-depth blog or posting an infographic. Remember that the Beatles put out songs as different as Hey Jude and Helter Skelter while still retaining that unmistakable Beatles vibe. So no pressure.
Just don't go big or small for the sake of it. Focus on producing substantial content and let the length fit the purpose.
The main thing is to have a reason for each piece of content. This isn't about adopting a Pick'n'Mix approach to try to please everyone. Each piece of content should serve an obvious purpose within your plan and be aimed at your target persona.
Play to your content strengths
So what if you want to put out content but don't have a team of content specialists at your disposal? Use the resources that you have available to you.
One option is to look at freelance operators or seek outside help to realise your content ambitions. It's probably better than filming a vlog on an ageing smartphone in a dark room. Unless an outtake from The Blair Witch Project is the look you're going for.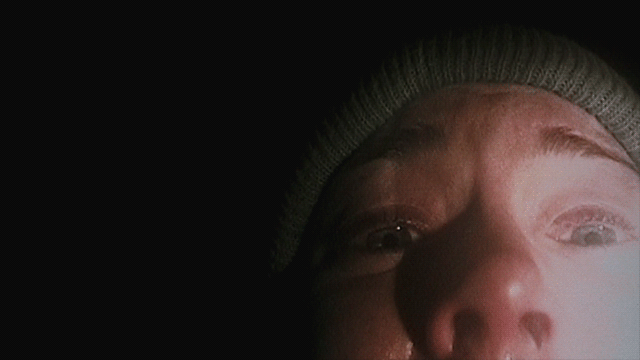 Putting out awful content will only deter potential visitors and reflect badly on your brand.
Even the big companies know when to outsource content to specialists. Intel may be a massive company but they saw the benefits of harnessing BuzzFeed's native advertising machine with this nostalgic post about school days.
Maybe you don't have access to a kick-ass content writer or a graphic designer but there are countless sites offering content tips. There are also free tools to help you write better content or make simple but effective graphics. So there's help there if you plan to do it yourself.
Figure out what you're good at and do that. If you're a brilliant photographer, Instagram or Pinterest could be obvious avenues to explore. Playing to your strengths will ensure content quality. It also makes it easier to produce content on a consistent basis. Your expertise is always an asset you can exploit in your efforts to solve the content dilemma.
Use content to answer questions
But what exactly is content for? Simply put, every piece of content should answer a question. That may sound like a soundbite from a card-carrying member of the Guild of Vague Gurus but it's also the truth.
What questions do your customers/leads have and how can you answer them with a piece of content?
Take ESB's decision to put out an explanatory infographic when people were talking about their role in the recent Shannon flooding. It was a simple way to show that they weren't to blame and to explain why their name kept cropping up in the discussion.
McDonald's Canada adopted a comprehensive content approach that fields all sorts of questions from the public in their dedicated website. Not all the questions are friendly but it does engage with the customer and shows a commitment to transparency that appeals to most people.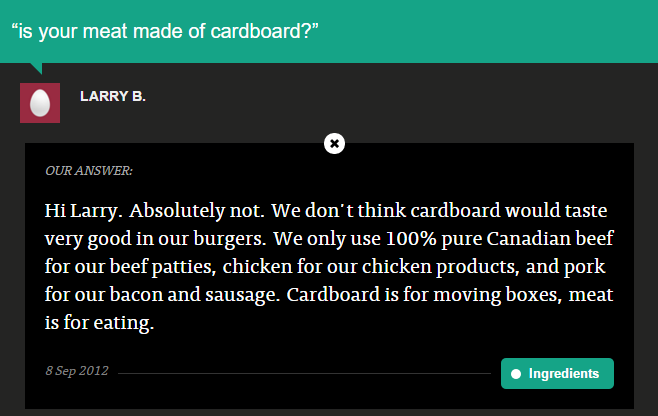 But a plumbing company that puts out a blog post on how to maintain a boiler can work just as well.
Answering obvious questions that are common to your industry will feed a demand, drive traffic to your site and establish you as an expert. Attracting recurring traffic, using common keywords and cultivating potential backlinks will also help your ranking. So it's not entirely a selfless exercise!
Not sure what people want to know? You can find out what questions your potential customers are asking on free sites like AnswerThePublic.com and Quora, or forums catering to your industry.
Ultimately, the aim of providing answers with content is to attract leads, turn them into prospects and convert them into customers or even promoters. You should answer every question on their buyer's journey. Ideally, that journey ends with them asking "How would you like me to pay?"
Want to know more about content?
Want content tips or fancy chatting to someone about your content marketing needs? Why not get in touch with our award-winning team. We'll be happy to chat to you about what you can do. In the meantime, follow us on Facebook, Twitter, and Pinterest to keep up with all things content and digital media.