Writing a list of notable Irish women in tech is an enviable task. There are hundreds of trailblazing Irish women working in STEM and the media - so narrowing it down proved difficult.
It's a poignant day for Irish women but it's celebratory too: this list could have contained an infinity. (Which some of the hereafter mentioned mathematically-minded women will tell us is flowery hyperbole!)
Our list includes TV presenter, journalist and fashion maven Angela Scanlon; founder and editor of Silicon Republic Ann O'Dea; author and journalist Angela Nagle; and Annie Atkins, the Dublin-based Oscar-winning graphic designer who slept through the ceremony while watching it on TV in her parents' house. And that's just the women beginning with 'A'!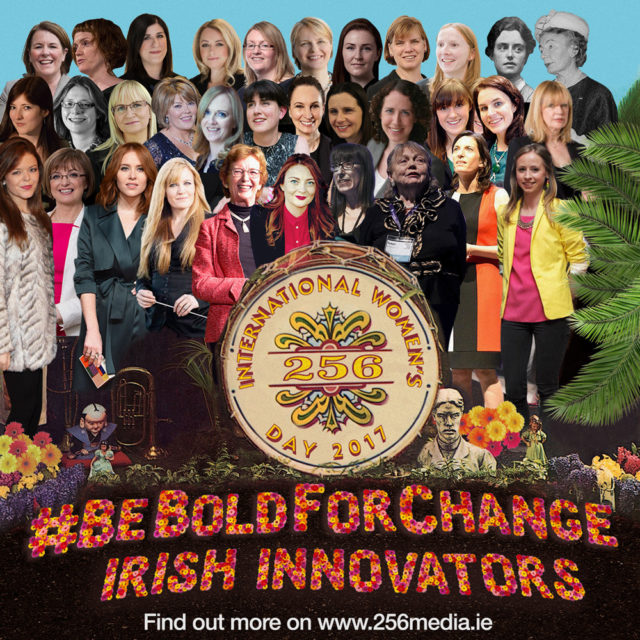 An equally strong cohort of Irish women hold prestigious titles in tech companies: Barbara McCarthy (HubSpot), Catriona Hallahan (Microsoft), Cathy Kearney (Apple), Edel Lynch (Accenture), Sinead McSweeney (Twitter), Sonia Flynn (Soundcloud), Kathryn O'Donoghue (Google), Olivia Leonard and Orna Holland (both at Stripe), Pauline Sargent (Digiwomen), Stella Power (Annertech), and Ursula Clarke (Clarabridge).
It's a long list, absolutely, but it could have been far longer. These women are bosses (you'll find none of that fluffy girlboss nonsense here!) who inspire and lead. As an agency, we echo that ethos: with a female founder and MD, two female magazine editors, a female head of content, and a whole raft of insanely talented writers, marketers, sales people, and designers.
Irish women have taken their place in industries around the world, playing pivotal roles in tech, maths, engineering, and the media. Of course, they're not just part of these industries; they're helping to mould a better world.
Just look at Iseult Ward and Aoibheann O'Brien of Foodcloud who are trying to reduce both food waste and food poverty. Elva Carri's Girlcrew is using social media to build communities while Mary Robinson tackles environmental problems (and that's following a tenure as the first woman President of Ireland and UN High Commissioner).
There are also the academic warriors like Mary Carty at NUIG's Blackstone Launchpad incubator and Susan McKenna-Lawlor – the NUI Maynooth astrophysicist and space expert who has been involved in some of the world's most prestigious space agencies. She's still going strong into her eighth decade.
Irish women have wide reach too: Eimear Noone is a superstar composer who makes the music for World of Warcraft and Metal Gear Solid. She conducts orchestras and always listens to AC/DC beforehand.
Then there are the media types: Paula Reed, Samantha Barry (CNN), Karlin Lilllington (The Irish Times), Maire O'Riordan (former editor of Marie Claire), Doireann Garrihy (Snapchat superstar) and Dee Forbes (RTÉ) who are blazing their own trail.
There's Maire O'Neill, the youngest ever professor at Queen's University in Belfast - and not forgetting Lilian Bland who became the first Irish women to build and fly an aircraft all the way back in 1910.
Bland's pioneering spirit was channelled by the likes of Jane Ni Dhulchaointigh – the inventor of Sugru, which was named by TIME magazine as one of the 50 best inventions in the world and dubbed '21st Century Duct Tape' by Forbes.
In the shadow of a storied history of oppression, Irish women are rising up to build empires. They are creating art and helping to solve some of the mysteries of the universe. They are inspirations - and that's why we are highlighting them on International Women's Day. More power to them.
Graphic:
Back row: Pauline Sargent, Annie Atkins, Sonia Flynn, Orna Holland, Stella Power, Sinead McSweeney, Angela Nagle, Karlin Lillington, Maire O'Neill, Lilian Bland, Carmel Snow
Middle row: Ursula Clarke, Kathryn O'Donoghue, Dee Forbes, Cathy Kearney, Barbara McCarthy, Jane ní Dhulchaointigh, Paula Reed, Olivia Leonard, Edel Lynch, Iseult Ward, Aoibheann O'Brien, Maire O'Riordan
Front row: Doireann Garrihy, Cathriona Hallahan, Angela Scanlon, Eimear Noone, Mary Robinson, Samantha Barry, Ann O'Dea, Susan McKenna-Lawlor, Mary Carty, Elva Carri