There's a reason no one would like to bump into their doppelgänger. Not only would it be a bit creepy to spot your identical other – it would be confusing for others to work out who was the real McCoy.
Poor SEO Spiders meet doppelgängers every day in the form of duplicate content and duplicate webpages (roughly 30% of an average website is made up of duplicated content, according to Matt Cutts!). After shaking their little heads in despair, the spiders must identify one page as the original and choose that to rank in the search result. They can't justify showing seven versions of the same page – it goes against everything they stand for; user experience, relevancy and a clean information structure.
Siteliner is a free solution which flags any duplicate content on a website, giving digital publishers a way to keep the spiders happy.
Whilst duplicate content on a website may not harm the overall ranking of the site, it will affect the categorisation of pages and ranking of one page over another. This could cause problems for individual performance of pages and ultimately for user experience. Each page on your website should serve a unique purpose and funnel the user along nicely to the next step of their journey, and duplicate content could confuse this path. However, some duplicate content is good content, and exists to enhance the user experience. These 'goodies' are given the green light by spiders.
The Goodies of Duplicate Content
URL Parameters
These are different URLs on a website all representing the same page (for example, different filters which show only certain products on an ecommerce site).
Multiple versions of your website
Mobile friendly sites and printable versions of pages are nothing but good for user experience, and these should not cause problems.
Headers, Footers, contact information and the regulatory stuff (all the must-haves)
These just about squeeze in to the good books. They are known as 'common content' on your website. However a really high percentage of common content should be balanced by a high percentage of unique content.
The Baddies of Duplicate Content
Copying and pasting large chunks of content from the main body of a web page to another is damaging to individual page ranking and to the structure of your website overall (it is usually the oldest page which will rank for this content).
Siteliner will identify this issue by checking your website for duplicate content and informing you what percentage of your site is repeating itself like a parrot. Here's how to find duplicate content on your website with Siteliner:
Copy and paste your website link into the diagnostic bar. You will see a quick report of any content issues. It'll look a little something like this: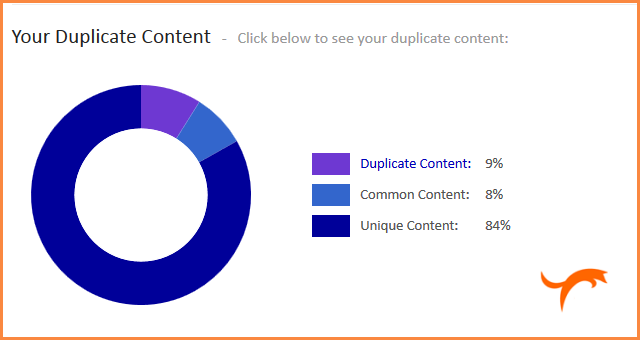 You can also download the full report which will break down each URL and reveal how many words are matched to other pages on the website.
How to interpret the data from Siteliner
(i) Common content
Common content is the headers, menus, phone numbers and other elements of a web page that can be found on most pages of your website. There's not much you can probably do to change this, so what you can do is to create a happy balance by increasing the percentage of unique content in your main body content.
(ii) Duplicate content
You should have no more than 25-30% of common or duplicate content on your site. Remember – you can control the ratio of unique vs. duplicated content by being strict with the information architecture on your website. That means creating pages with a very specific purpose – then writing wonderfully unique content for each page. (Psst - we can help you there. Why not have a chat?).
One more thing to note: The free version of Siteliner checks only the most prominent 250 pages of your website, and allows one report once every thirty days. However, if you feel like conquering the struggle against duplicate content once and for all, the subscription costs is only 1c per report.
Like what you read? Weed out your website's duplicated content now on http://www.siteliner.com/. And if you need to address the balance of unique content or review your Information Architecture on your site you know where we are.