Not what you immediately expect from a stellar line up of digital marketing experts. Jokes aside, there were some serious digital marketing insights too at the recent Learn Inbound event in a packed Academy.
In fact there were so many takeaways from Wil Reynolds, Rand Fishkin, Bas van den Beld, Gianluca Fiorelli, and Elizabeth Lavrienko, that choosing 5 key things was tough, but hey, we're a sucker for a list!
1. The algorithm is flattening – and Moz may well be an outlier
SEO has evolved tremendously in the last few years, and is continuing to change shape, so it makes sense that the algorithm is becoming more complex and nuanced.
While digital marketers once thought that link-building and buying ad space was enough to cruise to the top of the rankings, data suggests that it's far more complex than that. In fact, the data even suggests that more ads may even be a negative.
Throwing money at Google isn't enough to rank. So what is? Well, there isn't any one thing, though link-building is still critically important. Anchor text in particular is a tell-all for Google. But what does that mean for content?
One of the reasons content has been so willingly embraced is the idea that it 'automatically' builds links. Create great content and people will link to you – but Moz found this to be categorically untrue.
Buzzsumo and Moz teamed up to look at one million pieces of content. What did they learn?
The median inbound links for these one million pieces of content was a grand total of one. One!
Moz is an outlier. Rand's old formula (gleaned from working on Moz) was based around the idea that growing a network of excellent content will lead to links, but now he acknowledges that outreach is the vital missing step.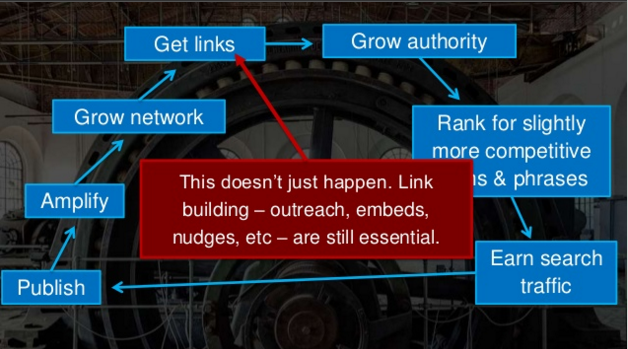 Social shares don't factor for rankings, or at least they factor minimally. There is a small correlation between heavily shared content, but it usually doesn't have a knock-on effect.
However, social engagement on the page is of some importance. Onsite engagement does factor into the rankings.
Social shares on their own aren't enough; amplification and outreach are vital to earning links. As Wil said: don't be afraid to pay/work for links from trusted sources.
While the algorithm may be flattening and the SERPs are growing increasingly smart, link-building and outreach are still the missing pieces in an already very complex jigsaw.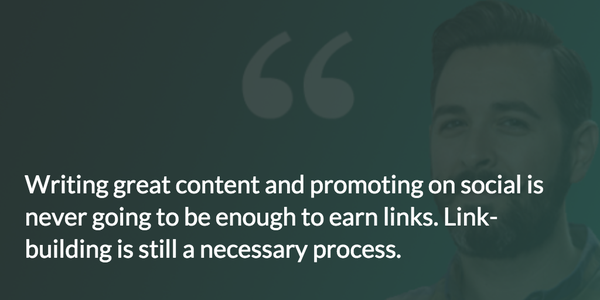 2. Tools, tools abound
Savvy goes a long way – but tools make almost every process easier. Why manually seek out email addresses or trawl through databases when the tools likely already exist to do it for you?
As Bas stressed, research is key to every strategy – but research is time-consuming and most digital marketers have a tableau of clients to balance. Tools, naturally, can shorten and sharpen the process. While many of these tools were already on our radar, we've mentioned the most useful ones of the bunch:
3. Wins don't have to be hard-fought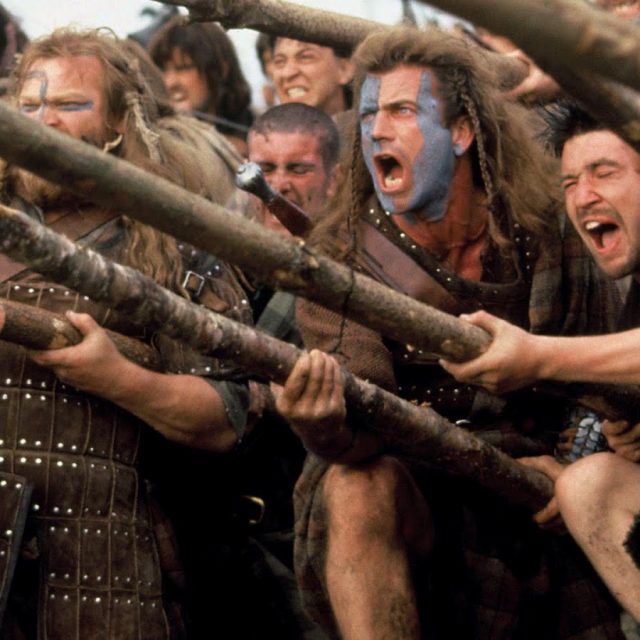 Wil Reynold's opening call at Learn Inbound was around doing 'real company shit' and capitalising on lazy wins. Why?
Because 75% of customer leads come from old blog posts. An impressive stat when you consider how much content the industry is currently creating. Old content is continually converting, and Google is giving credence to updating content so it's still fresh.
Wins don't always have to be hard-fought victories: capitalise on 'lazy' tactics like revisiting old content, re-sharing on social, and really understanding why old content resonates so well. Further again, Wil said, that optimised content doesn't have to be an elaborate piece. Focus on a company's USP and use that to really engage and share.
The mundane day-to-day stuff might not sound exciting, but it's often the sort of thing that people Google. Above all else, Wil said, don't hold back your knowledge. Keep sharing and expanding and teaching and your audience will come back again and again.
4. International shouldn't be an afterthought
We live in a globalised world, where English isn't often the first language. Business comes first – and not only in English-speaking markets, or so said international SEO expert Gianluca Fiorelli.
Content, he said, is about culture.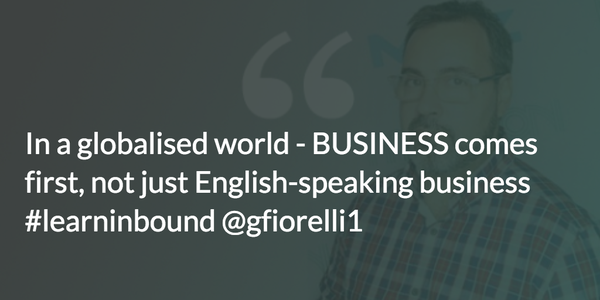 For example, consider some well-known brands who went with globalisation instead of localising their content. KFC's 'finger lickin' good' became 'we'll eat your fingers off' in China. In Arabic, 'The Jolly Green Giant' became the 'Intimidating Green Monster'.
The Intimidating Green Monster.
We'll let that one sink in.
Of course, it further backs up Gianluca's point that you need to invest in local/native support who really understand the culture and locale they're writing about or for. Just look at Reebok's recent epic fail where they chopped out all of Northern Ireland on their UFC t-shirts.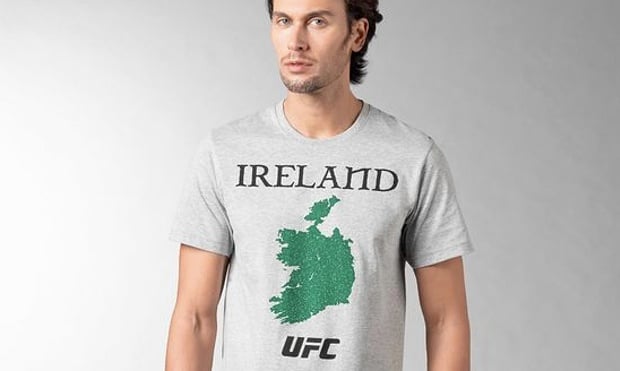 And that, friends, is why localisation is so important.
4. Dress up the goldfish
According to Mr Bas van den Beld (quite the action hero name, that), people now have the attention span of a goldfish. So how do you keep their attention? You dress up the goldfish with cool tech, gimmicks, and flashy ideas.
But it's not just about being flashy, as marketers taking part in gimmicky stunts often inadvertently end up ignoring the top of the funnel and failing to focus on what their customers really want in lieu of an attention-grabbing stunt.
The key, instead, is to communicate how your audience communicates, and the only way to truly do that is to understand your audience.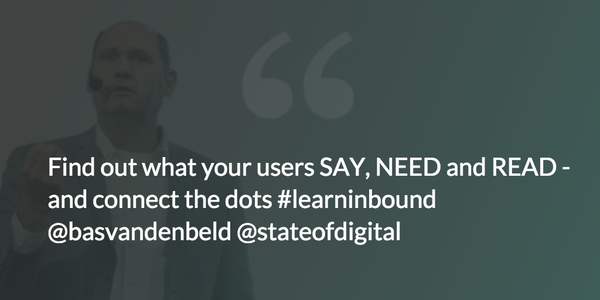 "But," you may protest, "I do know my audience!" Bas splits any audience into four key tenets:
Seekers – Those looking for info
Amplifiers – Those who share
Joiners – Those who are addicted to signing up and being involved
Buyers – The holy grail!
No average user exists, which means there is no such thing as an easy sell. Compare any two millennials and you'll get wildly different personas.
Look beyond the obvious and really focus on who your audience is: where are they and how can you help them? What do they consume and how do they consume it? Analyse their platforms, gather data, and join the dots. Create content for every part of the cycle and not just a hard-line sell.
The key is connecting each of the stages of the journey and the buyer types. No one buyer type means no one type of content – which in turn means that marketers need to be smarter about how we research and create content.
5. Rand is the Harry Styles of digital marketing
Before Learn Inbound, I described Rand to curious friends as the 'Beyonce of digital marketing'. "If you're in the industry," I said, "you just know who he is."
A colleague pinpointed it better and compared him to Harry Styles. And he's not wrong. Rand walked into the Academy and people stopped him for selfies. An audible 'It's Rand' rippled through the crowd.
Who needs Harry, eh?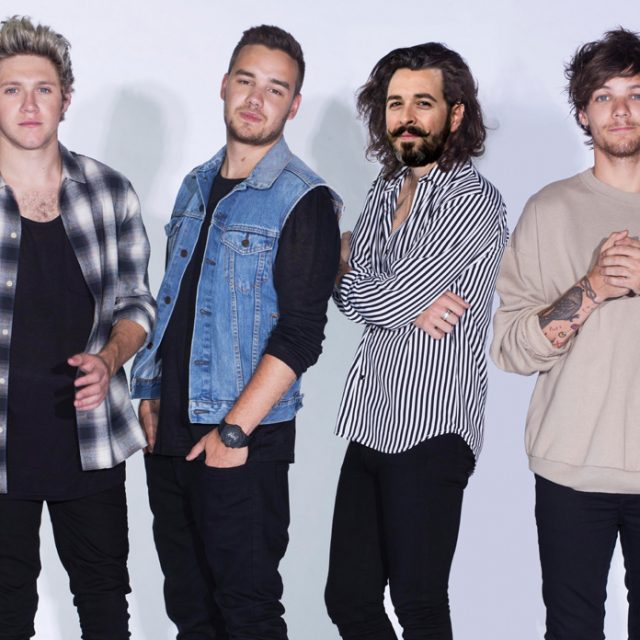 Sure he fits right in!
Want to know more about smart content?
If you're a brand looking to get smart about content marketing, get in touch with our award-winning team at 256 Media and we can help. In the meantime, follow us on Facebook, Twitter, and Pinterest to keep up with all things content and digital media.