The Panda algorithm may sound like a cuddly addition to the SEO landscape and its jam-packed zoo but, like its furry namesake, you really don't want to upset it or it may well take a bite out of you.
A new Panda 4.2 update has just been rolled out but not everyone is looking forward to Google's latest version of its search results ranking algorithm. Panda takes a real carrot and stick approach by rewarding good content with higher search rankings and sending low quality content crashing down the search results.
Inevitably, there will be winners and losers with the new update. As Abba once said, the winner takes it all. Or do they?
Unlike its predecessors, Panda 4.2 will be rolled out over the next few months and it will take a while to see what the fallout will be. The roll out will doubtless inspire some last minute panic as webmasters and marketers furiously scramble to make their content as Panda-friendly as possible.
So what is Panda?
Panda, and all its kung-fu charm, was created to target sites that were using dirty tricks to achieve a higher search results ranking. Google is not a fan of dirty tricks. While your mammy may have warned you, once upon a time, that all cheaters get caught, poor sites were ranking well. This wasn't good for Google so they gave their algorithm an overhaul and a baby panda was born.
You may have heard of Panda when the marketing world were concerned with "Mobilegeddon" (which wasn't a hysterical nickname at all at all) and early algorithm updates like Penguin and Hummingbird.
Mobilegeddon may sound like a B-Movie about a giant phone terrorising downtown Tokyo but the only victims of this update were sites that weren't mobile-optimised. The update pushed these sites down the rankings in a change that had a pretty massive impact on the SEO landscape.
The last update was Panda 4.1, a more subtle addition that punished sites with thin content, poor content, and 404 errors. A side effect of the design was the shakeup of the rankings for the big boys and small and medium sites. Sites that were hit by the last update will soon find out whether any changes they implemented were successful or not.
What can you expect from Panda 4.2?
Naturally enough, Google tends to be fairly secretive about the criteria it uses to decide whether a site contains high or low quality content. If a Google employee told you the secret, they'd have to kill you. Possibly.
But seriously, the algorithm is a closely guarded secret. Launching a shiny new algorithm to generate better search results would be a bit pointless if webmasters could figure out how to game it.
Panda 4.2 will take a few months to roll out, so don't expect a massive change overnight. Google's Gary Illyes confirmed that 4.2 would be rolled out over a period of months and that it would affect up to 3% of queries. While it might not seem like much, 3% is a lot of queries!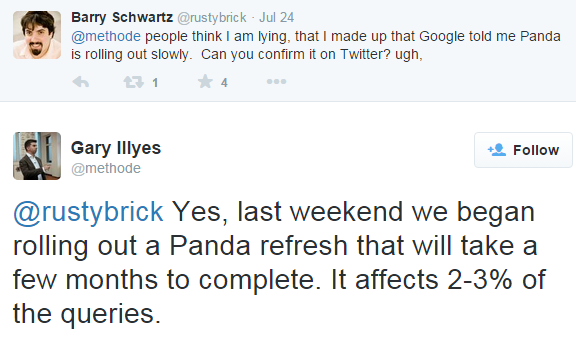 Google Webmaster John Mueller said in a recent Google+ hangout that the extended roll out was due to technical reasons and that it would be a similar update to the most recent one, even if the refresh takes a bit longer than usual.
Depending on your stance, this may not be great news for webmasters, marketers and SEO experts, who will have to wait patiently to see whether their sites will be exiled into the wilderness by the new update. It's safe to assume that there will be plenty of people furiously hitting the refresh button on their analytics in the months to come.
So should we really get so flustered about something that only affects up to 3% of queries? Well when you're dealing with a behemoth like Google, the butterfly effect means that there could be major repercussions for sites that still haven't hopped aboard the content train.
What can webmasters and marketers do?
High quality is the key to everything when it comes to Panda. If you produce great content, you will reap the benefits. Produce rubbish, patchy, or poor content and Panda may take a bite out of you.
Here are a few hints and tips to help you stay on Panda's good side.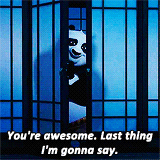 1. Go big or go home
Panda values content, so an easy solution is to write longer, well-written posts that focus on being informative to your users. Shorter posts of a couple of hundred words might be easy to digest but they probably won't do you any favours when your friendly neighbourhood Panda decides to visit.
That said, long content isn't the be all and end all. Entire businesses are built on snackable short content, so keep your head about you. No one is going to want to read 1,500 essays about the cultural significance of Crocs. Probably.
Ideally, add rich media like video, images or graphics to the mix to keep users and your dear friend Panda happy. An image or video every 350 words is a pretty safe rule.
2. Be original
You want to produce original content that drives engagement and keeps people on your site. No one wants to read what they've read before so avoid duplication. Now, you might get away with a bit of internal duplication with your own content. Google won't throw a fit if your FAQ pops up a few times—though it might have issues with what pages to rank.
The real problem with duplicate content is when 'bloggers' shamelessly rip-off or steal other people's content. In the era of copy and paste, it might seem like a quick fix but Panda will likely pick up on it and you'll only end up regretting the move to copy and paste a bunch of Buzzfeed articles.
Keep your content fresh to stay on Panda's good side.
3. Content is king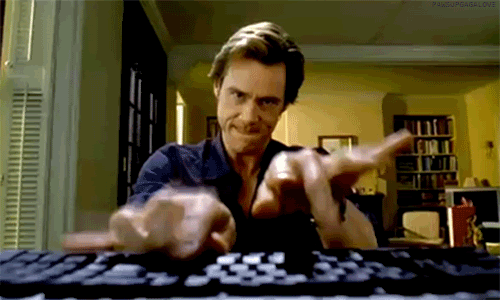 Ah that old chestnut. By now, it's probably been emblazoned on t-shirts and keyrings. It's almost a cliché—but there's still truth there.
Content is the boss right now. It's the Tony Soprano of the digital world.
Make sure that your site isn't a cemetery for dead links or pages and keep it filled with good original content. Panda takes a big picture approach to your site so having one or two pieces of solid content just isn't enough.
4. Get the balance right
Bulk up your content. Google isn't a fan of sites that squeeze a tiny bit of text into pages filled with navigation bars, images, ads and other clutter. Keep the design simple and easy to use. And Google aside, you don't want your browsers bouncing because your site hits them with an overwhelming amount of flashing images.
Ads may pay the bills but you need to make sure that there is something substantial to build the ads around.
5. Make the cut
It may be a daunting thought but you need to be prepared to make changes if there are sections of your site that just aren't earning their keep. Take a fresh look through your site and see what is and isn't working.
You also need to keep an eye on pages that don't add any value. Don't be afraid to get the machete out and hack away at any dead bamboo.
How to do a content audit in five steps
Before you start hyperventilating at the thought of doing an audit, there are plenty of tools out there to help.
You can find countless online content audits if you don't know where to start. Your basic goal is to line up all your content, put it into a room and divide it into categories marked "I love you" and "It's not you, it's me."
A good content audit will tell you how you are performing against business goals, whether you are meeting your business needs and editorial standards, and next week's Lotto numbers. Okay, we may have made that last bit up.
1. Spread 'em
Create an inventory spreadsheet or pick one from the many online samples, like this one from Maadmob. Decide whether you want a brain-crushing amount of detail or if you just need the basic details to tell you what you need to do. If you want to get very technical, list out the metrics in separate columns. Alternatively, just add the main points and some comments to tell you what you need to scrap or change.
2. Get your URLs in order
You can manually list all the URLs on your site or, if you're feeling a bit sneaky, you can always use a handy crawling tool like ScreamingFrog. This will let you export key SEO headings like the URL, page title, headings and so on into an Excel spreadsheet.
3. Make your points
The metrics you choose to record for each URL will naturally depend on whether you want to focus on SEO or marketing data points, for instance. Metrics like Page Title, Page Visits, Average Time on Page, Bounce Rate and Social Shares will all help you to see how well your content is performing.
4. Data, data, data
Next up is the fun bit – adding all that data to your spreadsheet. Once you've managed to enter all this information (possibly with the aid of several cups of strong coffee) it's time to try and make some sense of it.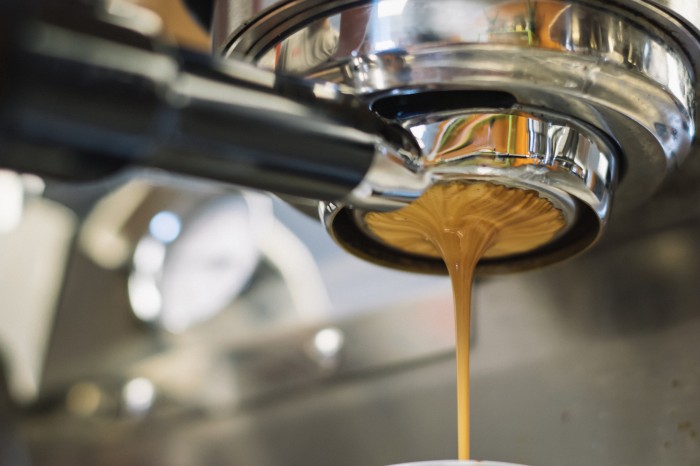 5. Pick winners and losers
Channel your inner X-Factor judge and be prepared to vote off any tone-deaf pages or content. Next, you need to ruthlessly implement your action plan, moulding any salvageable pages into something decent and sending the rest home (even if they do have a sick granny).
Set deadlines for the changes but don't be afraid to take a few breaks, within reason. If you find yourself cleaning the house twice a day to avoid your audit, it's probably time to knuckle down.
Want to slay Panda?
If you'd like to create smart content that works, get in touch with us. In the meantime, follow us on Facebook, Twitter, and Pinterest to keep up with all things content and digital media related.