Embraer is a Brazilian aviation company that makes commercial, executive and agricultural aircrafts.
Audience: B2B
Industry: Aviation
Type: Superhero
Campaign Title: The Profit Hunter
https://www.embraercommercialaviation.com/incredible-e2-profit-hunter/
What It Is
Embraer's Profit Hunter is a clever multichannel campaign that uses animal imagery, or more specifically apex predators, to bring its aircrafts to life. Painting the faces of lions, sharks and eagles on the nose cones of planes resulted in a swift and spectacular response from the aviation industry with people flocking to see the aircrafts at air shows and ultimately, bringing in orders of $15.3 billion… not too shabby!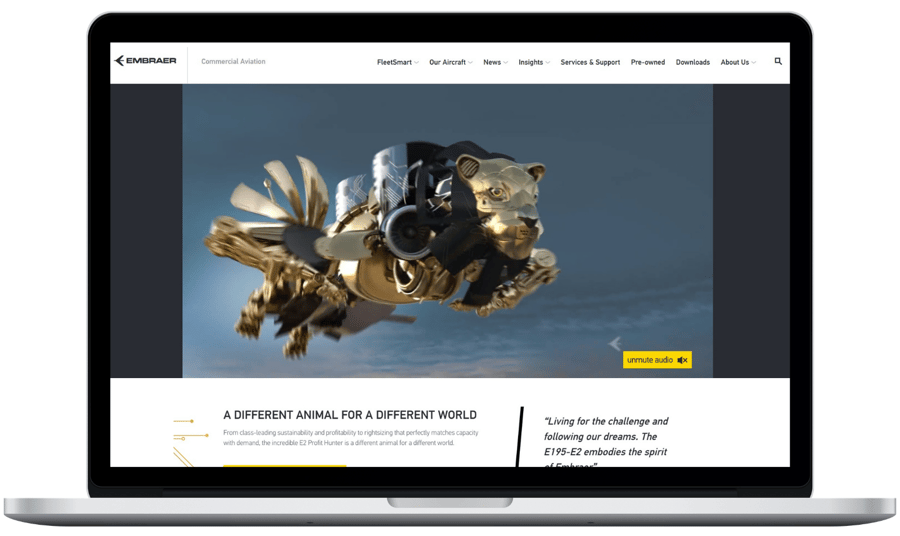 Why We Like It
Could this idea get any cooler? The answer is most definitely not, this is creative thinking at its very best and it's fair to say that industry leaders sat up and took notice when the Profit Hunter landed. From the bold name to the dramatic imagery, this powerful campaign is one for the ages.
How We'd Add To It
The Profit Hunter is a multichannel campaign, but it could be better utilised on social. There's very little activity on Instagram for example and yet this is the perfect platform to showcase the magnificent imagery and clever videos, while spreading this fascinating campaign to a wider, global audience.

Previous Post
Cisco's Interactive Catalogue

Next Post

Synchrony - State of Pay
You may also like...