What's new in social media land this week? People are still chirping on about Twitter's characters, and YouTube announces an innovative new ad channel – among other things! Get your full weekly roundup of 256's social must-knows below.
YouTube announces partnership with Ticketmaster
YouTube's new partnership is music to our ears. The video platform is teaming up with Ticketmaster to promote upcoming artist gigs on videos, targeted by region. In short, fans will be able to discover upcoming concert listings via YouTube, and then click through to Ticketmaster to buy. Valuable content for music-lovers, and clever ad revenue for Google, too. Win-win.
The initial pilot will be in the US only, but we should see it being rolled out internationally pretty soon.
Twitter change its 'Verified' badge policy
Twitter users are familiar with the verified badges that accompany notable profiles to indicate authenticity, but for some people, that cultural capital has come to a grinding halt.
The social media giant has announced new guidelines which mean that a verified Twitter badge can be lost if a person breaks Twitter's rules or "promotes hate" on the basis of "race, ethnicity, national origin, sexual orientation, gender, gender identity, religious affiliation, age, disability, or disease." Behaviour both on and off Twitter is also considered.
As a result, Alt-Right poster boys Richard Spencer and Tommy Robinson have both had their badges removed.
Twitter is now designing a new 'authentication and verification programme', but in the meantime, it will "remove verification from accounts whose behaviour does not fall within the new guidelines."
Some may see the move as an effort to inhibit free speech on the platform, but we reckon it's about time Twitter dealt with its notorious trolling problem.
Facebook's new crisis button
Facebook has unveiled the 'crisis donate button', which enables you to swiftly donate money to charity in times of crisis.
The charity is GlobalGiving, a non-profit working with many NGOs who may be on the ground in disaster situations. Using its partnership network, GlobalGiving puts funds where they're needed most during a humanitarian crisis, so they'll have the biggest impact.
This is something we can definitely get behind.
Twitter is making 'Tweetstorms' easier
Have you ever tried to work around Twitter's former character count limit by tweeting a series of connected tweets that reply to each other? Well, Twitter is about to take the arduous pain out of it.
Last week, we mentioned that Twitter has increased its character limit, but Twitter has now confirmed that it is currently testing a new feature where you can create a string of tweets and publish them all at once in a staggered fashion – sort of like an 'auto-thread'.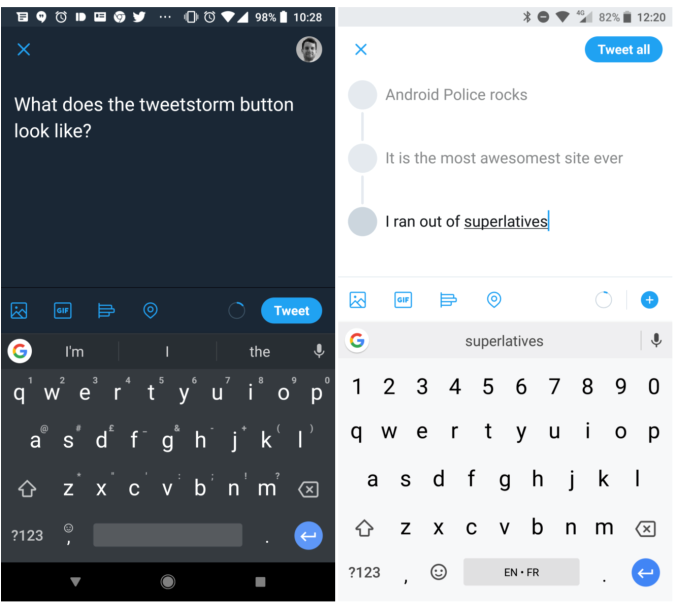 Venting about your best friend cancelling on a necessary ice cream date has never been simpler - yay!
Looking to create a knock-out social media strategy?
At 256, our content is created with the future in mind. Our team is expert both in storytelling and social media, so we create content that's user-friendly and strategic. Get in touch to find out more about our services.