"We are gathered here at the second biggest event called F8 this week," Facebook CEO Mark Zuckerberg joked. "We probably should have seen this coming after Fast and Furious 7."
Zuckerberg was attempting to 'get down with the kids' and break the ice at its annual F8 Developer Conference in California - 256 was present and correct at the Dublin F8 meetup in the company's EMEA HQ, ready and waiting to catch all the action live from San Jose, California.
Did his gag work? Meh. Still, even the dad jokes didn't get in the way of showing the world what the future holds for developers and businesses alike and offering the chance to explore new tools, features and possibilities for the Facebook empire.
Out of all the social media giants that consume your life, Facebook is definitely the most innovative of the bunch. And man, it had some pretty exciting golden nuggets to share. Here are the five takeaways from this year's F8 conference we think you need to know.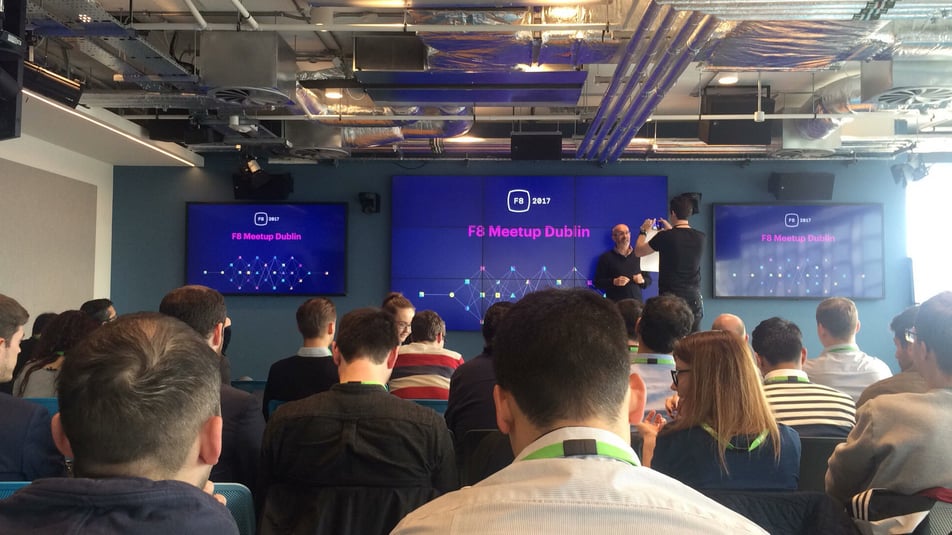 1. Augmented Reality
Last year, Facebook outlined its10 year plan to drive their platform onwards. And in 10 years time, Facebook looks like it's going to be a completely different animal altogether.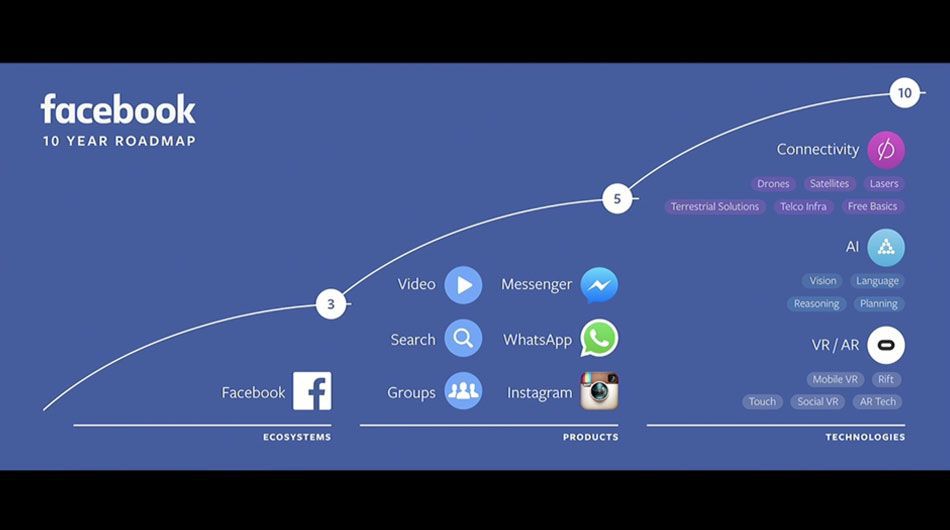 Mark Zuckerberg's opening keynote emphasised the focus on augmented reality for the tech giant. Along with Zuck's more questionable dad jokes (apparently his nickname in the Facebook offices :/), he announced an updated version of Facebook Camera is launching in beta with major new AR features.
"We're going to make the camera the first mainstream AR platform," said Zuckerberg. Since Facebook, ahem, borrowed Snapchat-alike features for Facebook, Instagram and Whatsapp, it's now looking to expand those ideas a lot further.
The camera will now be powering new augmented reality experiences inside Facebook. Essentially, the brand wants you to pick up your handset, open the Facebook app and its use camera to unlock more immersive experiences like games and placing virtual objects into the real world through your lens.
You will also be able to do things like leave virtual notes on walls, tables and fridges and tag businesses with tips and reviews for your friends. Very exciting!
The most interesting part is the announcement of AR games that incorporate real-world objects thanks to a technology called SLAM (simultaneous localisation and mapping). It lays a 3D grid over the table in front of you, turning it into a game board.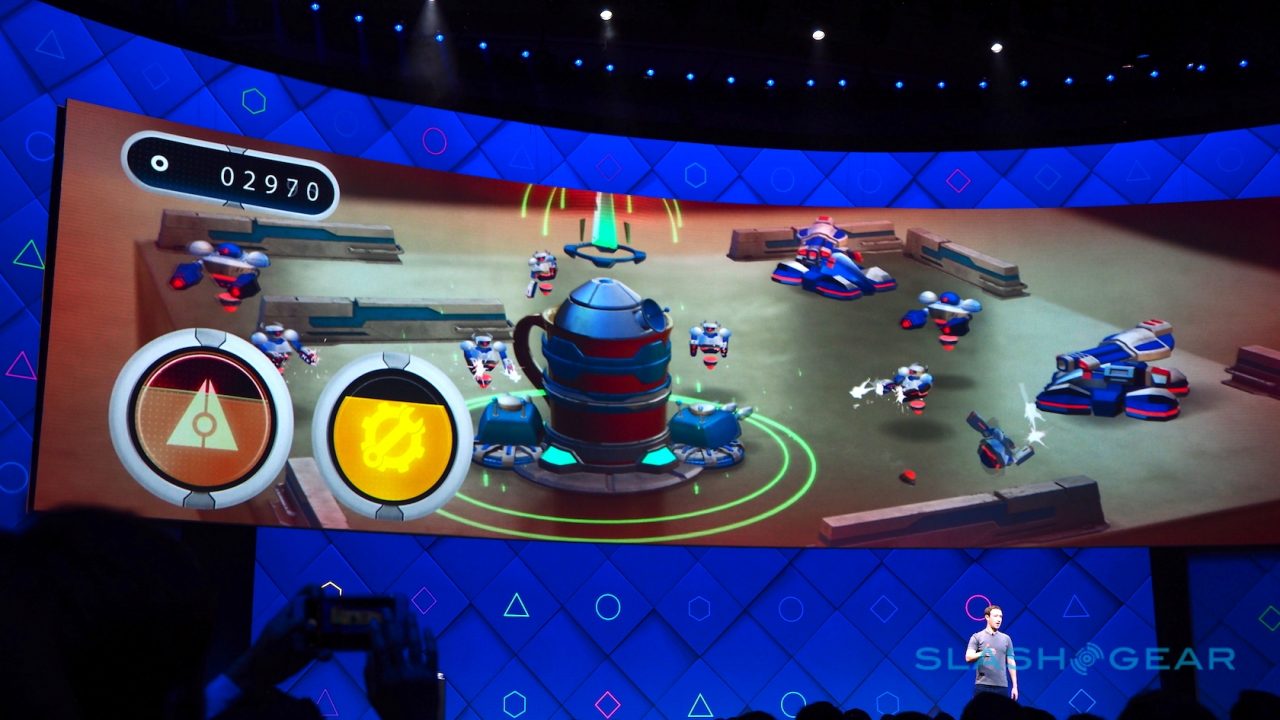 Facebook also announced AR art, giving you the ability to create and view pieces of art on walls that are only viewable through your phone. As Zuckerberg said, "This is going to be a thing in the future - people standing around looking at blank walls."
And on top of all of that, Facebook announced two new camera effect platforms: Frame Studio and AR Studio.
These tools enable developers and artists to create AR content. Frame Studio allows developers to make 2D overlays—similar to Snapchat geotags — that reside on the borders of the photo or video. The AR studio lets developers create 3D masks that track and respond to facial movement without having to write any code. These tools aren't anything we haven't seen before, but they make creating AR content more accessible. Snapchat is definitely shaking in its boots right now...
All in all, there are some pretty exciting developments happening in augmented reality, and Facebook seems to be leading in the race - so far. Coincidentally, Snapchat announced 3D filters the very same day the conference took place, but Facebook appears to be thinking a lot bigger. Could Snapchat really take ownership of AR or will Facebook eclipse its efforts? Either way, the future is looking bright.
2. Virtual Reality
At 2016's F8, Facebook announced that it wanted to make virtual reality more social (and make use of Facebook's $2bn purchase) using the Oculus Rift.
Now it looks like it want to expand this a whole lot further. Facebook Spaces, the latest app (in beta) from the tech giants, is a virtual reality app that lets you hang out with friends inside your Oculus headset.
Create your own virtual avatar, throw a virtual birthday party and draw 3D party hats on your guests, even take a virtual selfie on the International Space Station! Build whatever kind of weird, wonderful virtual world you want.
Honestly, this looks like it still has a long way to go. The novelty can easily wear off for a lot of people, but it definitely has a lot of potential in the near future.
3. Facebook Messenger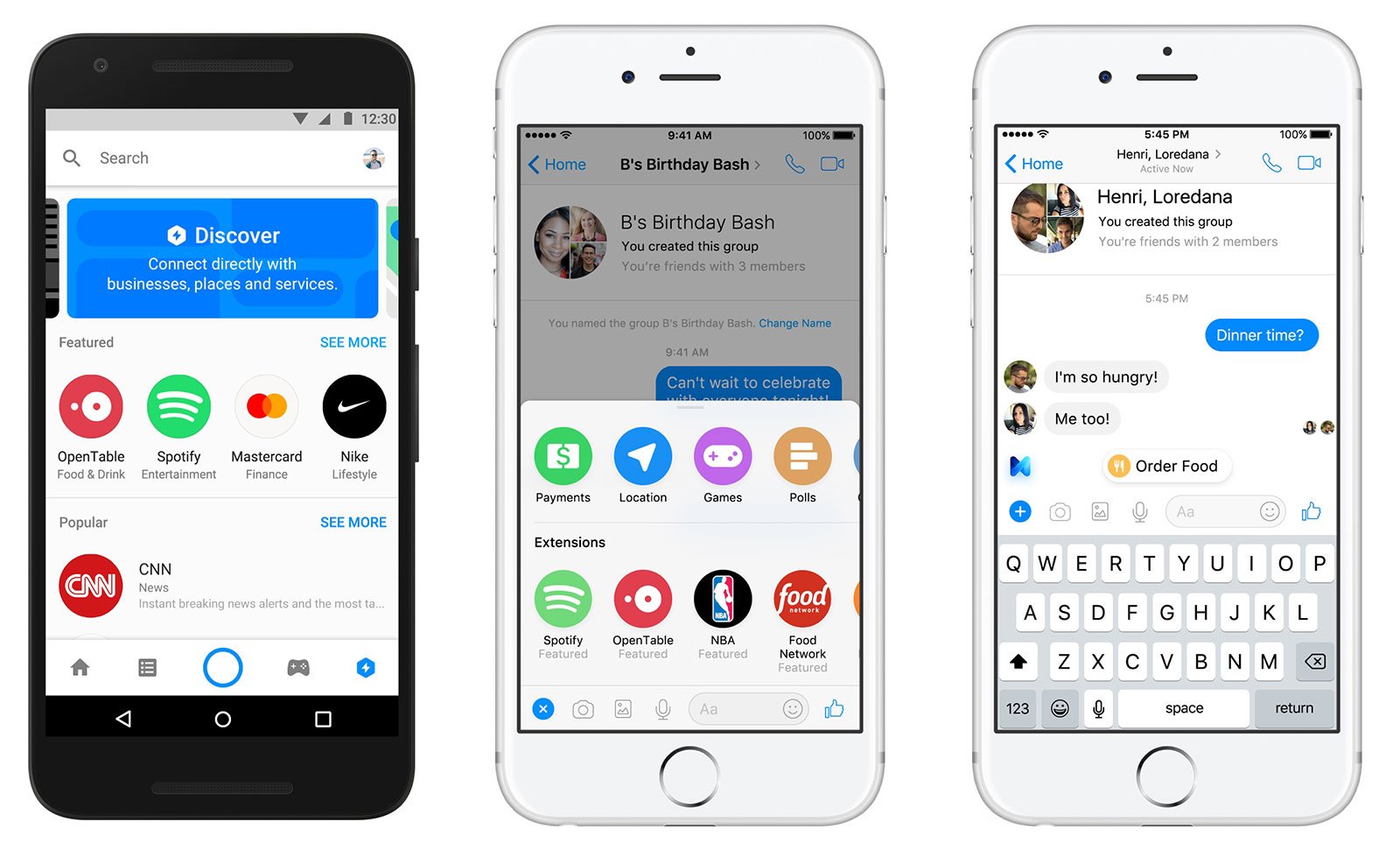 Facebook Messenger made its debut a little over a year ago. Since then, activity includes more than 1.2 billion people, 100,000 developers and 100,000 monthly active bots and two billion messages being sent between people and businesses on Messenger every month. Wow.
David Marcus, Vice President Messaging Products at Facebook, just announced a whole bunch of new features and integrations with apps including, *deep breath*:
A new Discover tab that allows people to find a business or bot that they're looking for in Messenger in an intuitive and thoughtful way.
Messenger codes giving people the option to scan Messenger Codes through the camera in the Messenger app and link to brands and businesses.
Integrations with Spotify and Apple Music so you can send your favourite music to your friends without leaving the Messenger app.
Chat Extensions that allow multiple people to chat with the same business at the same time. People can now add in a bot directly in a group thread and share the conversation and experience.
Smart Replies, which help Pages to respond to the most frequently asked questions that small businesses receive, such as business hours, directions and contact details. This will eliminate the technical need for elaborate chatbots and make the product a lot more accessible for smaller businesses.
A new AI assistant for Messenger called M that will offer suggestions on things like ordering food and movie tickets - all within the Messenger app. If somebody asks what to grab to eat, M will suggest placing an order. Then the whole experience can be completed in Messenger, including group ordering and payment. This will slowly roll out internationally but could be an absolute game-changer!
It looks like Messenger has taking a bigger focus on businesses this time around. The discover tab will essentially act as a Yellow Pages directory, so people can find and interact with any business they want on the platform. Sounds like a big plus to me!
4. Facebook Analytics updates
This one's for the data-fiends.
Facebook's Engineering Manager Amit Finkelstein announced a host of updates for Facebook Analytics, including analytics support for Facebook pages, websites and custom dashboards (both open beta).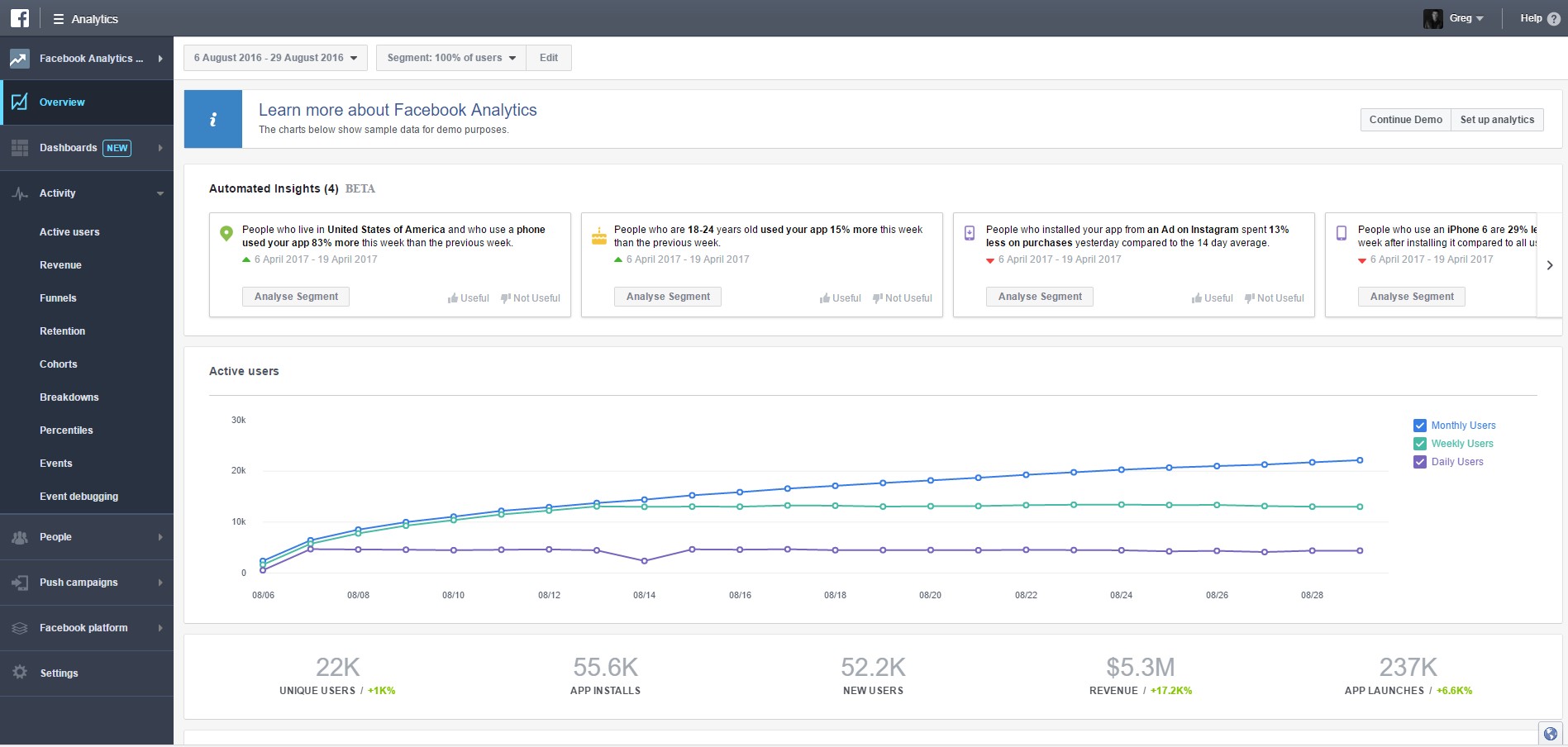 In a subsequent blog post, Amit said, "we're extending omni-channel analytics for Facebook's family of apps and services with the addition of Facebook Page interactions, such as post reactions and shares, so you can measure and understand the interactions people have with your Page alongside their other activity on your website, app, and bot."
"We're also giving you the ability to see how people's online interactions translate to in-store purchases with the addition of support for offline conversions. By closing the loop between your online and offline channels, you won't have to wonder if people browsing items on your website translate into sales in your physical store."
This could really inform your social marketing decisions and get some solid insight into your persona's buyer journey to a purchase decision. Sound swell? Click here to get a guided demo.
5. Developer Circles for Facebook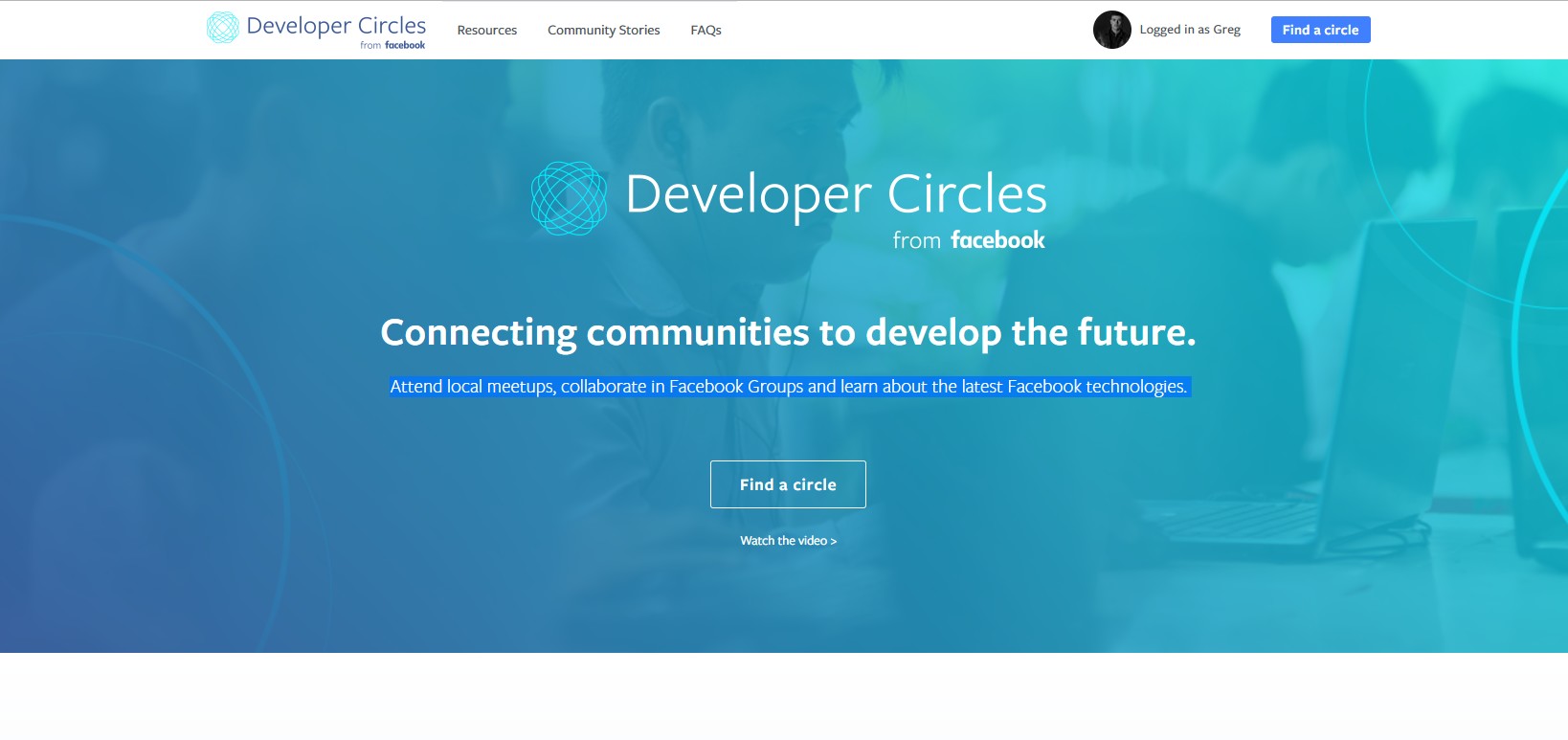 Recognising the large role developers have played in expanding the the platforms community, Facebook has announced Developer Circles from Facebook, a new program for developers all over the world to connect, learn, and collaborate with other local developers.
Developer Circles is a community-driven program that's free to join and open to any developer. Each Developer Circle is led by members of the local community who act as leads for the circle, organising events offline and managing a local online Facebook community, with forums to share knowledge, collaborate, build new ideas, and learn about the latest technologies from Facebook and other industry leaders.
Facebook is also partnering with Udacity, one of the largest online training platforms in the world, to launch custom Facebook training programs for our Developer Circles community, which will be available via Developer Circles Facebook Groups and on Udacity.
If you're a developer or looking to expand your skills in software development, this is where you want to be.