Look: it's tempting.
You've had a long day and you're a bit knackered and all you want to do is sink in front of your telly, watch an easy movie and shove your face with crap food and call it 'dinner'.
Noodles. Waffles. Beans on toast. Maybe even soup in a cup.
It's cheap and cheerful. Hell, it probably tastes better than the healthy cauliflower and salmon hanging out in your fridge.
Here's the thing: satisfaction doesn't have to be complicated. Same goes for content marketing.
Not everything has to come flecked with gold flakes or caviar to be worth the big bucks.
Sometimes, it's the day-to-day mundane stuff that makes all the difference.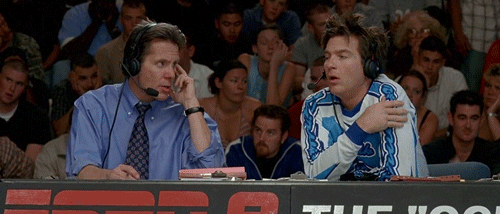 A/B testing, conversion optimisation and growth hacking are all great techniques that definitely deserve their merits, but that doesn't mean they're the only way to improve your brand's authority, reach and customer appeal.
A simple change can have just as far-reaching an impact as a theory grounded in advanced analytics. Quick wins are what it's about too – so here are five that you and your team can implement immediately.
1. Create landing page copy that engages with people on an emotional level
Any business that's investing in content marketing understands the basic principle behind it: helping customers solve their problems by providing them with information on the solution.
We see this approach unfold in blogs, email campaigns, videos and eBooks, but it's commonly overlooked on landing pages. In turn, companies might see strong numbers from their collateral but experience a significant drop-off in interest once prospects reach the consideration stage of the buyer's journey.
Your company exists to solve the issues that people grapple with daily. Its strategy needs to look at landing pages the same way a karaoke fanatic looks at open-mic nights – the perfect chance to be heard by your audience.
Strong website copy positions the customer as the hero and clearly defines how your product can empower them to achieve their goals. It requires businesses to stop thinking about why their solution is so great and instead figure out the type of problem-focused messaging that resonates most with their prospects.
It's a methodology that Talia Wolf, conversion optimisation specialist atGetUplift, calls emotional targeting. It's fuelled by the idea that our emotions affect our choices and that's exactly what businesses need to tap into. Here's an example of how we incorporate it at 256 into the 'What we do' section of our homepage: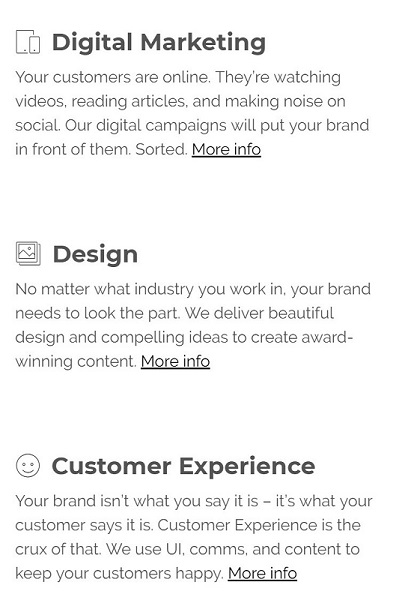 The content is quick-hitting and zeroes in on the pain points our clients experience daily and how our services are a solution, instead of shouting from the mountain tops about how great we are(even though we are).
Start improving your landing page copy by turning to your buyer personas to figure out what makes them tick. Consider contacting them individually to understand what made them choose your platform or service over the others and use those findings to develop an impactful message that stretches across all your content, regardless of type.
2. Be persistent about consistency
Content is meant to be creative, but the process and policies behind it should be tightly regimented. Consistency is critical to laying the foundation of a long-term content strategy that will ultimately mean less work for your team and more business for your employer.
Start by creating an editorial calendar. At the very least this should contain a list of all the blogs and other major collateral you want to publish and promote on a quarterly basis. Include any industry or corporate events, and be sure to save resourcing space for any breaking news that you'll need to tackle on the fly.
From there, ensure the personas you're using to develop material matches what salespeople, customer service representatives and professional services consultants see on a daily basis. If marketing believes a lack of time is a customer problem when in reality it's an inability to gain transparency for cross-departmental collaboration, the type of content you'll need to produce will be vastly different.
Posting consistently and covering the same topics will help your brand build credibility not only among its audience but also on Google's Search Engine Results Pages (SERPs). When your team changes its focus every other month, it becomes more difficult for your subject matter experts to be seen as what they are: experts in their craft.
Drill down into the language you're using to describe the industry, your organisation's products and its solution. Is your primary audience European or American? Will you use the Associated Press style guide or create an in-house style guide? Are you using the Oxford comma? You should have written answers to these questions somewhere in your content marketing strategy, no matter how trivial and minor they might seem to be.
At the end of the day, your brand won't have legs to stand on if you keep swapping them out for the newest model.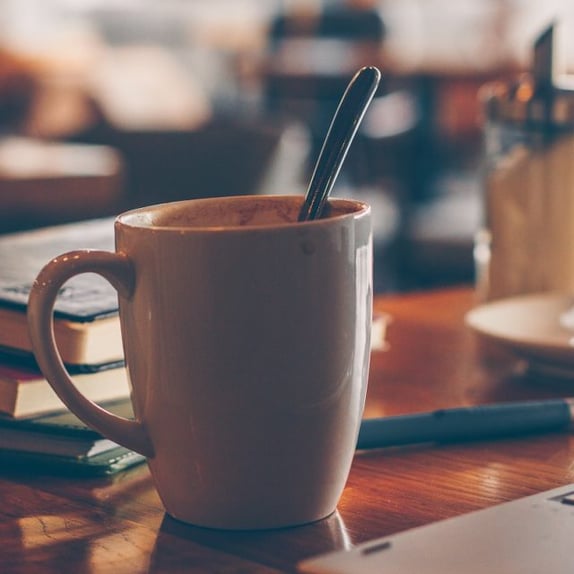 3. Repurpose your existing content to expand marketing campaigns
Content marketing isn't a zero-sum game. If you're following best practices and creating a majority of your collateral as evergreen, then it doesn't automatically become useless once it has been published, promoted and consumed.
Let's take an eBook as an example. Your team has spent hours upon hours interviewing in-house experts and industry professionals, researching the competition and has ultimately created an asset that's sure to help prospects and generate marketing qualified leads.
That's not where its usefulness stops, though.
You can repurpose the information in the eBook to develop a campaign to promote it through various channels. A high-level overview of the asset can support blog, video, email and infographic creation which can be used on the website and social media, or through paid promotion.
The same type of strategy can help your company turn old blogs into content pillars, videos or even long-form collateral like whitepapers or eBooks. The key is figuring out what the key parts are that captured the audience's interest and drawing those out into fully fledged topics that can stand on their own.
Don't forget to check with other departments in your company to see what sort of content they have lying around, too. You'd be surprised at what you might find hidden away, and it could be the new inspiration for your next great marketing campaign.
4. Don't forget that user intent is a part of SEO
It's easy to get hung up on keywords as the main focus of your SEO strategy, but ranking highly on search engines isn't as easy as plugging in your product or service every few sentences. In fact, keyword stuffing is highly discouraged.
Instead, every individual piece of content should be aligned to matching a user intent query. To understand why we'll first look at two major updates released by Google over the years for its search engine.
The Hummingbird update that was released in 2013 brought semantic search into the fold. Rather than simply taking in keywords and matching users with the highest ranked content, the algorithmic change allowed the search engine to understand the user's intent behind the search.
In 2015, RankBrain was released which supports Hummingbird's ability to parse user intent by matching a user's query with words that are related but may not have been specifically used.
Together, the two updates allow the platform to give much more detailed SERPs that truly solve a person's question. It's also one of the reasons why content marketers have been creating longer , more detailed blogs ever since.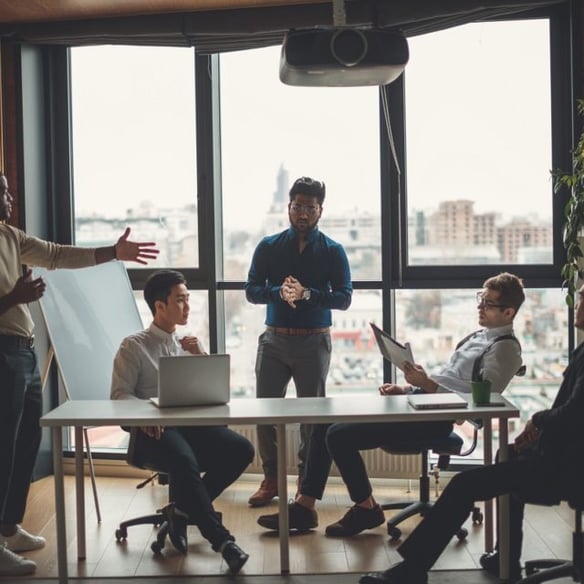 When creating content or mapping out a campaign, leverage long-tail keywords that mimic your prospects most common searches about the issues. Be sure to work these problems and ideas into your content, which should aim to provide the solution. If you're doing everything right, then keywords will naturally find their way into the asset.
5. Don't be afraid to step out of line
We all try to follow content marketing best practices and for the most part, it serves us well. But industries are competitive and a well-structured content marketing strategy isn't always going to push you into the spotlight.
Many companies, especially those in SaaS, were founded on the basis of breaking the status quo. Weaving that inspiration into your content is key to standing out from the crowd, garnering a wide audience and establishing the business as an authority in the industry.
There won't always be a clear-cut answer as to what this deviation from the norm looks like – if there was, it wouldn't exactly be a unique idea. A great place to start is by creating superhero content, like an industry report that touches on some of the most pervasive issues facing the industry or what the future may hold.
Explore new formats and channels to deliver your message, whether they are emerging social media platforms or giving traditional assets a modern twist. Trying something new is the simple part; getting it right and fine-tuning it for continued success is undeniably more challenging.
All out of ideas on how to improve your content marketing strategy?
Let us do the heavy lifting for you. Our experienced content strategists, lead generation specialists and writers are in-tune with the latest industry trends and have a proven track record of getting results. Get in touch to find out more about our services.