Social media as we know it today probably wouldn't exist if it wasn't for universities. Just think about how the biggest social platform today was built. It's unlikely that young Mark Zuckerberg planned to build a billion dollar empire when he created one of the first social websites that served to rate peoples' "hotness."
Here we are now, a decade and a half later, wondering if we could even live without social media.
Given that universities facilitated the creation of social media, it's no surprise that the majority of students use social media. The time has come for universities to use it to their advantage.
Social can drive real results - and not just for engaging with current students and alumni, but also to influence prospective students. A staggering 60 percent of students looking for Master's programmes stated that they're mostly influenced by unviersity social media, Educations Media Group found. The influence breaks down by channels: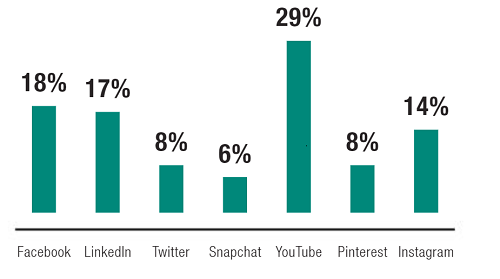 Social media is one of the better ways to capture interest and promote your university to prospective students, and we're not the only ones saying it. Let's see how universities in our neighbourhood and across the pond are handling their social media presence.
University College Dublin
UCD is the largest university in Ireland with 30,000 students and a great reputation for both undergrad and postgrad studies.
Marketers in UCD know that relying on reputation alone isn't enough to beat the competition, so they do one heck of a job promoting themselves on social media.
UCD has a substantial organic reach across all social media channels, so it already has a great advantage in maintaining a constant presence.
UCD's Facebook page and Instagram are packed with vivid and engaging posts that are frequently commented on, shared and liked. Using this high engagement strategy pays off in terms of more visibility. It also creates a sense of community - which is an important aspect for all prospective students.
Its YouTube channel showcases quality work and a keen strategy, with a broad range of content: student videos, speeches, discussions, interviews with influential people and promotional videos.
What we don't see much of on UCD's social channels are posts and videos targeting prospective students. Engaging organically with only one audience group (current students) means that the university isn't fully realising the potential of social media.
Trinity College Dublin
Trinity College is Ireland's best-ranked college, currently holding the 117th spot in the world. Trinity's approach to social has a completely different vibe compared to UCD.
Trinity positions itself differently in the market: instead of grabbing attention with highly engaging content, Trinity focuses more on academic life. All of Trinity's channels communicate a unified theme - promoting top-level academics.
The university's promotional video beautifully summarises its positioning strategy by outlining the value it represents. Trinity relies on its history, academics and prestige as major selling points.
Overall, Trinity's social media strategy is incredibly consistent and expertly executed.
University of Limerick
A century-long presence in academia gives universities a huge advantage in attracting prospective students. UL, however, was only founded in 1972 and so it has to make a name for itself separate from historic prestige.
Nevertheless, its university social media strategy (full disclaimer: we work with UL on its postgrad campaign) is strong and highlights everything UL has to offer to its students.
UL's strategy is reminiscent of colleges in the States, where universities are positioned as more than just a place where you get your higher degree. A major part of UL's strategy is in posting about things that are interesting for students/prospective students, the alumni and the wider Limerick community.
In this post from UL's Twitter page, the university shares a sentimental image that also speaks to the upcoming generation of students.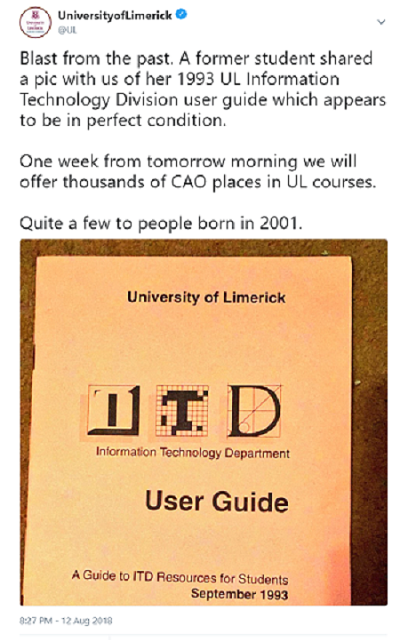 Dublin Institute of Technology
DIT's social media strategy appears to have one goal: to show everyone that it's different and a fun place to be.
DIT specialises in programmes related to technology and science, so you'd expect its feed to be packed with techy stuff. The reality is that DIT owns its social game with engaging posts that speak about actual student issues like housing, careers and programme requirements.
In this example, DIT engages students and their families: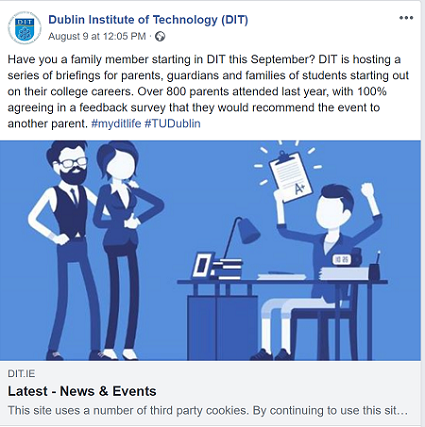 DIT's strategy is special as it positions itself as a modern school that's here to train students for the modern tech market.
Harvard
Irish universities are making a strong claim towards social ownership, but how do competitors in the US, where university social media found its footing, compare?
Harvard is the most liked Facebook university page in the world, with an organic Facebook audience of 5.2 million people (on the Harvard University page). But Harvard's reach goes far with its subpages: Harvard Museum, Harvard Law, Harvard Medical and Harvard University Press, for starters. Each of these pages has at least 100K likes, so it's easy to imagine the potential influence of its vast organic reach.
Harvard is keen to leverage its audience by creating quality work that's a textbook example of great content.
So what kind of content will you see on Harvard's page? It's all about high-quality images, thought-provoking posts and charming videos.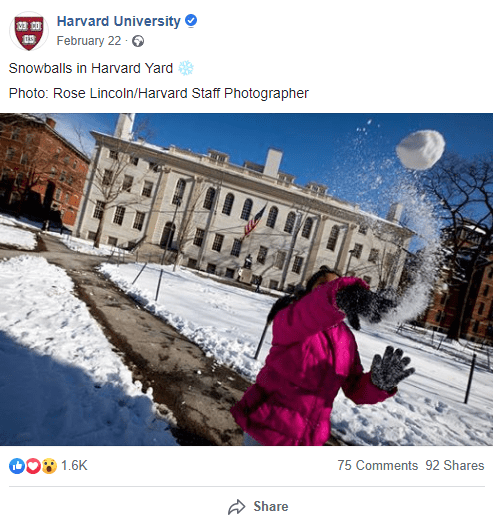 The University of Texas at Austin
Universities in the States have a devotion to school spirit that you probably won't find anywhere else in the world. Every university has a mascot, different sports teams and proud students that will wear the school's colours everywhere.
The University of Texas at Austin uses this school spirit to its advantage, putting it at the heart of its social media strategy.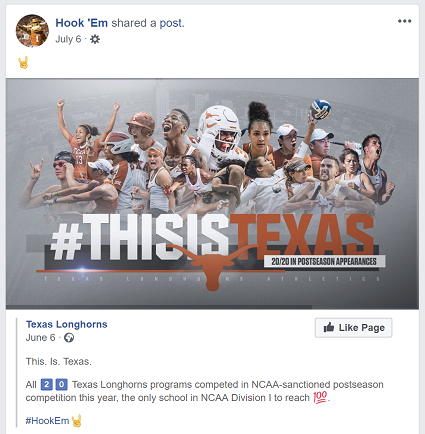 In this post, UT Austin showcases its school spirit via the Texas Longhorns, its athletes who are among the best in the country. Successful athletic teams are a big selling point for US schools.
The "hook 'em" hand gesture is a symbol of belonging to Longhorns, fostering a real sense of community. Likewise, the post was shared by the school mascot who is at all the important sports games and it's highly familiar in the community.
The approach focuses on the quality of student life outside of academics. Strong school spirit and excellent athletic teams are sometimes deciding factors in attracting new students, and UT Austin plays to that.
University of Cambridge
So far in this list we've taken a look at the many ways universities slay their social media game, except the one that's probably the most important: as a way to directly communicate with current or potential students.
The whole point of social media is to get closer to your fans and to talk to them directly. The University of Cambridge does this particularly well as it's quick to answer any question or engage with commenters.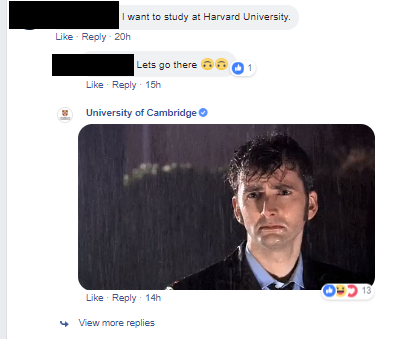 Being responsive on your social media channels can bring positive feedback and build the reputation that you care about the people you engage with.
While marketing a university is ultimately a numbers/sales game, it's all about proving the value of the school. Ultimately, you're selling a product - but it's a product with a significant investment and an entire lifestyle, if students want to buy into that too.
Your social media channels should showcase the positives of your school, its programme, the facilities and its wider culture. Do that effectively and your social channel will become an important tool in recruiting students.
Use social media to your advantage in the education market
The universities in this blog are of different sizes, in different locations and of various academic rankings - but what they have in common is that social is a significant part of their marketing strategy.
Whether you're all about academic quality, strong community or school spirit, social media can help you reach and engage with the right audiences. Thanks Mark .