40 years ago, no one owned a personal computer. Compare that to today, where most 10-year olds own a hand-held machine more powerful than the first computer used by the US army; technology is gathering speed and moving faster than ever. This is a well-known phenomenon called Moore's Law and was first acknowledged in 1965 by Gordon Moore. He picked up on the subtle signs that technology was and would continue to grow exponentially – generally, a computer chip's power now doubles in speed every year, while decreasing in cost.
Going into 2018, what does this mean for brands? With an explosion of new technology and innovation driving change in the marketing industry, the job specs in a marketing team have been utterly redefined. Now, marketing roles demand a new level of technical know-how. We are not only researchers, strategists, and creatives: we must be technicians, IT experts, coders, designers and journalists - as well as magicians.
Supply pressure and the marketing skills-gap
But don't just take it from us – new studies in marketing recruitment reveal some very problematic issues with this acceleration in technology and the new expectations placed on a marketer's shoulders. In the last five years, there has been a growing gap between the demand for new skills and the ability of marketers to meet that demand with skill-supply.
Venngage, a US software firm, conducted a data-mining study on LinkedIn. First, it studied marketing job offer posts, counting the marketing skills required by employers (this represents a skill's level of 'demand'). They then conducted an identical analysis on marketers' profiles, to reveal the gap or comparison between the 'supply' and 'demand' of that skill.
The main findings? Marketers continue to be talented in few traditional base-line 'hot skills' – those which are not technically difficult, but which were regarded as on trend back in 2014. Unfortunately, these skills also have a decreasing level of demand and saturated supply. A good example is social media – with a demand level of 20 percent and a supply of up to 44 percent, it is over-saturated.
According to the report, this surplus will drive down the value of social media as a skill, as it is seen as a basic requirement. Similar traditional skills include PR, comms, and email marketing – as they all have a surplus level of supply (possessed by 25-50 percent of all marketers). Contrarily, there is a shortage of marketers with more niche or technical skills, such as content marketing, coding, marketing automation, and graphic design.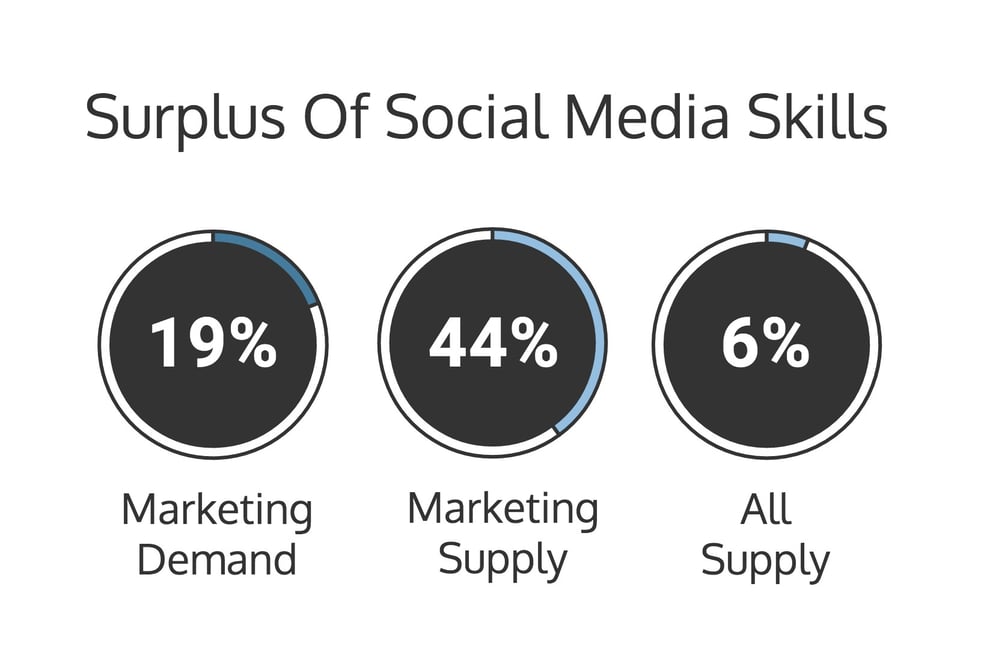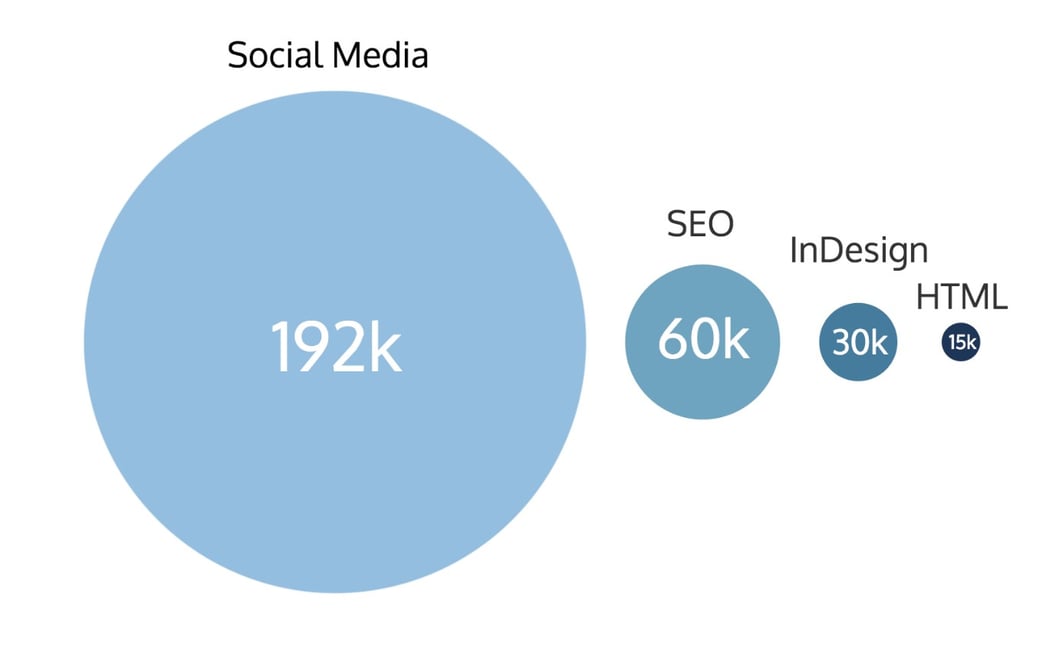 Venngage, 2017
In comparison, content marketing is still coming up trumps – it has been a popular skill in the US from 2011, and continues to be widely sought after, with a demand level of 33 percent, but with an imbalance on the supply side – less than 2 percent of marketers list 'content creation' or 'content marketing' as a skill, which shows a huge shortage.
So why is content marketing so high on the hiring wishlist? According to the report, the definition of content marketing has evolved to mean so much more than writing. We now understand that it encompasses content creation, optimisation and amplification. It continues to be fully relevant as a solution to digital ad-blocking and as a reaction to content SEO, because Google continues to favour content which favours dwell time and on-page engagement.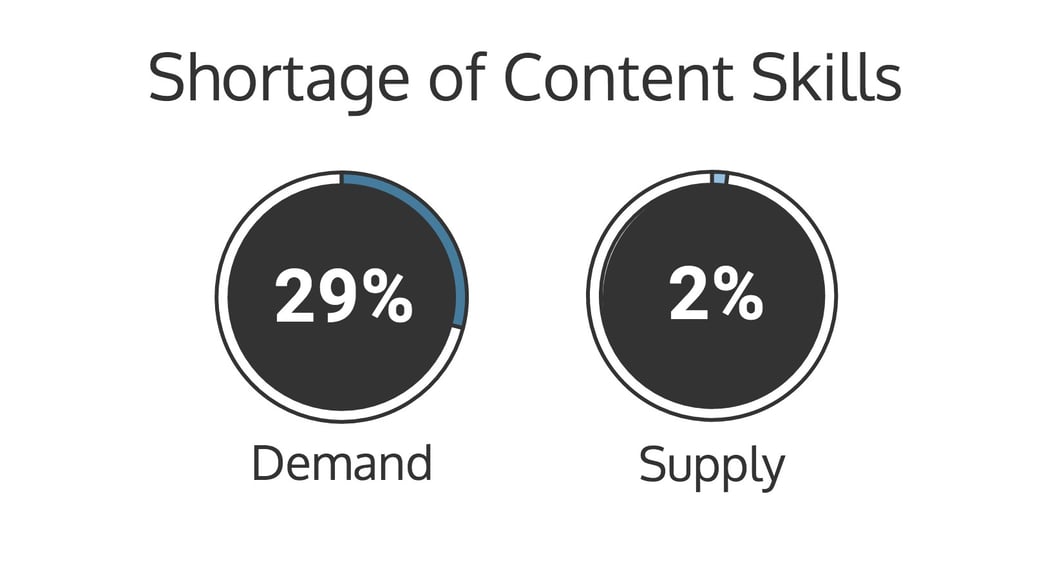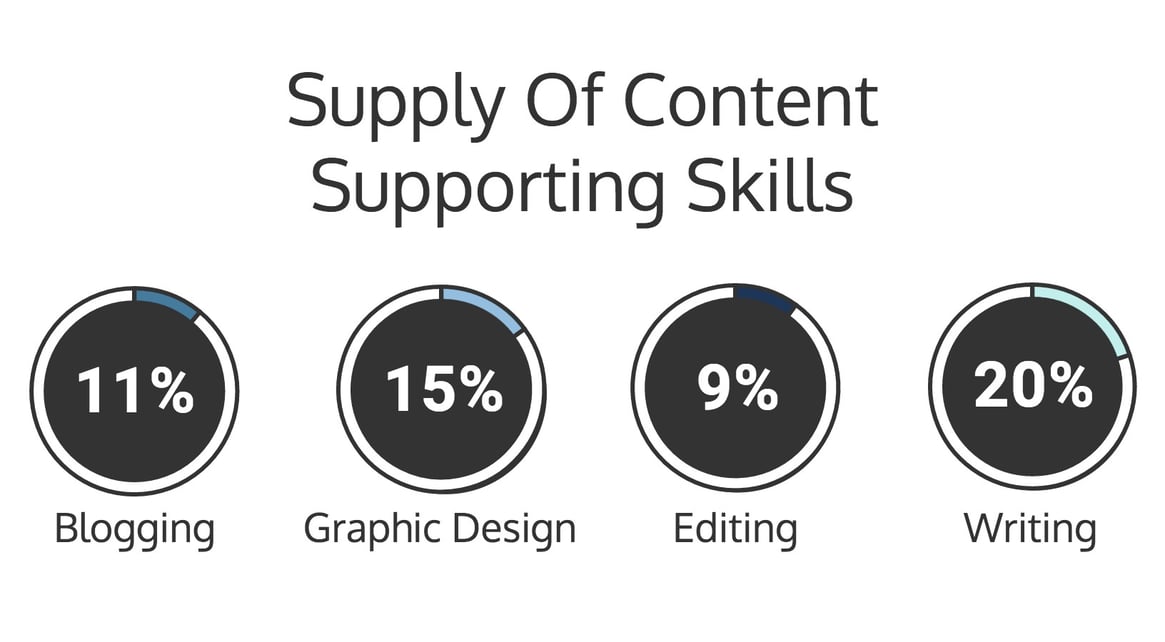 Venngage, 2017
So, what's the solution? A combination of outsourcing and in-house hiring has been adopted by brands, and more recently, more agile models have emerged as a reactionary approach to the marketing skills gap.
1. The multi-agency approach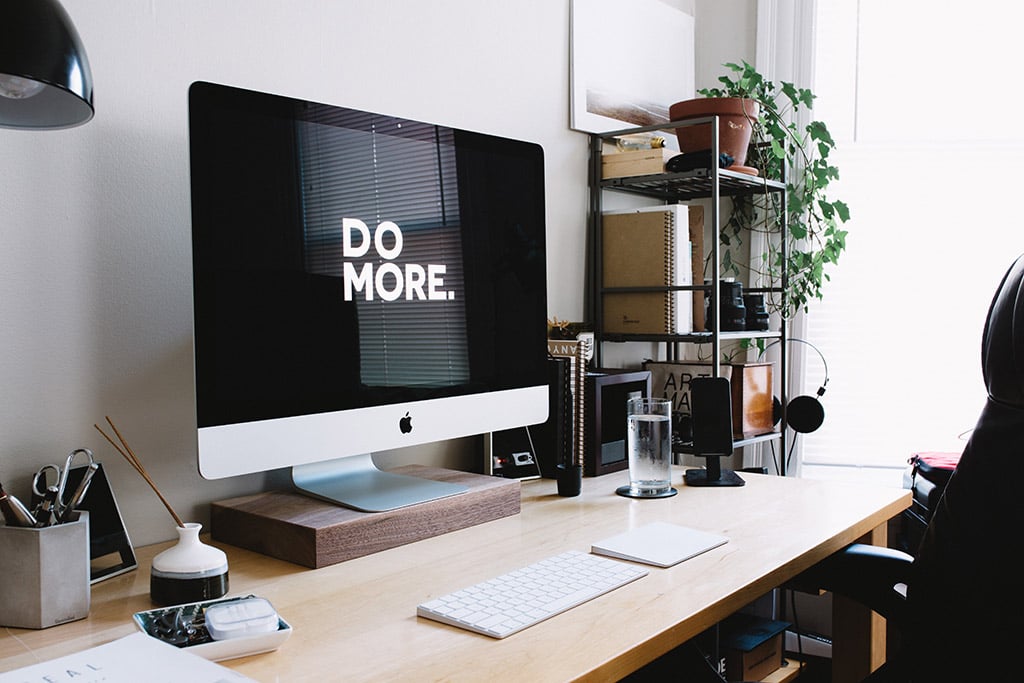 There is a common, or widely-embedded approach to the content skills shortage - the multi-agency option. This involves onboarding many agencies to fulfil the different level of skill sets needed to reach the brand's objectives. Brands can employ a media agency for media buying, a creative agency for TV and out of home formats, one for social media, one for content writing, one for brand positioning, one for market research and analysis…*big intake of breath*.
As the skill list widens, so does the number of agencies. The benefits of this are obvious: you are getting experts in each field, and a multitude of skills for each marketing channel. But the downside is also apparent– as the list of agencies grows, so does the cost on the marketing balance sheet.
2. Bringing the specialised skills in-house
The opposite of multi-agency outsourcing is building a team of specialised talent in-house. The advantage here is that these employees have greater buy-in and familiarity with the brand – also, a big team of in-house marketers allows for longer-term planning and goals. Specialised talent also means a tighter control of project and overtime costs. However, although this tactic may have worked well a few years ago, as demand for more technical and specialised skills grow, the feasibility for hiring all those skills in-house shrinks - not to mention that hiring permanent specialists in each area can be costly.
3. Agile marketing: the war-room model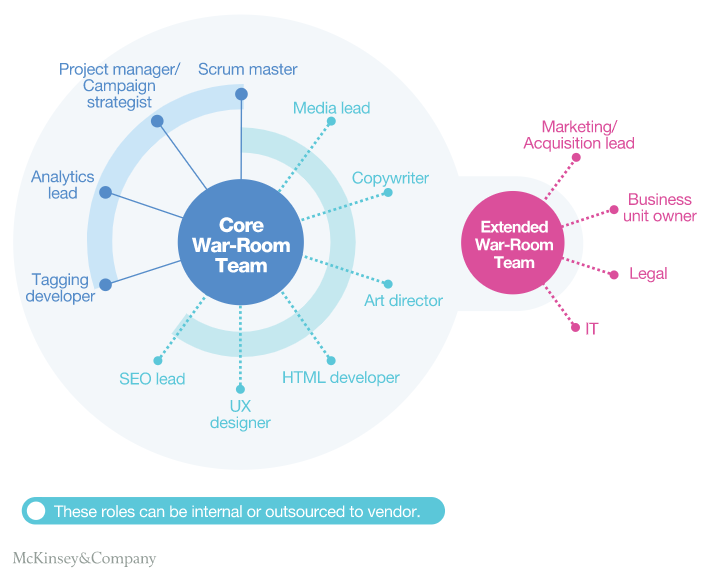 Agile with a capital 'A' is a concept which stands for a fluid and adaptable business structure. Agile teams work toward long-term objectives rather than huge projects – they then adjust these plans by constant data analysis. Sometimes known as war-rooms, they are flexible structures, and each team member is aligned with a clearly outlined strategy. There are some certain conditions which are needed for a successful 'Agile marketing' model:
An Agile team must have a champion or 'scrum master' who can oversee daily operations.
It must have a clearly outlined, long- and short-term strategy.
The team must have a full the range of skills aligned closely with this strategy.
It must work from analytic insights and pain points identified throughout the buyer journey.
It needs to set up tests to be able to track KPIs and tactics.
Pared back to its most basic definition, Agile practice in business is the ability of a company to 'rapidly adapt' to new technologies and innovations, 'in cost-effective ways.'
You'll need some magic ingredients – and acquiring the right knowledge is the most important of all. A business needs a consistent influx of insights into 'the next big thing'. This knowledge must also translate into foresight; the ability to realise which business trends will be the lasting ones, and how to prepare your team to reproduce these trends for clients. But most importantly, when it comes to Agile marketing, this knowledge must translate into soft and hard skillsets.
4. Content as a Service (CaaS)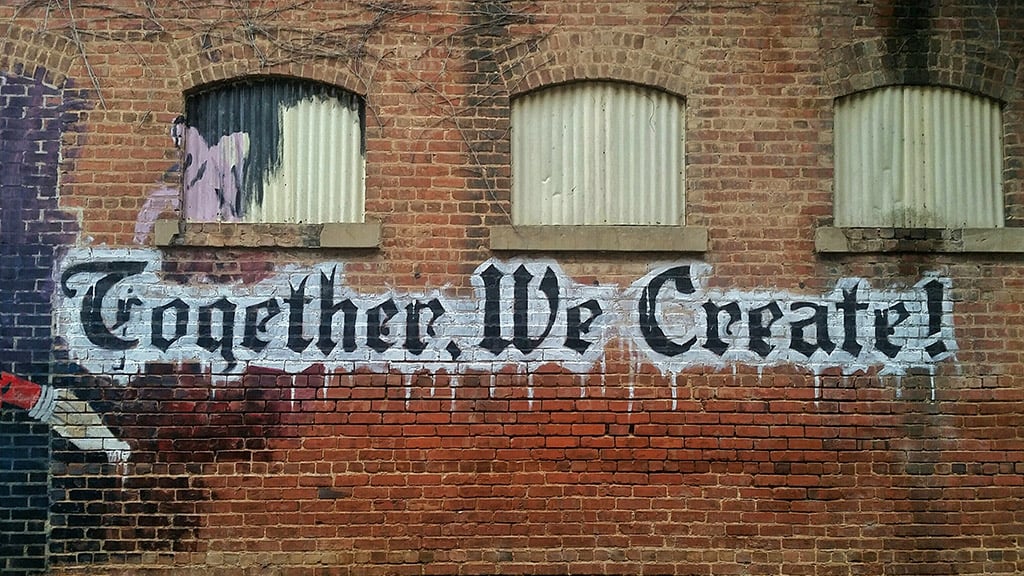 The newest member of Agile marketing is Content as a Service – a healthy combination of in-house hiring and agency out-sourcing. CaaS is perhaps better defined as a centralised cloud-content service, provided by software companies and a host of content creators. However, this term has widened and evolved to include Agile, in-house service-hire provided by content marketing agencies, as a cost-effective solution to the widening skills gap.
With Content as a Service provided by an agency, brands can benefit from on-demand range of team skills, and an integrated project team with brand buy-in and familiarity. It's a sweet-shop of skills-hire for brands – where they can choose bespoke skill-sets for a specific project or strategy, without the long-term costs which come with permanent marketing hiring.
The structure of a content marketing agency is perfect for this process, as these teams inherently follow the nimble mentality of Agile marketing. The pillars of content marketing consist of valuable content on owned media platforms (like your website), in depth understanding of brand personas, and valuable experiences in the real world. This approach grows online visibility and secures a brand's positioning exponentially - which means a brand will grow in longer and consistent measures - not just in sudden campaign bursts. In order to follow this methodology, content marketing teams are carefully curated to include a range of niche talent; such as journalism, custom publishing, web development, graphic design, videography, animation, strategy, and more to boot.
256 launches 'Content as a Service' for in-house skill hire
In response to the growth of the skills gap and the pressure on in-house marketing teams in Ireland, 256 is the first content marketing agency to launch "Content as a Service", for skill hire - giving brands instant access to bespoke skill hire for their projects.
"We are now placing specialists in our client's companies to work closely with brand teams. The type of specialist will vary depending on the client and project, but there is a range of marketing skillsets to choose from; including graphic designers, animators, social media managers, journalists, or PPC experts. These specialists will work in-house with the client for an agreed period; one day per week, or 2 weeks per month, for example - this is a completely bespoke service so can be tailored to fit different budgets and needs. The 256 CaaS model has been really well received so far by clients, as the placement gives them on-demand access to niche skills needed for a specific project, without the standard over-heads of a permanent hire."

Karen Hesse, MD, 256
Want to build an Agile Marketing Model without the HIRING cost?
256 is a content marketing agency with a range of skillsets (and marketing roles) for every brand strategy: offline, online, and everywhere in between.
Have a chat with us today about a bespoke 'Content as a Service' package for your in-house skill gap.