This week's Friday Freebie is a great, user friendly, presentation-cum-animation design tool that will make your content a lot more engaging and better communicated.
This week we bring you Powtoon, offering the ability to easily create a good quality animated video that has potential for many applications from website presentations, to product demos, to an effective teaching tool or even just a funky Happy Christmas video. It has the feel of a time intensive and high cost endeavor, but as you should be aware by now, the Friday Freebie is all about time saving, free tools.
As a business, it is important to create engaging and attention grabbing content ... duh!
You might be surprised to learn that after 3 days you only remember 10% of the information conveyed to you through words, compared to 65% through visuals. Creating an animated presentation can keep your audience more engaged, makes them retain the information better and prevents the radio waves from the presenter's voice entering the brain through the ear and hitting the 'Sleep Now' button.
Here's an example of a video made with Powtoon. It is most likely created using a paid version, but a good example nonetheless.
It's a simple process to create the video
There is a good selection of full video templates available for you to choose from so that you can simply slot your own information into it and your done. Or you can start from scratch and create whatever type of video you'd like, adding different characters, backgrounds, transitions, you name it.
Below you can see the interface screen where all the magic happens.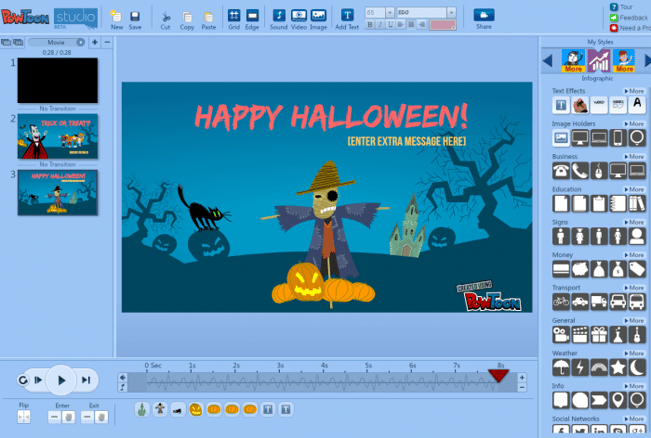 It may look daunting to the beginner, but it's easy enough to get the hang of.
On the left are your different slides; in the middle you have the current slide that is being worked on; the bottom is the timeline and play buttons; on top are the formatting and image options and on the right are different icons you can insert into your animation.
Also, take note of the 'tour' button all the way up in the top right of the screen. If you need help with understanding what's what, click on it to get some help.
Here's is a breakdown of what is available with the free version compared to paid versions.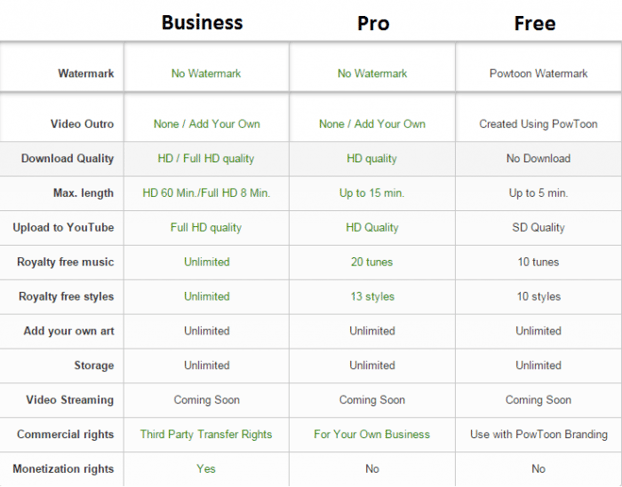 Have fun with this tool. Not everything has to be number crunching and metric analysis.
Throw in some stick men and lollipops and away you go :)