User-generated content, we're all familiar with this beast. Feeling your outfit so you take a quick Instagram snap and tag the brand... or maybe the coffee art is so good in your local café that it deserves pride of place on Twitter. UGC is something people are doing every single day but not every brand is taking advantage of this engaging (and easy to do) form of social media content.
Businesses all over the world recognise UGC and the results speak for themselves with 25% of search results for the world's biggest brands linking to UGC.
Global household names harness the power of UGC, using photos, reviews and information created by their customers and really, it's a no-brainer activity. Cost-effective, puts the consumer front and centre of the content and lends a positive spin to your brand – what's not to love?
Keep in mind that it's essential to have permission from users before posting their content on your channels. Tools like Olapic and Curalate can help you find posts about your company and get permission to use the content.
Check out five brands that have mastered the art of UGC and are producing some seriously cool content...
Discover how user-generated content can change the game for B2B businesses
Connecting restaurants and wholesalers, REKKI is an app where chefs can deal directly with suppliers. The supply chain and ordering process is an integral part of any hospitality business but it's one we don't see very often. Championing a unique take on B2B marketing, REKKI gives the restaurants they work with a disposable 35mm camera and asks them to shoot what's going on in the kitchen.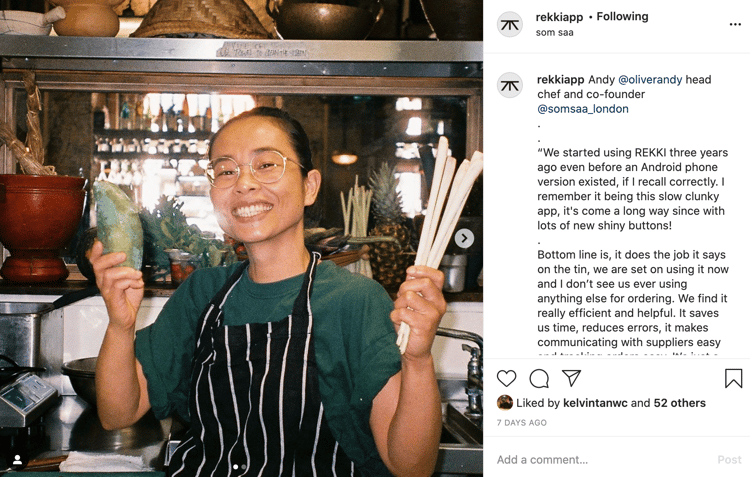 This UGC content shows REKKI's Instagram followers what goes on behind the scenes, allowing for that all-important sense of intrigue, and as everyone submitting photos uses the same camera, their social media feed has a consistent and instantly recognisable style. By showcasing persuasive testimonials and vibrant imagery, REKKI elevates the simple concept of UGC and is seeing the results in real time.
Make your customers part of your brand with UGC
Fashion powerhouse H&M is made up of eight different brands with over 5,000 stores worldwide, not too shabby. They're leading the pack with their take on UGC, forging connections with customers who want to up their fashion credentials. Swedish fashion label, COS, has cleverly included a 'COS By You' section on their website.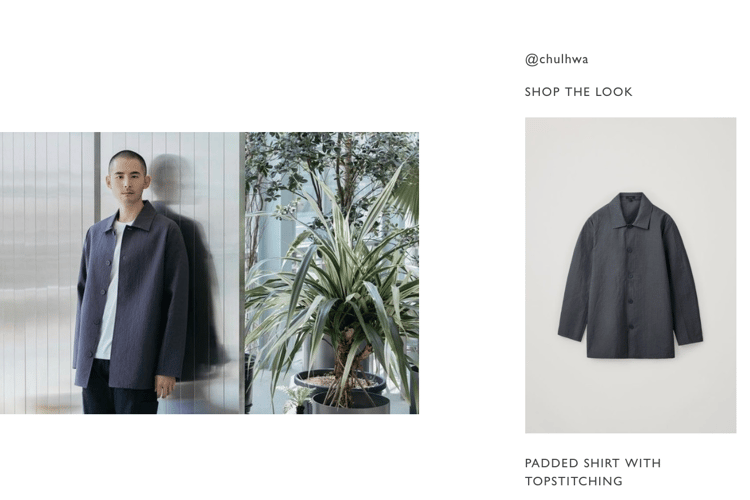 Our favourite part of this social content is that you can 'shop the look' making it easy for visitors to turn into customers – straightforward, yes but don't underestimate the power of simplicity when it comes to nailing UGC. Part of the appeal here is the stunning imagery and aspirational lifestyles created by the #ootd posts featured, allowing COS to entice new shoppers and build bonds with existing customers.

This isn't a new concept by any means. Global fashion and beauty brands are taking this idea and running with it – the customers is happy to have their photo featured by their favourite brand while the brand is getting a positive review for free.
Learn how UGC appeals to both B2B and B2C customers
Software giant Adobe has a unique target audience as their products are generally aimed at creative professionals, but they're also used by hobbyists and amateur creatives. Through several smart decisions, they have made UGC a pivotal part of their social media content and appeal to multiple buyer personas with a singular do-it-all style of content.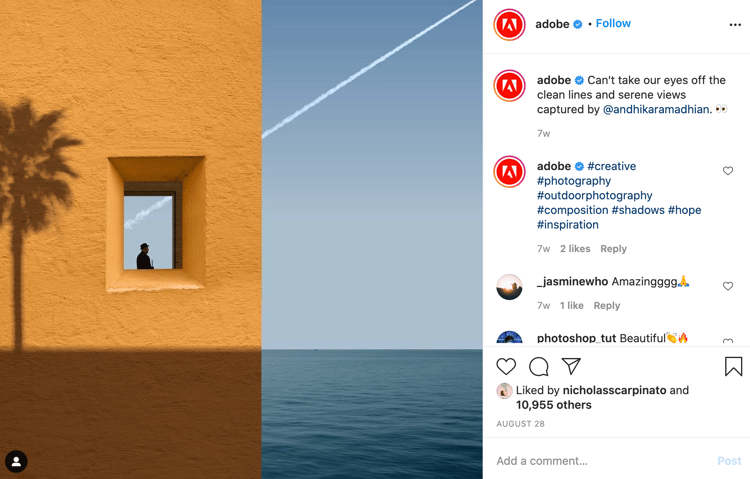 How does Adobe approach UGC?

Well, artists tag their works of art with the hashtag #CreateYourStory giving Adobe a pool of over 90,000 posts. Adobe regularly shares these posts to their 1.1 million Instagram followers and bingo, there's a huge incentive for creatives to submit their work. The result is a cleverly curated Instagram feed featuring incredible work by artists around the world and most importantly, made using Adobe's software. These posts then go on to work as ads to attract new B2B customers to their products – an example of UGC at its most powerful.

If you like the sound of user-generated content but aren't sure where to start, 256 is here to help. Check out our range of social media services so that we can get working on a custom strategy to suit your specific needs.
Boost sales and build trust with customers through user-generated reviews
UGC isn't limited to perfect Instagram snaps, it takes on many forms and is a great tool on lots of different platforms. With over 12 million products available, it's difficult to stand out as a seller on Amazon, but having oodles of great reviews ensures you'll get noticed, and fast.
Positive reviews are always going to interest the consumer but they also help build trust with potential buyers, and can be the deciding factor between someone hitting that checkout button or abandoning their cart as 9 out of 10 people read reviews before purchasing.
See how forums utilise user-generated content
In the early days of the internet, forums were all the rage and while they're now competing with powerful websites and clever social media accounts, there are still active and incredibly useful forums available. Financial superpower Bank of America has a thriving online community aimed at supporting their customers, many of whom are small business owners.

In the beginning, users created a profile on Bank of America Small Business Community to ask the bank questions about various policies and products. This evolved into a platform where other users answered the questions, sharing informative articles and advice. A key component of this forum's success is the ability to collect points and titles as people contribute to the forum and it snowballed into a treasure trove of info for small business owners thanks to podcasts, user-submitted articles and interviews with industry experts.

It's clear that UGC has an important role to play in content marketing. In fact, 86% of companies use UGC, but only 16% of them have a dedicated UGC strategy. With more than half of consumers wishing brands would tell them what type of content to create, isn't it time you reaped the benefits of UGC?
Savvy social media is just one part of your overall company strategy and now is the time to put your best foot forward for 2021 planning. Learn how to nail your new year content marketing strategy with expert tips from industry leaders.