It's immediate, it's immersive and it's in your face. Oh, and Hillary Clinton loves it, lampooning her own email woes during last year's US election with, "by the way, you may have seen that I have recently launched a Snapchat account. I love it — those messages disappear all by themselves."
LOL.
Yep, we're taking about Snapchat, and it was its very immediacy that drove its popularity to begin with, grabbing 35 percent of 25-34 year in Ireland in 2o15, according to Ipsos MRBI.
I'll admit, its appeal took a while for me to fully embrace. Initially, it had a rep for, well, its notoriety around sexting. Then as soon as people actually started using it to share every little detail of their personal life, all for the user to never see again (unless they opt for that one cheeky replay a day), I was slightly disappointed.
But Snapchat definitely stands out of the crowd in terms of delivery. It offers an alternative to essentially the same thing every other social media platform gives you - the ability to broadcast yourself or your brand - and to Snapchat's credit, it does it superbly. It's no wonder that it's fast gaining ground - and ad spend - on the top three social platforms.
Facebook boasts 1.5 billion active users and is the largest recipient of social media ad revenue with over 67 percent of all social spending alone (FYI: it took in a total of $27.6 billion last year). Facebook also has Instagram, but in regards to ad spend, it's still in its infancy. Next up is Twitter with 320 million active users, yet just seven percent of social media ad revenue. That's about $2.6 billion.
So what can Snapchat do for us marketers?
Everywhere you look right now, someone's rolling out a 'stories' type feature. That tells me that what Snapchat has is some powerful collateral. So even though Zuckerberg and co. are attempting to steal the best parts of their platform, Snapchat still has some great services to offer.
As it throws its hat into the ring and attempts to entice both marketeers and investors, is its value proposition good enough? What exactly does Snapchat offer to brands that makes their platform stand out for advertisers?
Here's everything you need to know about advertising with Snapchat.
Sponsored lenses, Geofilters and Snap Ads
This is by far Snapchat's biggest selling point and something Facebook hasn't been able to rival so far.
Snapchat's lenses and Geofilters have gained a lot of momentum in 2016 and really showcased a real opportunity for advertisers to get people engaging with their brands in a way that has never been seen before.
Fearless Media, an agency based in New York and San Francisco, partnered with Snapchat to promote the Bethesda's video game Fallout 4 for Black Friday.
Their objectives were as follows: blast a National Geofilter featuring recognisable elements of the Fallout series to the US Snapchat audience on Black Friday, place a series of Snap Ads in Discover channels and leverage Snapchat's gender targeting capabilities. And the results are pretty impressive.
Their ads had a total reach of 26 million people, with over 82 million views. According to Snapchat's case study, "72 percent of Snapchatters who remembered the campaign said they enjoyed it, and the campaign lifted purchase intent among males age 13 and older by 31 percent".
Geofilters are something that aren't available in Ireland just yet, but they've had some positive results overseas.
When Burger King announced the arrival of the 'Whopper of Hot Dogs', they developed two geofilters: one that could be unlocked across the USA, and the other that was exclusively available to Burger King stores nationwide.
As a result, one fifth of all Snapchatters who unlocked the Geofilter chose to send it to their friends, generating a reach of 28 million with 71 million views in Snaps and Stories over the course of the campaign. That's whopper, man.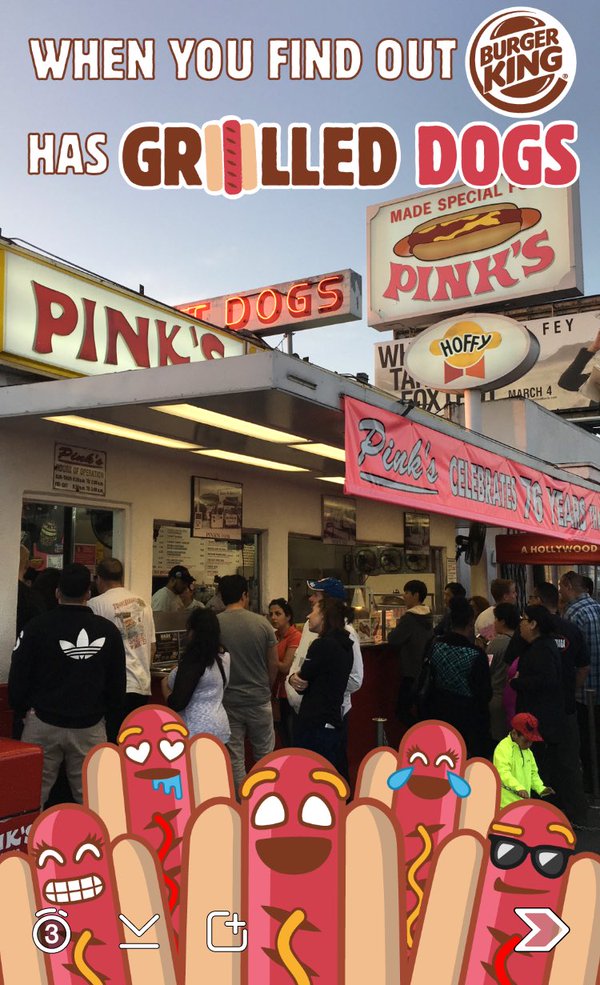 In 2015, Hollister rolled out a geofilter that targeted 19,000 high schools in the US: locking onto the brand's core demographic. Its brand president Fran Horowitz said, "Snapchat is a key social platform for our brand and we continue to look for new, innovative ways to reach our customers through the channels they use most frequently."
Gatorade recently launched a Snap Ads campaign which was actually a mini game within Snapchat. When the user swiped up, they were able to play an 8-bit version of a tennis game that celebrated Serena Williams' 23rd Grand Slam victory. The average time spent in this ad was over three minutes and viewed almost 30 million times. If you haven't guessed, that's absolutely insane.
Er, how much does it cost?
Here's where it gets interesting. How does Snapchat stack up cost-wise compared to the likes of Facebook and its flexible budget options? Turns out, you better have some deep pockets.
The cost for Snap Ads varies by campaign - but campaigns start at around $10,000/month in ad spend.
Sponsored Lenses are on the next tier of pricing for ads on the platform. This varies depending on the day of the week, holiday, trends, etc. A general rule of thumb for Snapchat Sponsored Lenses costs is this: $450,000 per day from Sunday through to Thursday, $500,000 for Fridays and Saturdays, and $700,000 plus for holidays or special events. Not exactly within every marketer's budget...
Nationwide Sponsored Geofilters is a new offering from Snapchat. It's currently unknown exactly how much this ad offering costs, but Wallaroo Media estimates the number at about a fifth of the cost of Sponsored Lenses.
Snapchat Discover ads are by far the most expensive offering. Right now, Snapchat discover ads start at $50,000 per day. Ouch.
But that said, your ad is placed at the top of the app. These ads are usually reserved for publishers and big brands. Snapchat recently revealed that Cosmopolitan magazine, one of its leading publishers, gets several million views per day on its Snapchat Discover feed.
Sponsored local geofilters are the cheapest option. These can cost as little as $5. Unfortunately, these aren't available in Ireland just yet.
How can I advertise on Snapchat?
You'll need to pair up with one of Snapchat's ads API partners, such as Adglow, 4C and Adaptly. You can view the full list of partners here.
Overall, Snapchat has the capability of engaging with audiences and retaining them for much longer than their competitors, but the current price-points are unfortunately well out of range for your everyday marketer.
With the social media market already tough, hopefully Snapchat will find new ways to diversify their products for smaller budgets and help businesses in all shapes and sizes connect with their audiences.