As a buzzword, or buzz phrase, "content is king" has had a longer shelf life than many others.
We can thank Bill Gates for originally coining the phrase in 1996. Here we are 24 years later, and content marketing has proven to be a mainstay enabling brands to attract their ideal customers.
That said, content marketing has not escaped the disruption Covid-19 has unleashed on just about every aspect of business (and the world).
"Content is king" won't cut the mustard any longer. Creating content is really just one step in an entire content marketing campaign. Brands need to think carefully about the environment their content is being consumed in if they want to serve and engage their audience.
Ensure that your content is human-centric
We may be fed up of hearing about Covid-19, but it's here and it needs to be acknowledged. That doesn't mean that every blog, ebook, email or social media post you write needs to name check the pandemic. It does mean that your content needs to acknowledge the challenges and experiences that your audiences are facing.

It's not business as usual. There has been a large health and economic cost to wider society as the virus runs its course. While the number of infections and fatalities is reducing in Ireland, the broader impacts of Covid-19 are going to be felt for a long time to come. We are not returning to the status quo.
Kantar's recent research supports the view that businesses need to be cognisant of the "new normal". Of the more than 25,000 people surveyed, 77% said that they are happy for brands to market to them during this time, but they wanted content to show "how your brand is helpful in this new everyday life".
To do that, you need a strategy.
You always needed a strategy to extract the value content brings to your business. Our latest Irish Content Marketing Report found that only 43% of Irish marketers have a documented content strategy.
In the absence of this critical document, marketers were always running the risk of not maximising the value of their content. In the current environment, that risk extends to being seen as tone-deaf, which can be damaging to your brand. Having a documented content strategy in place greatly reduces this risk.
The content opportunities that exist right now
There are many contradictions to deal with at the moment. On the one hand, people are busier than ever before. Managing day jobs from your kitchen table while also homeschooling children can take up every minute of the day. On the other hand, people are on their phones as much as they ever were (maybe more) and are no longer commuting.
Brands that truly understand their audiences will find a lot of opportunities in dealing with these two seemingly disparate realities. Creating content that is informative and relevant to your business, but also entertains or helps your potential customer, is the winning ticket right now.
From a B2C point of view, Nike's Play Inside campaign is a masterclass in how this is done. Nike is offering healthy recipes and fun exercise videos on their website and through their social media channels. The messaging that we're all one team is relevant both to the brand and to the present situation. The sports apparel company is putting its considerable power and ability into helping people stay active, healthy and positive - together.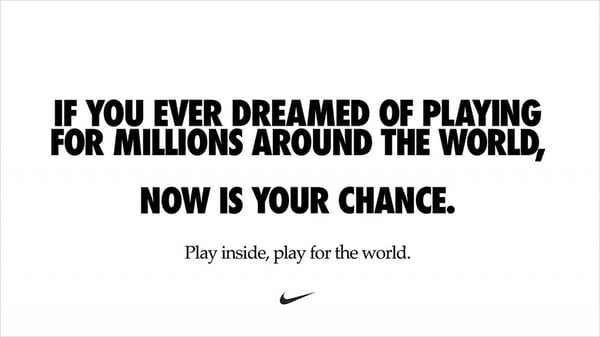 B2B brands have a trailblazer in the form of Adobe. The software company responded quickly to the crisis by offering 90 days free access to one of its products. Adobe has also created a Covid-19 Help Centre on their website to share how they are lending a hand. The language is calm and reassuring, and immediately relieves pain points their audience is experiencing.
It's worthwhile thinking about the format you're using to relay your content. Don't create a quiz merely for the sake of creating a quiz. Align your formats to how, when and where your audience prefers to consume content.
Findings in our Irish Content Marketing Report show that podcast, quiz and game formats are not used extensively by Ireland's content marketers. Now may be the time to reevaluate whether these formats do, in fact, have value to offer your audience, and therefore your brand.
KPIs have changed due to the pandemic
A key part of running a successful content marketing campaign is measurement. Our most recent Irish Content Marketing Report revealed that content marketers in Ireland are focused on tracking the metrics that monitor the performance of their content.

The metrics above can all be considered quantitative metrics. As Covid-19's impact continues to be felt by businesses, these indicators will remain important. Only now, they'll be joined by qualitative metrics too.
It's a good bet that business KPIs overall are shifting due the pandemic. There can't be many sales teams, in Ireland nor across the world, who haven't had to take a long hard look at the targets they set at the start of the year. Those figures must look like the stuff of fiction right now.
Qualitative metrics are a bit more difficult to measure than quantitative ones. They deal with more intangible items, such as how your messaging is being received. That's trickier to measure than how many new people are landing on your website. But they're not impossible to measure.
Customer interviews, for example, will help you gain insight into how your content is performing from a quality perspective. Feedback forms and surveys can also help in this context.
This type of measurement relies on a bit more elbow grease than quantitative metrics, but the effort is worth it. You'll have a valid reason to get closer to your customer to find this information. If you use the information to better create the content your customer is looking for, your quantitative metrics will improve too.
Use social listening tools to help track consumer sentiment for your brand. Social listening tools, such as Salesforce's Social Studio, Sprout Social or BuzzSumo, among others, have been around for a while now. It could be this year that they become an essential part of a content marketer's toolbox. Social listening tools enable marketers to set up brand terms and keywords that are tracked for sentiment. It's clear how useful this information could be in our current circumstances.
Engage your Customer Success team about Net Promoter Scores (NPS). This benchmark for customer satisfaction is a key qualitative metric.
While any brand's overall NPS is made up of a number of factors, there is no doubt that content has an important role to play in how satisfied a customer feels. And how willing they'd be to recommend your business to a friend or colleague.

Are your blog posts informative? Do your case studies identify the problems your audience are trying to solve - and share solutions beyond "buy our product"? Are your FAQs helpful? Do you provide a high degree of clarity in your onboarding video series? Your NPS could shed light on these questions.
Content marketing is here to stay
Content marketing has proven it can stand the test of time. While the advent of the internet and social media platforms provided this type of business activity with a huge boost, content marketing has its origins in the late 1700s.
In 2020, content marketing has a big task ahead of it. People are resetting their priorities in response to the pandemic. Poor quality content with a lack of strategic focus will simply be ignored as people go about rebuilding their communities and businesses in the wake of the lockdown.
Place your customer at the core of your content marketing strategy, by truly understanding who they are and what they want, and the rewards will be increased customer loyalty for years to come. "Content is king" may well be a buzz phrase that continues to stick with us, but invest time in creating and marketing effective consumer-driven content and it'll earn royal rewards.