Since its inception over 12 years ago in Mark Zuckerberg's Harvard University dorm, Facebook has become a definitive powerhouse in modern culture. With over a billion users worldwide, it has changed how we communicate and given millions of businesses a platform to engage with their audiences like never before.
Over the last few years, Facebook has demonstrated its ability as a leader of the tech world by releasing more and more tools to help businesses understand their audience, raise awareness of their brands, and increase traffic and conversions.
Facebook held their (mostly) annual F8 conference this week with some exciting announcements for both developers and marketers. Aside from Zuck's veiled shot at Donald Trump regarding his views on immigration, Facebook flaunted their innovative capabilities and their plans to change the way we use technology.
Here are five key points from the conference:
1. Chat bots for Messenger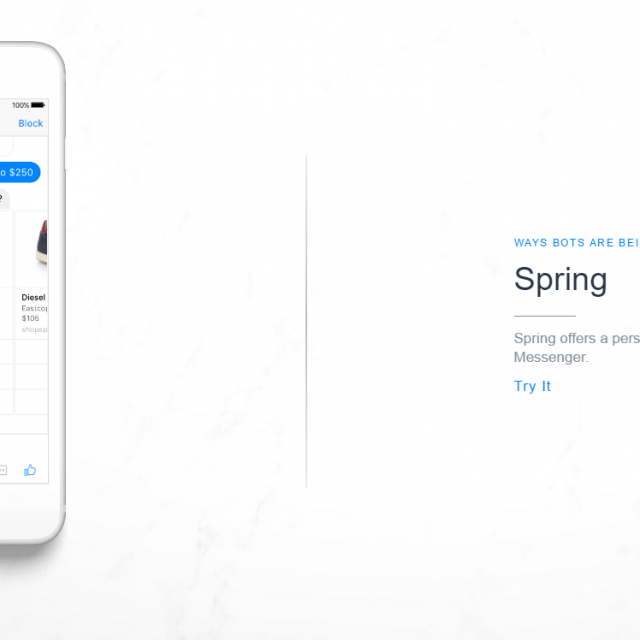 Facebook Messenger, which has over 900 million active monthly users and over 50 million businesses, has launched a new platform that allows developers to build services that work inside the tool. All developers and businesses now have access to documents to build bots for Messenger, and submit them for review.
Facebook says that it's "focused on facilitating messages from businesses" and the bots can provide anything from automated subscription content like weather and traffic updates, to customised communications like receipts, shipping notifications, and live automated messages.
Imagine ordering a pizza or even a taxi directly through the Facebook Messenger without that awkward phone call? This service could definitely be a game-changer for e-commerce sites and bring personalised online shopping to a whole new level. Facebook Messenger currently has a personal shopping assistant with Spring that gives you a taste of what's to come, along with weather updates with Poncho and news updates with CNN.
2. Facebook Live makeover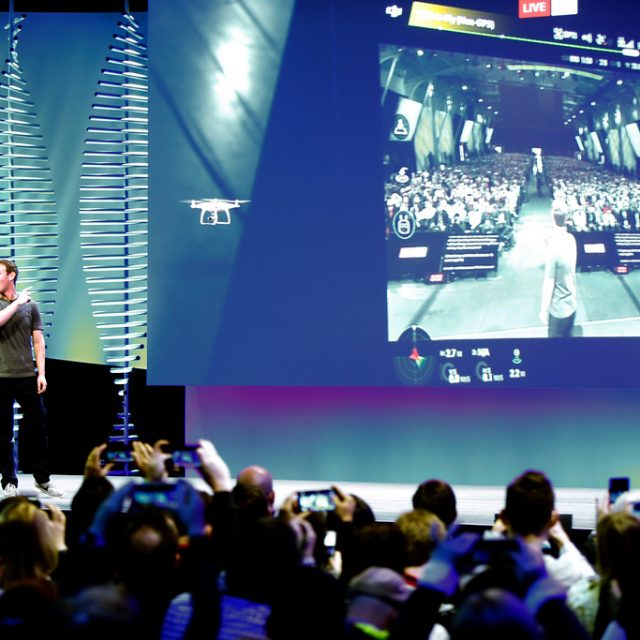 Facebook Live has been incredibly successful since they launched the service in August 2015. They've now opened the doors so people can broadcast directly to Facebook from any device, including high-powered TV cameras and drones.
Developers can build applications around it and incorporate it in their own software - something that publishers and tech companies can take advantage of.
Facebook even sent a drone to hover behind the stage of the venue in the middle of Zuck's keynote, broadcasting the F8 attendees to drive that message home. Smooth move, Zuck.
Video seems to be a big focus for Facebook. Since the launch, users have created more than 670,000 live streams that have clocked up over 12.6 billion views, so it's no wonder the social network is keen to capitalise on its popularity. It even got its own dedicated hub on the app for watching live and recorded videos, with some added features that could definitely give Snapchat a run for its money.
3. Profile Expression Kit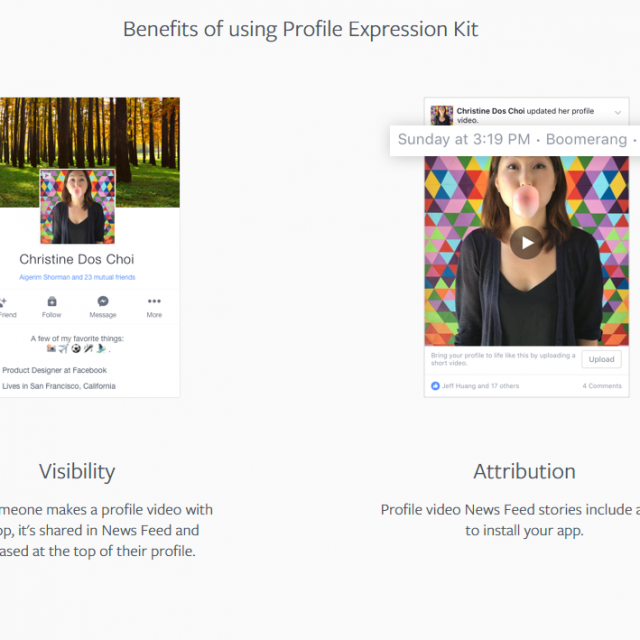 The Profile Expression Kit allows people to use third-party apps such as Boomerang, Cinemagraph, Lollicam, MSQRD, BeautyPlus and Vine to create fun and personality-infused profile videos with just a few taps.
When someone makes a profile video with one of the partner apps, it's shared in their News Feed and showcased at the top of their profile. It also includes a link to install the app used, which I'd imagine will be a big selling point for participating partners.
4. Instant articles are available to all publishers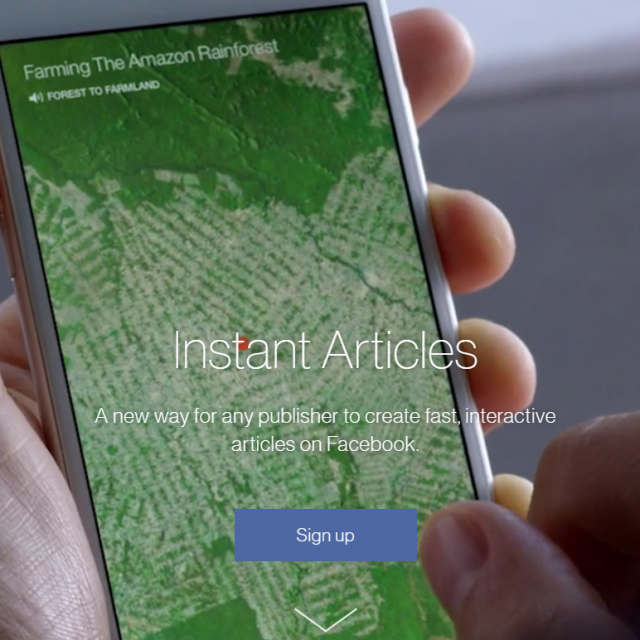 Hallelujah!
Instant articles are now open to all publishers.
According to Facebook, instant articles are over 10 times faster than standard mobile web articles and get 20% more reads than the average article. This feature is particularly exciting because it makes the great content you distribute on Facebook even more accessible.
5. Social VR
This is definitely one of the most interesting developments from the conference. Facebook has revealed their plans to bring social into the virtual reality world.
Using their Oculus Rift virtual reality headsets, Facebook's Chief Technology Officer Mike Schroepfer "teleported" to London and met up with another Facebook employee who was actually wearing his own headset at the company's headquarters in California. They were able to chat and experience London together as simulated characters. They even took a selfie together, which Mike then shared directly to a Facebook page.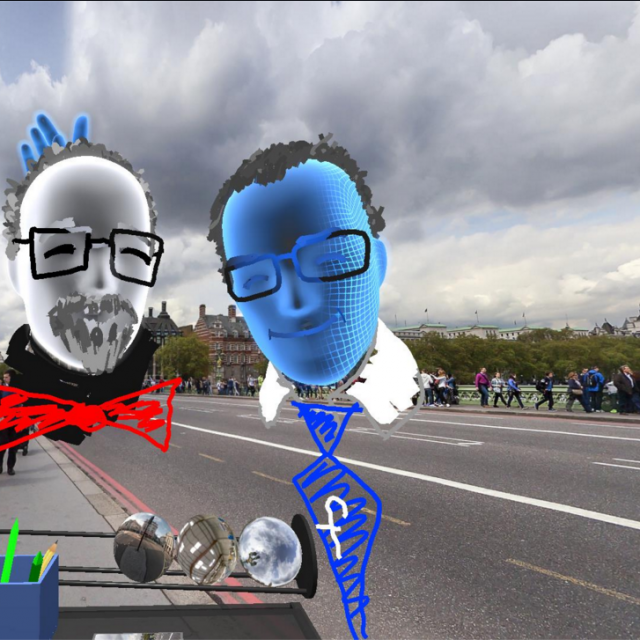 This might just be Facebook flexing the capabilities of their Oculus Rift headset, but it was good to get an insight into what the future holds for virtual reality and social. They also announced plans to launch handsets for the Oculus in late 2016, which will allow the user to touch objects and interact with people in a virtual space. Spooky.
Need help to increase your social media presence?
Are you looking to further engage with your audience on your social channels? Why not get in touch with our award-winning team. We'll be happy to chat about what we can do for you.
In the meantime, follow us on Facebook, Twitter, and Pinterest to keep up with all things content and digital media.