Failure is inevitable in any industry.
It happens.
Small fails. Big fails. Colossal fails that send the shutters down on the business altogether.
Failure is scary but it can be a positive, if you squint your eyes and consider where you went wrong.
Apple's Steve Jobs saw terrible failure alongside his successes – the key here is that he learned from it and used the opportunity to grow.
The same applies to Facebook marketing.
Sometimes, it just doesn't work.
No one sees your posts. The CPC is through the roof. You used the wrong targeting.
Campaigns fail, even if you take the necessary precautions. You prepared a campaign strategy for Facebook; you set aside hefty budgets; your scheduling plan was flawless and target audiences are backed up with loads of data and market research.
You were gonna sit back, relax, and watch the leads roll in.
And then…
To your utmost horror, the results fell short of what you expected and you're left confused about what went wrong. Before you start wrecking your head over detailed reports, think about it in terms of an easier 'why'.
Was the creative good enough? Is it something you would click on or like if it was on your newsfeed?
Why Facebook engagement should become one of your most important KPIs
If your ad creative isn't eye-catching enough, Facebook users are gonna scroll by it and continue watching videos of cats.
Engagement, as a metric, is often overlooked by brands because it's not a direct indicator of how well your Facebook marketing strategy is performing. It doesn't account for leads – the very good stuff – but that doesn't mean that it should be ignored.
Facebook isn't the same platform it was a few years back (or even six months back) and brands need to adjust their marketing strategy to the new rules.
Think about how you measure your brand's success. Is it sales revenue? Are contacts in your CRM your most valuable asset?
It's true that Facebook marketing can help you achieve these goals but it won't happen overnight. Before you start converting leads and making sales you'll need to work hard on generating awareness and engagement.
This is where so many brands go wrong: they shoot for the stars and land someone in a soggy patch of mud, having failed to get off the ground altogether because they're running on hopes and dreams and inflated brand ego.
Engagement has always been important, but Facebook changed its algorithm in January this year, making engagement and meaningful interactions between people an absolute priority.
This means that posts from businesses won't show as often on users' newsfeeds, especially if the content of the ad post isn't engaging and doesn't ignite interactions.
This is a clear signal for brands that Facebook won't serve ad posts unless they bring something valuable to the audience. The more people engage with an ad post, the better the results. Reach will be higher, impressions cheaper and ultimately a brand will reach one of its main goals, such as traffic or sales.
Besides the algorithm, Facebook is developing new ad formats that will provide an immersive experience for users. With these new formats, brands will need to think outside the box and create content that will captivate their audience.
Facebook is rapidly changing its environment and making brands show their creative side and content that delights and engages will be rewarded with good results.
How to use engagement to drive leads – real life examples from different industries
SaaS
Generating leads is incredibly important in the SaaS industry and standing out from the competition can make a huge difference.
Here is how AWeber, an email marketing platform, put a little twist behind good old lead ads.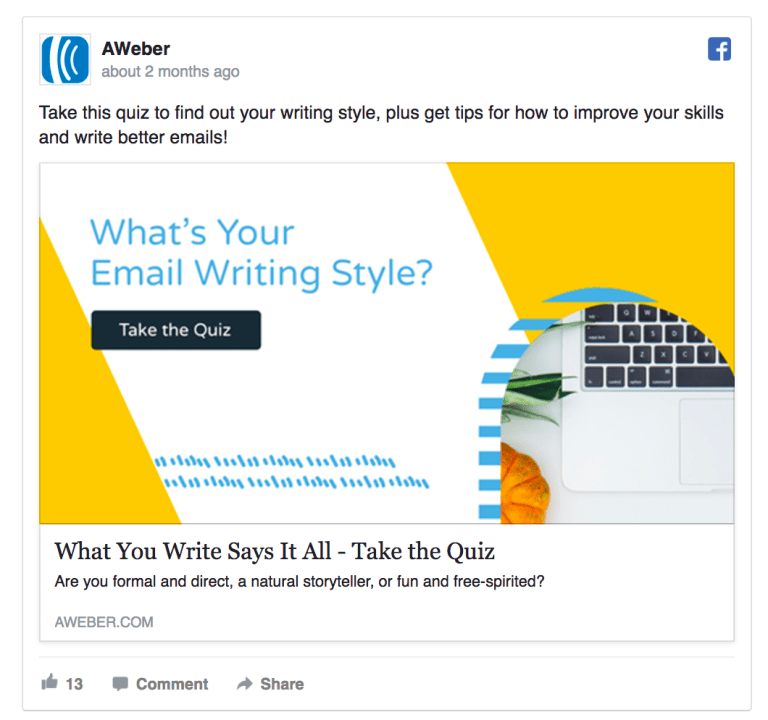 Quizzes are a great way to engage people simply because they are fun! We're all guilty of spending a bit too much time doing Buzzfeed quizzes. But to be fair, finding out which type of doughnut frosting you really are is very important.
So let's analyse this ad and why using a quiz as a hook was a brilliant idea:
It doesn't sell anything; it's inviting people to a fun game. The ad will spark interest and it'll lower its chance of getting negative feedback.
It offers value for those who are interested. The ad message is simple and if a person completes the quiz, they'll get something in return – in this case, an insight into their writing style.
It seamlessly collects leads as people need to submit their emails to get the quiz results.
It's simple; it's effective – and, most importantly, AWeber came away with a bundle of new leads.
This is a great example of what you can do with one engaging ad. Now, let's see how some brands use engagement to help a very long and life-changing decision process.
Education
Education is a real investment and it's something that people will thoroughly research before making a final decision. Marketing education services is no easy task as it requires a strong strategy where the value of the service needs to be its main selling point.
The 'I Want That Course' success story is a perfect example of how insights from user engagement were used to achieve desired goals.
Using different ad formats and different audience segments, the company was able to find the most effective way to connect with leads and nurture them to the decision phase.
Education: The graduating class
In three months, I Want That Course managed to generate 8,000 leads and 4.5X return on ad spend. These are pretty impressive numbers, especially considering how competitive the education market is – but it was a result of spending a lot of time planning and perfecting content.
Another example of how content was used to drive leads is our very own client – the University of Limerick (UL).
UL's postgrad programmes are some of the best in the country but with so much competition, the programmes needed more visibility among target audience. Our strategy was to build UL as a strong brand by focusing on content and addressing issues future postgrad students have.
Aspiring postgrad students have a lot to worry about – how much the studies cost, which programme is the right fit, and the type of careers that are available after completing the course. Once we identified all the pain points, we were able to set up a content strategy that would be valuable and engaging for anyone interested in postgrad studies.
Here are a couple of successful examples of how we used different ad formats and content to help people with their decision-making journey: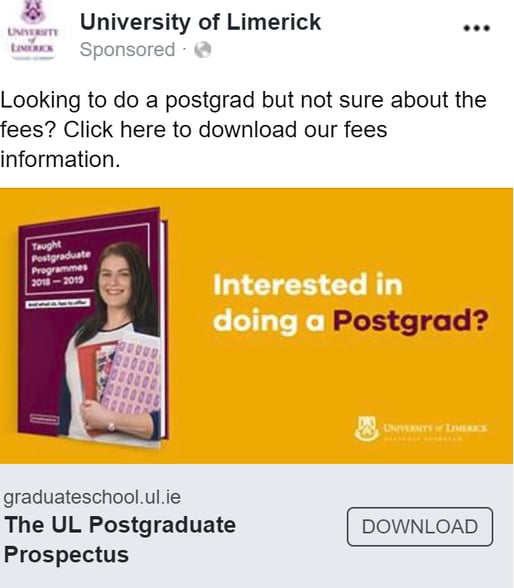 Let's take a closer look at why this ad worked:
The message is simple and directly addresses one of key conditions people usually consider when looking for a postgrad programme.
The ad doesn't sell directly but it offers answers people in our target audience are looking for.
The ad generates quality leads for UL as anyone who downloads the eBook is genuinely interested in postgrad studies.
Video is also a great format to use if you want to generate engagement and quickly convey your message.
As part of the campaign, we featured current UL students talking about their experience at the school. The ads generated high positive feedback and traffic to the course page.
This combination of assets and ad formats enabled us to reach more unique users and drive quality leads.
Based on engagement activity, we were also able to build custom audiences and deliver UL's message to the most relevant people.
The new KPI
It's easy to fall into the trap of relying on conversion objectives only. They work well, but unless you've got a regularly refreshed pool of people to market to, your audiences will dry up and you'll fail.
Your budget should split, with a portion for engagement and clicks, and a second percentage for conversions and retargeting.
Test. Fail. Succeed.
Learn.
You may be tempted to dismiss engagement-based content as window dressing – as something that's just there to look cool, but it's one of your strongest weapons in the battle for reaching brand goals.
Next time you have that important marketing strategy, make sure you spend time thinking about your customers and how your message can delight them – instead of being just another post that they scroll past.
Looking to create a knock-out social media strategy?
At 256, our content is created with the future in mind. Our team are experts both in storytelling and social media, so we create content that's user-friendly and strategic. Get in touch to find out more about our services.