Facebook Pay is the latest leap in product development from the social media giant and for social media marketers, it's a very welcome one.
Facebook's family of apps – Instagram and WhatsApp – have become some of the most powerful marketing tools in the digital age, but there has always been one major flaw. Until now it has been impossible for consumers to buy anything without leaving the apps.
With Facebook Pay, the big blue brand has its sights set on becoming an e-commerce giant. But can Mark Zuckerberg & Co. take on the likes of Amazon, eBay and Google Shopping?
That remains to be seen and recent speed bumps have not signalled a good start to the adventure. But Facebook has an uncanny ability to come up smelling of roses and recent figures suggest that despite the bad press, Facebook as an organisation is still on the rise.
Facebook has certainly evolved in its lifetime and acquired some very big names along the way. Instagram and WhatsApp are the creams of the crop and recent updates to both are making way for them to become a place to browse and buy without the need for a website.
This will no doubt open the door for online retailers who will now be presented with a fully functional e-commerce platform without having to part with a wad of cash. Instagram checkout already allows this but has only been rolled out to a small number of US retailers and brands so far.
So, what is all the fuss about then? Well, let's answer that very question by looking at what it means for consumers, retailers and social media marketers.
What Facebook Pay means for consumers
First up, let's look at the official breakdown from Facebook:
With Facebook Pay you can:

-Add your preferred payment method once then use Facebook Pay where available to make payments and purchases on our apps, instead of having to re-enter your payment information each time.

-Set up Facebook Pay app-by-app, or choose to set it up for use across apps (where available) — that means we won't automatically set up Facebook Pay across the apps you are active on, unless you choose to do so.

-View payment history, manage payment methods and update your settings in one place.

-Get real-time customer support via live chat in the US (and in more places around the world in the future).

-Clearly understand which payment services are part of Facebook.

Facebook Pay will begin rolling out on Facebook and Messenger in the US for fundraisers, in-game purchases, event tickets, person-to-person payments on Messenger and purchases from select pages and businesses on Facebook Marketplace.
The plan is to bring Facebook Pay to WhatsApp and Instagram soon where it will help to complete the missing piece of the social media and e-commerce puzzle.
Once this happens, consumers can choose to shop on Facebook, Instagram and even WhatsApp. They'll also be able to make a purchase from any brand or retailer without leaving the app – a massive win for advertisers as it makes the payment process frictionless – as long as that brand or retailer has the functionality enabled.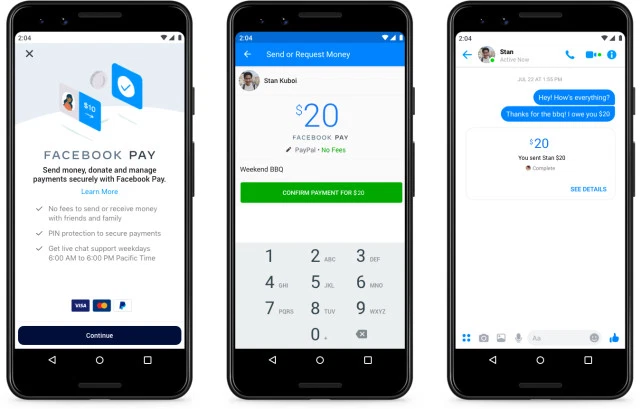 What Facebook Pay means for retailers/businesses
Facebook claims to be on a mission to: "…help businesses grow and empower people everywhere to buy and sell things online."
It's obviously a very noteworthy cause, but it's undoubtedly playing second fiddle to Facebook themselves making a ridiculous mountain of money (rightly so).
The good news for retailers is that the company is very good at putting its money where its mouth is and, as we know, they have no shortage of that. They also have the skills and expertise to turn this into a massive success for all involved and any social media savvy sellers should already be rubbing their hands together in anticipation.
Facebook and Instagram are already effective for online shopping from a visual perspective and their creative options are usually superior to any other platform. That visually stunning edge coupled with a quick and easy in-app checkout should spell success for businesses and retailers. Impulse buying can now be more impulsive and getting rid of the extra steps that can cause drop-offs should improve sales figures.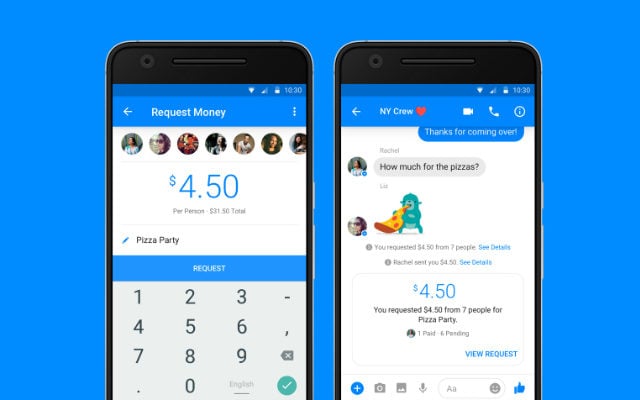 What Facebook Pay means for marketers
For many social media marketers, this is the Holy Grail. Now we can market, re-market and convert without the consumer having to leave the app. For years, the struggle has been real in trying to compete with the success of Google and Amazon.
Many online shoppers start their path to purchase on social only to get lost along the way due to different attribution models, cross-device shoppers being difficult to track and a myriad of other reasons.
Online Return On Ad Spend (ROAS) from social is reported differently by Facebook and Google, so it's common to see Facebook's Ad Manager report a ROAS of 20:1 – where over on Google Analytics, that figure is usually much lower.
Now that transactions are taking place on the same platform, we are more likely to see an accurate and trustworthy reporting of results. Revenue figures are much more likely to reflect reality and finally, we will see metrics like ROAS become a true reflection of the power of social e-commerce.
Obviously, we will still have issues like tracking cross-device sales, but these should become less important as revenue figures from direct social selling without the need for Google Analytics becomes the norm.
With all that new transactional data at our fingertips, the future is potentially very bright for social media marketers. Better buy those nice sunnies you were just looking at on Insta!