People spend an awful lot of time arguing about the relative importance of keywords when it comes to SEO.
Experts will probably still be arguing this point long after we all find ourselves living in the post-apocalyptic world that films like Mad Max keep warning us about. But dystopian futures aside, one thing that everyone can agree on is that keywords are still important.
Everything starts with a word in a search engine.
What do you need to know about keywords?
Keywords are a bit like Mad Max's V8 Interceptor. They can help to get you where you want to be and keep you ahead of the competition.
Choosing a keyword that people are searching for should generate traffic and ensure that your site is inundated with visitors. Right? Well, not exactly.
This is where competition comes into play. Selecting a common or broad keyword increases the chances that you'll be overtaken by bigger rivals with better rankings.
One way to stand out is to go for long-tail keywords, which are widely regarded as the low-hanging fruit of SEO. These are like quieter back roads of SEO, with less traffic to worry about--unless, of course, you're actually in Mad Max and all the traffic are death machines with guitar-playing crazy people on-board.
A classic example is someone browsing for "shoes" as opposed to someone searching for "best price on size 10 Converse Athletic." Long-tail keywords can lead people straight to you but they can also catch people who are further into the buying or conversion cycle.
People are less likely to optimise their sites for long-tail keywords so a well-chosen option can help your ranking and generate traffic. This can keep you out of the crowded space occupied by the SEO big guns, which is good news for you.
So how can you find the right long-tail words to separate you from the competition and put you back in the spotlight?
What can AnswerThePublic.com do for you?
There are all sorts of SEO and analytics tools that can point you in the right direction. However, AnswerThePublic.com is a particularly easy one to use and it's ideal for people who just want a one-click solution.
The designers also employ a sort of befuddled, hipster Santa as a background visual. This unlikely approach actually injects some much-needed personality into what could have been a rather lifeless interface, so we're all for the woolly-jumpered extra.
The site itself works by mining Google and Bing's autosuggest results, which are based on aggregated searches carried out by users. It combines the info taken from autosuggest results with a question scraper that analyses common search questions about that topic.
Hopefully, they can filter out some of the dumber things people ask Google.
When you look up a word like "content" in AnswerThePublic.com, it instantly pulls up a graphic with the questions and prepositions associated with "content". You can even save the visual charts or export them to Excel if you want to build a database for easy reference.
This is a long-tail keyword goldmine.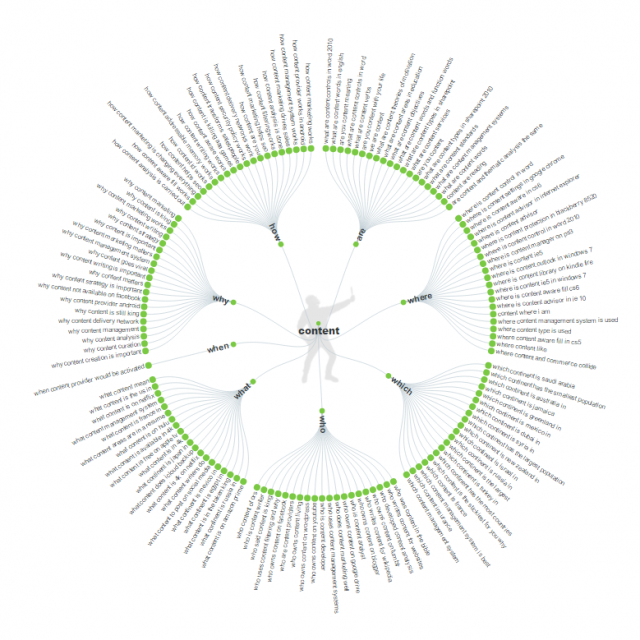 This simple process will help you get inside the heads of your potential customers. If you know what people are asking, you're one step closer to answering their question.
Aside from the ease with which it pulls up data on searches, content writers or bloggers will love the lists of questions it generates. This is the stuff of dreams when you've just wasted two hours trawling through the internet for potential blog titles!
There are similar services out there but AnswerThePublic.com is a simple but effective tool that can be easily used by anyone. It might not be much use in a war-torn dystopian future but it's a great asset for anyone working in content, SEO, keyword analysis or PR.
Want to know more?
Do you want to find out more about content and SEO? If you want to improve your content or find out how your SEO rates again the competition, why not get in touch and talk to our award-winning team.
In the meantime, follow us on Facebook, Twitter, and Pinterest for all things content and digital media.