Trying to get clients and colleagues together for a meeting can be a tough call. There is much to-ing and fro-ing. There can be schedule-checking and email forwarding, failed attempts to integrate Outlook calendars and as a last resort, some good old-fashioned screen-grabbing.
An unwelcome headache.
You may find yourself organising a meeting to resolve the issue of organising meetings.
Don't resort to this, as you can try Doodle instead. This is a no-nonsense and no-strings attached free tool which is a poll voting system with no downloads or logins involved.
Doodle's charm lies in its simplicity and versatility – there's no messing about. Anyone can participate in the time scheduling, as they simply click a link and tick a preferred date and time.
The best thing about Doodle is that it allows invitees to view all available time-slots at the click of a button. In the good old days of event organisation by email, the process might have gone something like this:
An invitation is sent out to twelve people
One person can't make it
Another email invitation is sent out
The first person is happy, but two more people have fallen off the band wagon
Another email invitation is sent out... (repeat steps 1-5)
By the time everyone is on board, the group could have had three meetings and a Hula
Doodle changes all this, as it allows everyone involved to access and edit a spreadsheet which shows all availability in real time. So how does the admin scheduler go about setting up a meeting? Firstly, they must connect Doodle using their email address or social media account, then it's four smooth and simple steps to stress-free event scheduling.
Name your meeting
Pick your available time slots from a very neat calendar interface
Decide if your attendees can tick multiple time slots or only one
Doodle then creates a link which you can share with whoever you like and however you wish; by email, Facebook, Twitter, or carrier pigeon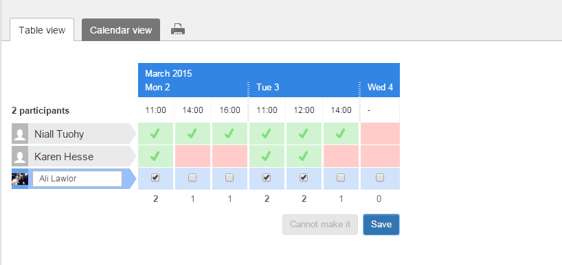 When your participants receive this link they can then tick off their available times. A traffic light system on the calendar boxes clearly delineates red for 'I'm a busy-bee' and green for 'I'm good to meet'. There's a clear tally of votes under each time slot which gives a clear indication of the best times, so everyone involved is happy.
The Doodle Do's of event scheduling
Doodle offers a clean and deliciously minimal interface my grandmother could use
It is an instant solution for event organisation: as it uses a link-mechanic, this is easily shared across different platforms and can involve dozens of attendees in minutes
You can organise an event with no downloads and no strings attached
It works on mobile, so you can schedule on the move
You can propose several time-slots or just one - depending on how many participants there are
The Doodle Don'ts of event scheduling
Doodle made some empty promises, as I could not integrate Doodle with my Outlook calendar, no matter how many times I tried (all of twice; but enough to admit defeat).
If there are lots of participants, you may want to allow your attendees to tick multiple time slots. If this leads to lots of time slots with equal votes, don't panic, you can have the final say and email your chosen slot. That's why if there are only a few participants, it is best to keep things short and sweet and offer one time slot each. Firm but fair.
The design and content of the email invitation was poor – invitees are invited to participate in a 'Doodle poll'. Those who are not familiar with Doodle may be under the impression they are being invited to voice their opinion on fun drawings
Doodle shows that it is always a good idea to call in the experts when you want to save time for more important things. Here at 256 Media, we'd like to help you out with that too. Although we won't schedule your emails as fast as Doodle, we will offer a sharp, fresh direction for your marketing strategy. Why not give us a call?