Time, time, time.
We never have enough of the stuff. So many of us waste precious hours of our working day doing...well, we don't know what. Sometimes we even waste our time worrying about wasting time. Or talking about it!
That's mainly because Marketers lead very busy lives; 36% of them spend 3-4 hours on their email every day. Just as you're about to start your to-do list, a client rings, an unexpected project rears its unwanted head... there's a misprint, an emergency meeting, then a zombie invasion. You're still expected to get to the bottom of your list.
On average it takes workers up to 23 minutes to get back into the groove or 'the zone' of their work flow after being interrupted. According to research, simply avoiding these interruptions just won't work – they will find you, wherever you are.
So this week we bring to you... a time machine. No, we don't do time travel; we are whizzes at content, but that's a little bit above our resources.
What we do have on offer is Toggl.
This is a free time management tool to help you organise your projects easily and quickly. There are a lot of time management systems out there, but many of these tools end up costing us as much time as money because even the office tech nerds can't figure them out.
Toggl has really tapped into the true meaning of time-management: their product is simple, fast, free, and friendly. Revolutionary stuff, we think. And it's about time.
Lollipop Philosophy: Green for Go, Red for Stop
That's how Toggl works. Gone are the days of manual time entries, hours of guesstimates, and worries about over-charging clients. (There is also a manual time entry option, just in case). Toggl records everything for you automatically as you work, the data safely saved in your reports.
So, apart from recording the time for your projects, what else does the Toggl time machine do?
It generates detailed and summarised reports of your projects which you can export. It filters them by date, time of day, client, and tags etc. It gives you access to timesheets and time trends, and allows you to form team pages and user groups for projects (all in a day's work).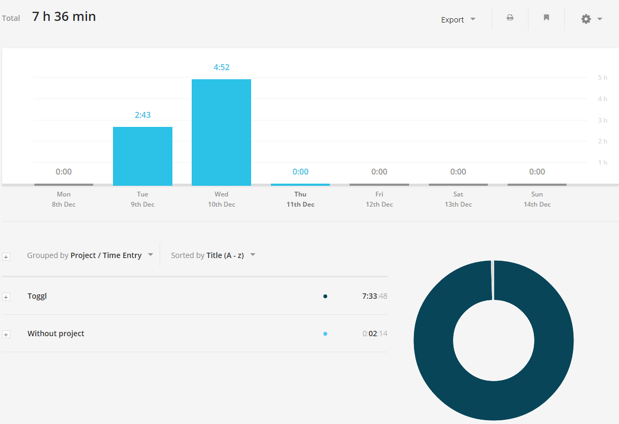 One of the first thoughts that sprang to my mind was 'I don't want lots of time entries higgledy-piggledy for the one project.'
But I shouldn't have feared, as you can choose to 'save duration time only' which means time continues to be accumulated and saved for the one project.
There are two platforms for the tool – the app and an online version. The app lives on your desktop or your phone, and the online version lives happily on a cloud on the Toggl website. The two are flawlessly synced, so whatever time records you have running online will continue to run on your desktop. Neat!
So let's have a look at the great things, and the not so great things about Toggl...
The Yay Factors
There are colour-coded tags for projects, very much like Gmail, so you can let the visual designer in you out to play. You can also be creative with these nifty little tags in more ways than colour coding, such as using them to mark invoiced projects that clients have been billed for and other handy things
Toggl allows you to create workspaces, which you can divide up by departments, and share with whoever you wish, including clients. This means you can show your clients at what stage their project is at
Toggl's silky smooth user experience will have you from the first second. That's because it demonstrates its smooth usability the second you land on its site, with a clever countdown recording how long you have been 'reading Toggl.com.' This clever feature had me at '00.01'
It gives a breakdown of time trends, so you can instantly track which projects are consuming most of your time. You can view these in yummy little pie charts, or bar charts, for whatever mood you're in
Toggl gives you cheeky reward notifications if you complete certain tasks – cheerful gimmicks to help you through your day
All your information and summary reports are stored on a fluffy time management cloud – so they are automatically safe and sound
Toggl has also has an auto-stop function, which means it doesn't matter if you forget to press that pesky stop button and then venture away from your computer for the weekend. This feature is triggered by long periods of inactivity.
The Nay Factors
The desktop app is a one trick pony. It records your time keeping – but that is all it does. It consists of a tiny square window with a start and stop option and a list of entries (suspiciously similar to a glorified stopwatch)
To access the reports you must be brought to the Toggl website. To do anything, in fact, you must hop along merrily to the Toggl website. The app seems to be based on a 'one-size-fits-all platforms' design
There are certain tasks that certainly take longer than others, especially if you're not used to doing these things every day, so there's no better time management tactic than calling the professionals in. Here at 256 Media we're the content gurus, so if you need content projects managed fast and hassle free, why not drop us a line? We'd be happy to help!