Mobile browsing - how big is it? Do I need to optimise for it? And will it really affect my traffic and conversions?
Yes, yes and YES!
In fact, mobile browsing has become so pervasive that Google is testing a 'mobile-friendly' and 'Non-mobile friendly' tag to show up in search results as an aid for the mobile user (see below).

Many businesses have been slow to make their sites responsive, feeling that mobile traffic wasn't that important to them - 'If they are researching my high-tech solution they'll be doing it at work on their desktop'.
However, the game is changing, as Google is moving to show only mobile-friendly sites to mobile users.
How do I know if my website is optimised for mobile or not?
With our #256FridayFreebie of course! Click here to try out Google's Free Mobile - Friendly Test.
Google has been kind enough to provide a Mobile-Friendly Test tool that will tell you if your website is mobile-friendly or not. All you have to do is enter your domain name and wait for the results.
If you don't do so well on the test Google has provided information to help you understand how to get to grips with mobile optimisation for your site.
This is something you should not overlook on a whim. In Ireland, from December 2010 – 2014 desktop browsing fell by 40% while mobile browsing rose by 30%.
Considering the trend below, if you don't get in line you'll get left behind.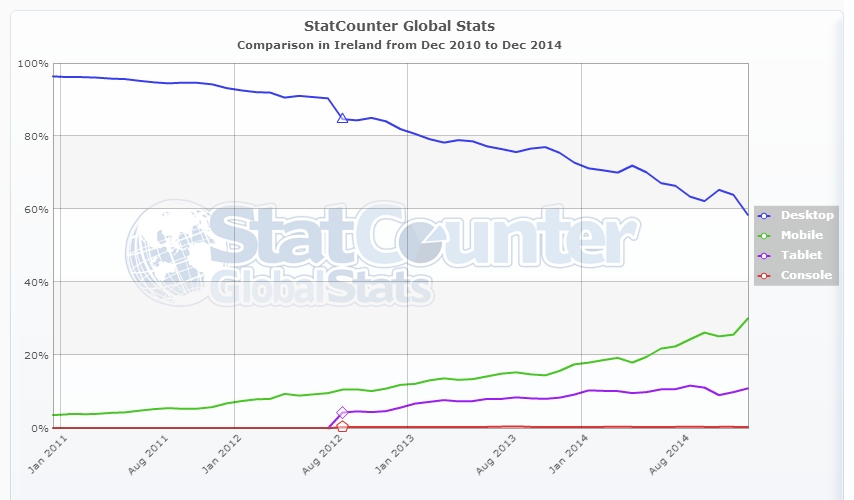 If you need help with optimising your website for mobile, here at 256 Media we can offer you expert assistance and make sure that your website is the best it can be. Get in touch with us for a free 1 hour consultation :)