Those little yellow stars that you have probably seen a bit more of online. Where do they come from? Do they work? And how do I go about getting me some?
In brief. They come from Google+. Yes. Very easily.
Online Review Services
Online reviews have sprung up in certain vertical markets – TripAdvisor for travel and holidays etc., MenuPages for restaurants, Yelp for local services – and this form of review is certainly influential. Their importance and how to handle negative reviews is nicely captured in an online exchange that went viral earlier this month, when the owner of Ouzo's restaurant in Dalkey responded perfectly to a negative review on TripAdvisor.
For those that don't want to be active on Social Media because it only gives customers the opportunity to vent and make you look bad, this is the perfect riposte. When people see that you have attended to a problem in a professional and reasonable manner, it reflects even better on you than not having the problem in the first place. Social media is a conversation. It makes no sense to willingly not be involved in a conversation about you.
I am presuming here that you feel confident enough about what you do and how you do it that you would want your customers to rate you. If you don't, then you have some really fundamental problems to sort out before you engage in any kind of marketing.
Google Reviews
You can have your business registered with TripAdvisor or Yelp to benefit from reviews on those websites. But you should also set up a Google ratings service that will show up on Google map results and also can show on your indexed site listing on organic search.
And the good news is that it is remarkably easy once you know about it. Here's what you do.
Create a Google+ account for your business
Invite your customers to leave reviews
It's as simple as that.
Once you have a Google+ account, people can access your page and leave a review. You should encourage them to do so - reminders on appointment cards, leaflets, invitation on your website, facebook page etc. Once you have reviews up there, Google will convert those reviews into a star rating out of a maximum of 5 stars, show how many reviews this is based on and provide a link for visitors to read the individual reviews.
How do Google Reviews benefit your business?
Google Reviews are good for your business for a number of reasons
You will show up on Google Map results which are prominent on results pages - see the image below showing results for a search for pubs in Ballsbridge (a bit worrying that that was the first search that sprang to mind!).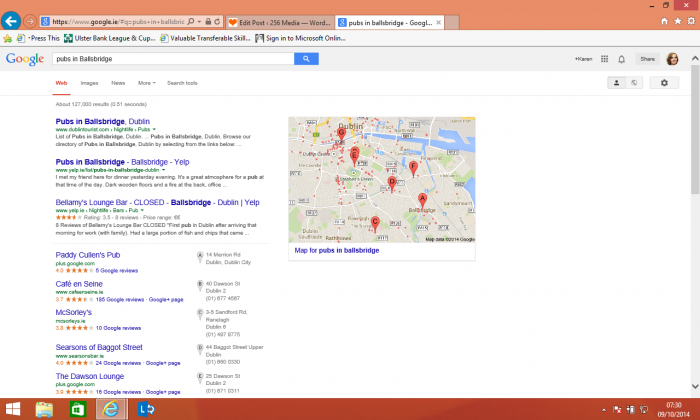 Assuming your customers leave generally positive reviews, you will find new prospects encouraged to do business with you. Two separate studies have suggested that independent feedback can increase orders by up to 14%
You can include these ratings on your Google search ad via a ratings extension, therefore claiming more real estate and stand-out for your advert. Google takes these from G+ and other online sources
Your conversion rate will be higher. This is good in and of itself (hence point 1 above), but the knock-on effect of this is that it sends more positive user signals to Google, which will translate into a better Quality Score. This, in turn, will lead to an improved Ad Rank, which means better value from your Google Adwords campaign. Still with me? Doesn't matter - botttom line is that your Google Adwords can deliver up to 20% better value.
The thing to look out for though is people 'gaming' the system. You need to keep an eye out for that. This is one of the reasons that Google has changed how it is doing this in the US. But for the time being, get on it and reap the benefits.
Product listing reviews
For E-commerce traders, there is another way to go about this that enables you to provide customer reviews right down to the product listing page.
Where Google and other reviews deliver a rating on your business overall, product listing reviews enable you to place rating stars right beside the 'Add to Cart' button.
Feefo is a company that is an accredited content partner to Google. This means that Google will accept the ratings that they provide because they have checked out how they do business.
How they do this is as follows:
You supply them with customer data that can include SKUs (sorry, plain English alert - stock keeping units).
Feefo send out an email to that customer asking them if they would like to review their experience with your company and that product purchase.
The feedback is displayed on Feefo's website, but also on your own. If somebody leaves a negative comment, then they need to add a text comment.
These service ratings are collated and fed to Google and displayed in Advertising Ratings as Gold Stars in Adwords campaigns
Google in the US have introduced these ratings alongside Product Listing ads, but not yet internationally, so for now Feefo appears to be your only man for product level feedback.
Unlike Google Reviews, however, there is a cost to using these guys. Well, they are called Feefo, not Freefo :)
If you think that's something, wait until you see what's coming further down the track
If you are concerned about publicly available customer reviews as an e-commerce trader, then I have bad news for you. It's going to happen anyway, just as soon as StellaService expands its operations here.
Described as 'the most powerful company in e-commerce. Or at least the most powerful company you haven't yet heard of', StellaService is a mystery shopping service that shops all the major US online retail operations.
They have hundreds of people across the States ordering stuff online and grading the whole experience through to receipt of goods and handling of returns.
When Google appeared before congressional hearings in the US over possible abuse of its monopoly-ish powers, they apparently admitted to burying other review sites in its rankings in favour of its own. So they have partnered up with StellaService. This is a service that can't be 'gamed' in the same way as the Google Review or Yelp-alike.
So the data used to create the stars on this screengrab from a search for 'Nike shoes' on Google US (you can replicate this by going to www.google.com/ncr) are coming mostly from Stella.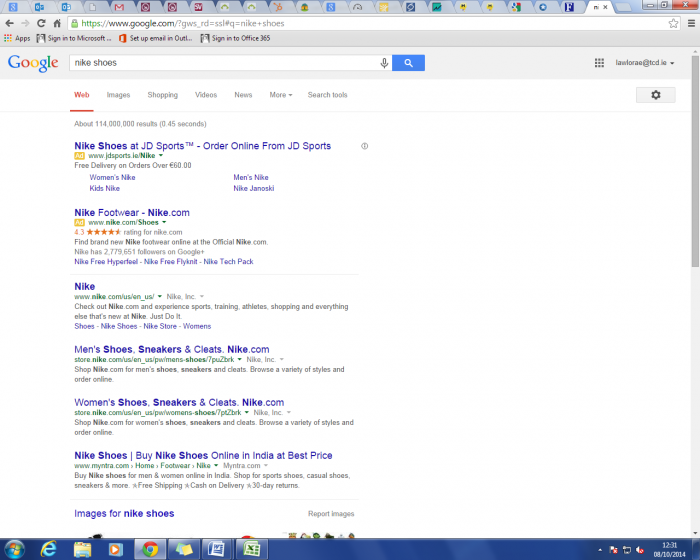 The thing is, you have no choice in the matter. Stella will shop you, as they do over 1,000 of the largest US online retailers covering over 90% of e-commerce activity. They are going to shop you and you can't pay them to bury the results. Where they make their money is in companies buying their metrics service to get access to the detailed reports on their own performance and their competitors.
Time to get your customer service in order, methinks.
In short, whether you are in e-commerce or delivering a local service, it's time to consider how you are positioned for reviews and avail of the simple-to-grasp opportunities that are out there.
P.S.
Another blessing conferred on businesses when you create a Google+ account is that when people search on your name, you get to control more of the real estate above the fold. Which just means that somebody looking for you is less likely to be distracted by one of your customers. See below how The Butchers Block has their Google+ entry below their main website entry, preventing any other butcher getting their sharp knife in. And also, how having a Google+ account means a map with their locations pops up on the right, giving them complete dominance of the space.