Trends. We all follow them. Content Marketers should be on top of them.
This week for our Friday Freebie we bring you a tool from the infamous internet giant Google, to enable you to scan Google for what's what and what's now.
Here we present to you Google Trends, a tool to keep track of what is trending across Google web searches, their patterns and fluctuations up until now, and a forecast of their future. And like most of what Google provides, this tool is very useful.
Let's get analytical
The following image is the result of typing 'Irish Water' and 'water charges' into the Google Trends search bar.
You can filter by
Location - worldwide or by country, in this case Ireland
Date - days, months or years (back to 2004)
Category - Business & Industrial, All Categories, etc.
Type of search performed - Image search, Web search, YouTube search, etc.
Google will then overlap the results so that you can compare the trends of each search:
Numbers on the graph
When scrolling over the graph, numbers will appear that represent how many searches have been done for a particular term.
They don't represent absolute search volume numbers, because the data is normalised and presented on a scale from 0-100. Each point on the graph is divided by the highest point and multiplied by 100. When Google does not have enough data, 0 is shown (whew, enough math :P ).
Bars
When comparing two or more items, bars appear on the left of the graph that represent the average of points for a particular search.
News headlines
Oh, and those letters on the graph? Well they're only documented news headlines for the attached search...no biggie (just kidding, that's awesome!).
Forecasts
There is also the option of receiving forecasts that will predict how the trend will act in the future. Although it may not always be available if you have not searched for a long enough time period or if Google finds it especially difficult to predict.
Now this is particularly interesting...
At the end of the page you are given a list of related searches for whichever label you choose (seen in the top right of the image below). This is helpful in itself, but what is really interesting is the 'Rising' option.
Rising searches are searches that have take a sudden leap in popularity over a given time period compared to a preceding time period.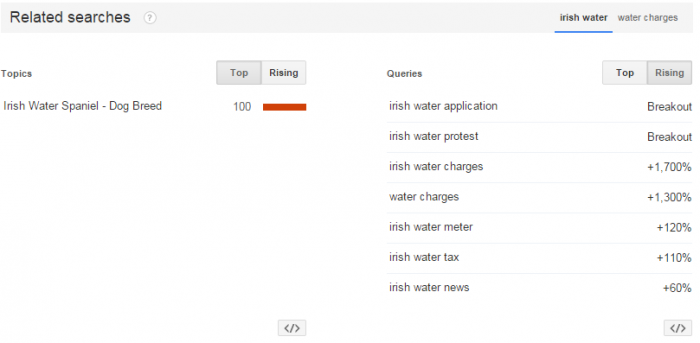 For each rising search term, you'll see a percentage of the term's growth over a period of time. If you see Breakout instead of an actual percentage, it means that the search term experienced growth greater than 5000% (now that's something to keep an eye on).
As well as being able to manually search for trends, Google has created lists of what's trending now for you to search through as well as what is trending on YouTube.
This is a very comprehensive and useful tool that we recommend marketers engage with to really get to know your market and where interests are currently, and possibly will be, lying.
Alternatively, we here at 256 Media can take all the hassle of crunching the data away for you. Get in touch with us for a free 1 hour consultation to learn about how we can improve your Content Marketing needs.