This week we are giving the hashtag the credit it is due, with a free hashtag search tool from hashtagify.me. This is a tool for exploring, discovering, and joining in online conversation. When using hashtags for your content, it is important to keep in mind that:
#randomhashtagsarepointless
#general hashtags are also pointless
Twitter can sometimes feel like a networking party you've just arrived at, where everyone around you is talking really loud and really fast. Which conversation should you try to join? You can start to hover like an eager bumble-bee, waiting for your opportunity to get stuck in anywhere. However after two minutes, your comment can easily become lost in a sea of chit-chat and generalisations.
What you need is a conversation hook which is relevant to you. Once you are giving your opinion on your niche topic, you can speak with authority. Most importantly, you will more than likely be speaking to the right people, and your voice will be heard.
Hashtags are the gateway to your niche topic and they are your conversation hook in the Twittersphere.
If our content is the make-up of social media, hashtags are its glue. For the glue to hold, it's important that we think distinctive, simple, and on trend. When used correctly, those little guys reveal a lot more than we potentially give them credit for. They can tell us which industry topics are the most popular, and who are the top influencers around a particular topic. You don't want to use specific hashtags that won't be understood, or bland, generic hashtags that will allow your tweets to float away in a sea of twontent (last twitter-pun, or twun, promise).
However, you don't have to stand impatiently in the corner of the Twittersphere waiting to catch wind of the right buzzword. You can take out your virtual spy glass, and get to work on some detective hashtag-research. This week we bring to you Hashtagify; a very user-friendly and fast research Twitter research tool which will help you to create more relevant Twitter-content.
The wheel of tweats
So why hastagify.me over any other hashtag research tool? Well, for me it has to be the mind-map wheel of hashtags which is easy, fun and fast to use. There are 10 spokes connecting 10 circles, which show the most relevant hashtags to your search. At the centre of the wheel is your chosen hashtag in a red circle. The tactic is simple: the more you click on a connected hashtag, the deeper you can drill into your data.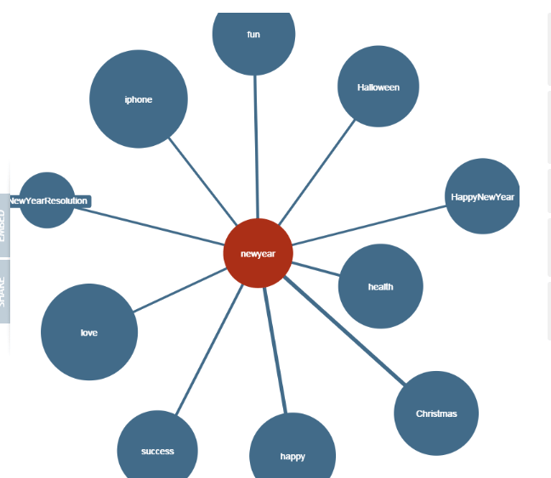 The correlation between the hashtags are measured by the amount of tweets using the searched hashtag WITH another tweet connected to it. This tool is also very useful in that it allows you to track the most relevant hashtags to your industry. (It's all about connectivity and relevance).
So let's look at the other features Hashtagify offers…
1. Your very own Hashtagabase
Hashtagify.me allows you to categorize and store your hashtags into neat hashtag bundles. You can name these bundles anything you like, which means you can divide your industry's hashtags into different industry trends.
2. Popularity Trends
Once you have saved your hashtags, you can easily compare your hashtags popularity over the past 2 months by pressing the little price-tag icon 'start comparing hashtags' (foolproof). These trends are then displayed visually within a lovely line graph.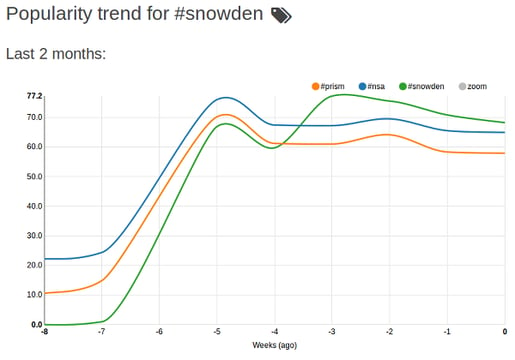 The graph also comes with a thermometer measuring tool, so it can show if your hashtag is still smoking hot in the Twitterspehere, or if it has cooled into insignificance. You can reorder the hashtags you want to track by dragging and dropping them in the list, or remove them by dropping them on the recycle bin. This trend map also predicts the future of your hashtags, calculating how popular or unpopular your hashtag is most likely going to be in 1 week's time.
3. You've got mail: hashtag alerts to your inbox
When a new trend begins on social media, you don't have to wait until it has exploded before you jump on the bandwagon - there are ways to discover emerging trends as they happen with Hashtagify.me.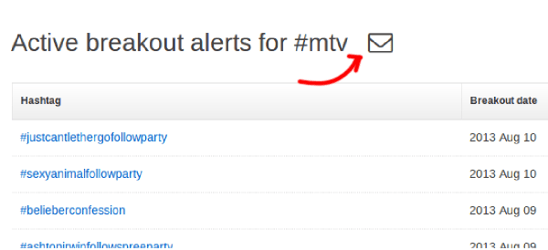 You can set this up hashtag trend alerts with the Hashtagify tool and choosing a relevant hashtag related to your industry, you can press the 'receive email alerts' option.
Hashtagify's the limit
This tool is user friendly and visually impressive, which means anyone can quickly track and record hashtag trends for any industry. In this sense, the free version of this tool will come in very useful when you need to run some fast research for a blog post or other immediate project. However, there are a few restrictions for the long-term use of Hashtagify.
For deeper and more extensive analysis, the free version of the tool falls short:
You can only view up to 10 related hashtags at a time
You can only receive up to 10 email alerts per month
The free version does not offer hashtag recommendations related to your industry (so you will need to put in more elbow work)
The tool does not offer a hashtag dictionary or hashtag explanations, which is a much needed feature. To discover the meanings behind the more ambiguous or specific hashags, I had to conduct further research on Twitter itself.
Discovering the best content trends for your marketing needs can be tricky and time consuming. At 256 Media, we give expert advice on what's hot and what's not in the world of content, so if you're developing a content plan for your business don't hesitate to get in touch.