The unfortunate truth for most writers (and content creators) is that nobody wants to read your content.
There's a book called 'Nobody Wants to Read Your Shit' by writer Steven Pressfield that's considered a go-to for battle-hardened writers. In one of its most famous paragraphs, Pressfield writes:
"When you understand that nobody wants to read your shit, you develop empathy. You acquire the skill that is indispensable to all artists and entrepreneurs—the ability to switch back and forth in your imagination from your own point of view as writer/painter/seller to the point of view of your reader/gallery-goer/customer. You learn to ask yourself with ev­ery sentence and every phrase: Is this interesting? Is it fun or challenging or inventive? Am I giving the reader enough? Is she bored? Is she following where I want to lead her?"
In the grand scheme of marketing, it's a quote that's still judderingly true. Unless you've got brilliant brand affinity, most people won't care.
This is the harsh reality for a lot of businesses today - but there are ways and means to create content that people will care about.
How to write content that converts
1. Make it skimmable
Most people won't read a blog post in full. Instead, they will skim for the key takeaway points so having scannable content is very important. Use headings and avoid large blocks of text. Keep your text conversational and suitable to your customer's tone of voice. Avoid rambling sentences and paragraphs too.
Time is money - for you and your customer.
You need your text to be readable and be sure to check your spelling and grammar too. If grammar isn't a strong point, online tools like Grammarly and Hemingway App will help. (Just don't take them as gospel!)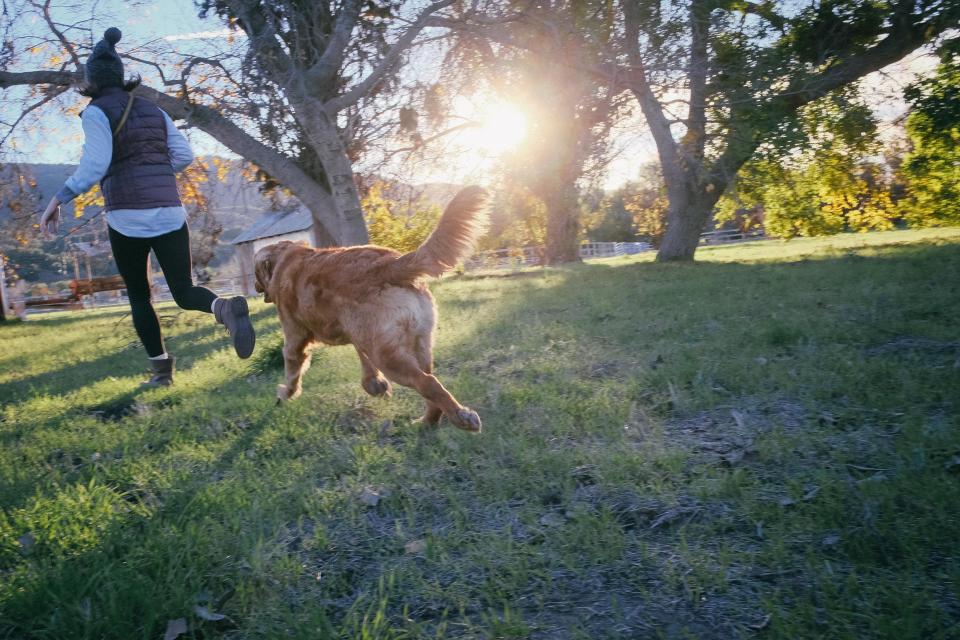 2. You can't underestimate the power of a good headline
Good headlines are essential for drawing in your customers. Be sure your content matches up to your headline too. Nobody wants to click a post that has a photo of a puppy only to be met with reams of text about the economy in Ireland.
If you are struggling to come up with some possible titles, it's important to note that a good headline will answer a question or grab attention. Let's look at a basic example. So you're a marketing agency writing about remarketing. Your title could be: 'Remarketing: everything you need to know' or it could something much more dramatic like: 'I'm being stalked by Aer Lingus - when remarketing won't stop'.
The former is perfectly adequate, but the latter is something you'll remember; just be sure to follow-through with a tone that matches your headline.
Pro-tip: Use Answer The Public to find questions people are searching for related to a keyword of your choosing. Handy.
3. Focus on the inbound methodology and content mapping
Your digital marketing strategy should follow the inbound marketing methodology that puts the customer at the forefront and creates content for them. In order to create content for your customers, you need to first create a buyer persona for your customer.

A buyer persona is a semi-fictional representation of who your buyer is and what is important to them. Building your buyer persona when it comes to knowing how to connect with your audience.
Now let's assume you have your buyer persona sorted, what do you do with it? Using your new buyer persona and your data, you can begin to make content for each stage of the buyer's journey
This is the difference between creating good content and creating good content that converts. Think of it as being a bit like a friendship. If one side constantly talks about themselves and only calls because they want to tell you about how great they are, you'll soon get sick of them.
Instead, think of someone who calls, engages with you and wants to know what's going on in your life. Chances are you'll call them more often.
Being there for your customers with relevant and helpful information when they need it means that they will be far more likely to turn around and buy from you when they are ready to.
To avoid being that metaphorical friend who only calls when they want something, chase potential customers in the awareness stage. At this point, they're just looking around and attempting to identify the problems they are trying to address.
During the awareness stage, you don't need to sell your product. At this point, they may not even know who you are. More than likely, they are there because of your content. If customers find it useful and informative they may save or even share it. Become a recognisable name to your customer and they'll be far more likely to trust you (and spend their hard-earned spondoolies with you).
After awareness comes consideration. At this stage, customers have identified their problem and are beginning to consider what the solution will be. Customers want more detailed information and technical questions answered.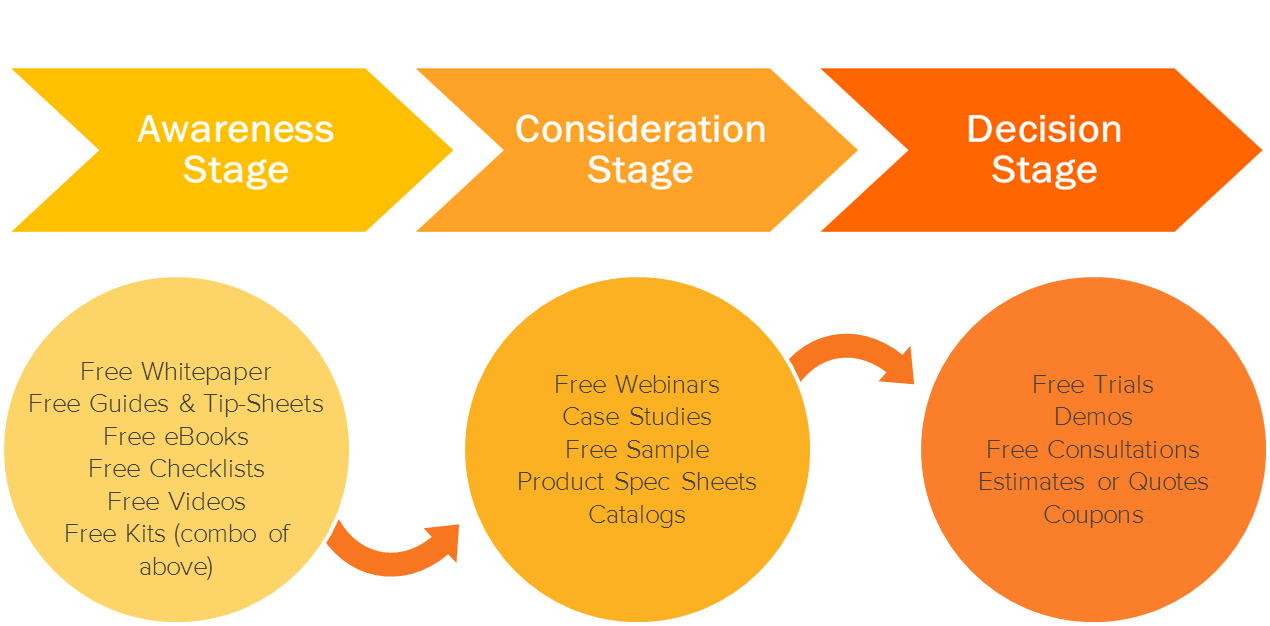 The decision stage is the final step in the buyer's journey. Your customer has armed themselves with the information needed to make a purchase. They are now looking for information on how great your product or service is. That said: don't become that bragging, over the top person shouting about yourself.
By being there for your customers during the first two stages of the journey you have built up a level of trust with them so you are now able to entice them into converting.
Job done.
4. Optimise for conversions
Turning random visitors into leads isn't impossible - not if you've created great content and assets. But you also need to optimise your content for conversion. How?
Include a clear call to action showing your reader how to interact further with your business. Do you want them to sign up for your newsletter or download an asset that further answers their query? Tell them!
Of course, you'll want to tailor it to your KPIs. If you want more emails or comments, ask your customers to get in touch or to leave a comment. Make it obvious; don't have a small call to action button hidden somewhere on your page.
Create a relevant landing page to house your content offers. Include text detailing what your offer will do for them, and a lead-capture form for their data. Learn about the basics of landing pages, check out our blog or read Unbounce's scientific 101 tips.
And there you have it! By creating great content for your customers, you can entice customers to come to you. By including a clear and relevant call to action (with the right landing page), you can increase your conversions and generate more leads.
Sure who doesn't want that?