Video killed the radio star, but will mobile kill off desktop? Probably not, though mobile is on a fast track to zoom right past desktop.
Which begs the question: what does that mean for mobile-friendly content marketing?
Should we be focusing on snackable content? Will people still read long-form think-pieces about why Jon Snuuuuuuh really does know nothing? Or will we be limiting ourselves to gif-based posts telling us six reasons why you won't believe what happens next?
And what about using video as part of your content strategy if you're stuck in the sticks with broadband that's no faster than dial-up? (Ah, the good old days when the dial-up tone was somehow both horribly annoying and a beautiful sound of freedom!)
Just why is mobile so important?
If you've been floating around in digital marketing land over the last couple of months, you've likely heard of Mobilegeddon: Google's promise to penalise websites that are poorly optimised for mobile.
While Mobilegeddon sounded a bit like an apocalypse where your phone would grow teeth and take a bite out of you, it actually arrived fairly quietly. Not too much has changed. A lot of marketers might be tempted to rest on their laurels and think, "well, that's my mobile optimising done."
Not so! Google recently revealed that it's logged more searches on mobile than on desktop in ten countries. That's a lot of searches and potential traffic--but only if your content is mobile-friendly. Mobile searches coming out on top opens up a big old window for content marketing in the mobile age. (Don't forget to close the window, mind. Can't have a breeze giving you a crick in your neck.)
Not too many Irish companies have embraced mobile content and while you might be tempted to think "sure my blog is responsive" and leave it there, you could be trifling with a chunk of your audience.
Designing a site that scales down nicely to fit on various devices might seem like enough for now…but will it be enough in six months? 12 months? Two years?
It won't.
Remember in school when you were getting ready for your Leaving Cert (or the Inter Cert if you're of a certain generation) and your teacher would trot out the old chestnut about how failing to prepare was preparing to fail? While she might not have been too right about the importance of integers and calculus in your future, she was right about that one.
Get ahead of the curve and start embracing excellent mobile content now and you'll set your company on a clear trajectory to glory.
How do I design content for mobile users?
The better question is: how do mobile users consume content? (Nom.) The answer to that is much less concrete, but much more applicable. There is no quick and easy answer; it varies brand to brand.
Ask yourself:
What devices are your users on? iPad, iPhone, Android, Windows Phone? An old block from the mid noughties?
Why are they on your site? Are you an e-commerce brand and they're browsing for possible purchases? Are they window shopping and not buying?
Are they interested in your articles? Do they want to watch a video or browse a gallery?
Use your analytics to dig deep. What pages have big drop-offs? What landing pages are working and which ones aren't? If you're really stuck, try sending out a survey to your customers.
Once you know why they're on your site and what they want from you, you can start planning a real mobile strategy.
What kind of content works on mobile?
How long is a piece of string? No, but seriously, as with any great content strategy it's all about your audience. No 'one size fits all' approach exists. Sure, it'd be handy if it did, but smart content marketing is about personalisation and making your content work for your audience.
So what should you focus on in your mobile-friendly content strategy?
Embrace visual content
Video and imagery are where it's at right now. Instagram, Vine, Periscope, Pinterest, Facebook, Twitter…the list goes on and on. When we're on our phones we want info delivered to us quickly. We want to get right down to the point and watch cat videos or fail compilations or six-second home improvement tips.
We don't want to have to search through troves of other stuff to get to what we want. Make your content navigable and easy to get to. Most of all, make it visually appealing.
Focus on localised content and geo-tagging
And not in a creepy way either. Did you know that if someone turns on their photo map on Instagram, you can essentially track them down to their front porch?
https://www.youtube.com/watch?v=NKZqvGglsp0
While that's geo-tagging to the extreme, keeping your locale in mind makes a lot of sense when you consider that 53% of mobile searches are made with a local intent.
You've likely done it yourself. You're struck with hunger pangs so you Google 'chippers near me' or 'chinese takeaway Harold's Cross'. Maybe you've decided to go for a last minute pint and you've Googled 'cool pubs Dublin'. If you've got a local interest, embrace it and create content around that topic.
Keep multi-channel in mind
Multi-channel is the idea of creating content for different channels e.g. on mobile or desktop. Let's say you've made a game and you want to push it through certain channels. You need to stop and think about your analytics and how your users will engage with your content. If your analytics are telling you that your audience use mobile devices with small screens do you really need a game?
Maybe your audience has a lot of tablet users—that's who your game is for.
Mobile devices have certain limitations too: they're just not going to be as fast as your computer, so you need to think about that when you're planning your content. A gorgeous graphic-intensive video site might work on a laptop, but how will that translate to mobile where loading speeds will be slower and you have limited bandwidth to chew on?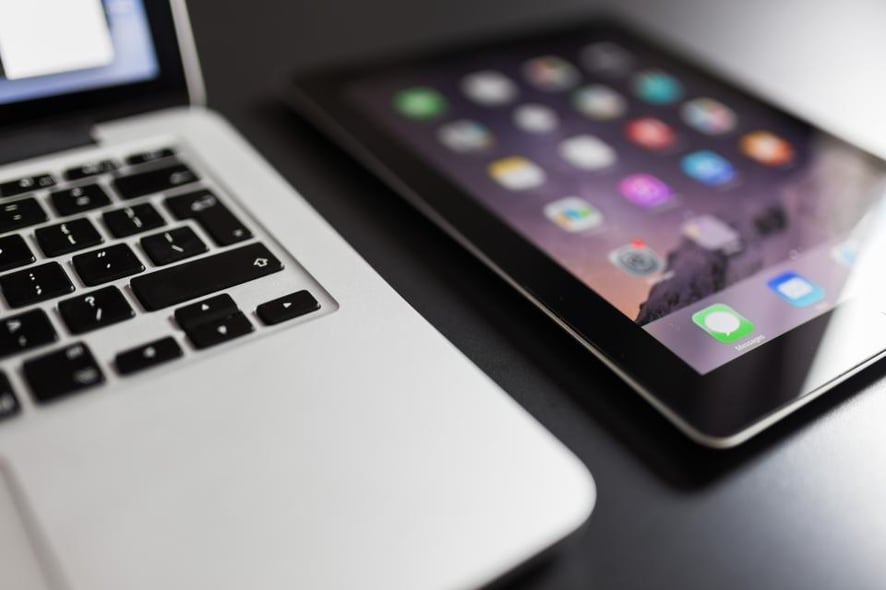 Be smart about formatting and blog length
Right now, there's plenty of back-and-forth about the best length for written mobile content. On the one hand, you've got Facebook introducing native long-form articles and on the other, you've got 100 word snackable content 'bites' going viral.
What's a marketer to do?
Try it out and see what happens. Test out content length. Is your audience going gaga for quick 400 word reads and loads of gifs? Great. Is your most shared content long-form reads about social media in the sales industry? Keep it coming!
Whatever length works for your brand, blog/article formatting shouldn't be an afterthought. The goal of properly formatting your content is to make it as readable as possible:
Keep your paragraphs short.
Embrace short sentences. No one is going to scroll through a complex 500 word sentence. You're not writing a novel!
Make sure your content is skimmable with bolded points and a clear layout for your headlines and subheadings. Chunks of text do nothing but scare people away. You don't want to scare people away!
Make sure your site is responsive. If your site can't shrink or stretch to fit on all and every device, your potential audience will go running faster than you did the last time you realised you'd left the immersion on. Our own site is an example of a responsive sites.
Embrace the Appening
Apps are a mobile 'portal' for your brand. They're especially useful if you've got a big site with lots of content on it and you don't want to lose anything to make it fit on mobile. The great thing about apps is that they can behave differently to your website, so you can get creative and really customise them to fit with how your audience uses mobile.
Remember: mobile is about behaviour and how people use their devices. Mobile is all about the why. Having an app means you can tailor your content especially for context.
And the award for excellence in app content goes to:
Timehop
We're big fans of Timehop, an app that trades in nostalgia. Connect your social media accounts to Timehop, and Abe, a little green dinosaur, will pull together whatever you were doing 'on this day' over the course of the last few years.
As well as memories, Timehop gives you info on historical events, some seriously cute graphics (Abe would look terribly out of place in Jurassic World), and witty one-liners that will keep you coming back for more.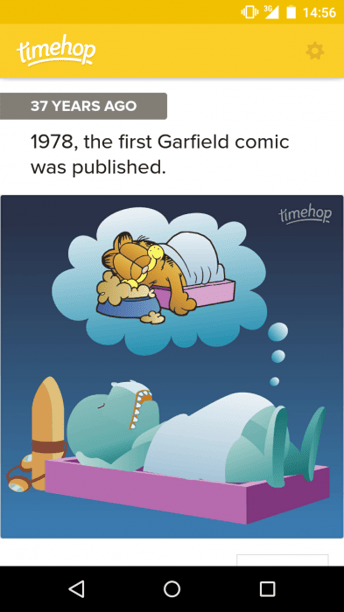 Things we like:
The content is super sharable.
The content is the very definition of snackable: log on once a day for nostalgic delight and do it all again tomorrow.
They've nailed the tone: it's cute, but self-aware and clever.
Runner up: Daft.ie
Truth: I prefer flat-hunting on the mobile version of Daft. Why? Because Daft really thought about how their userbase uses mobile. Let's take a look at the Daft desktop site and mobile app side-by-side: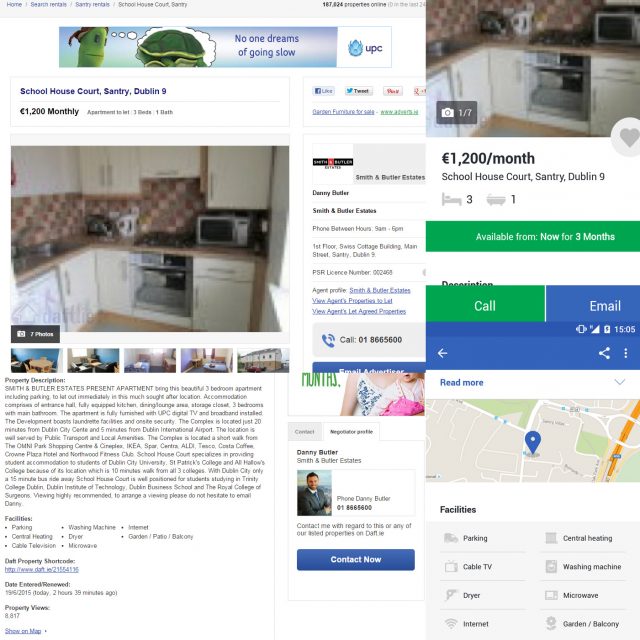 Things we like:
The addition of the user-friendly direct call/email buttons.
The map so you can pinpoint locations you want to search in with a simple tap of your finger.
The clean icon-based lay-out of the facilities in the flats.
As far as content goes, it's not always about extra text or creating things—it's about format and layout and style. Good job, Daft. We're very 'appy about how well your app was made!
So what's the one big takeaway? Both of these apps have prioritised the end-user and tailored their content and features to suit--and therein lies the secret to a successful mobile strategy. It's not about you or your brand. It's about your user and how they're going to interact with your brand on their devices.
Want a piece of the mobile pie?
If you'd like help with getting a successful mobile-friendly content strategy up and running, get in touch with us. As Ireland's leading content experts, you won't find anyone who understands content better than we do! For more content wisdom, follow us on Twitter and Facebook.