Twitter can be a great stage for our content – if the right people are sitting in the audience. But it can be tough to know the 'who's who' of people to follow and target on this platform.
Followerwonk is a tool that can help social publishers do this in two ways. Firstly, by helping users to get to know their own mini-army of Twitter followers, and secondly, by helping users single out the Twitterati (social influencers) of their industry.
Here are four ways you can use this tool to kick-start your Twittertivity.
1. Get to know your followers so you can fine-tune your targeting
Followerwonk reveals key insights about your followers, such as the time they are most active on Twitter and how often they post, so you can schedule your tweets accordingly. It also offers visual word clouds to help paint of a picture of follower bios.
This means you can target your most influential followers by using their handles in your tweets and chipping in on their conversations. To start the introduction process, select 'Analyse' and enter your own Twitter handle. Then, select 'Analyse their followers'.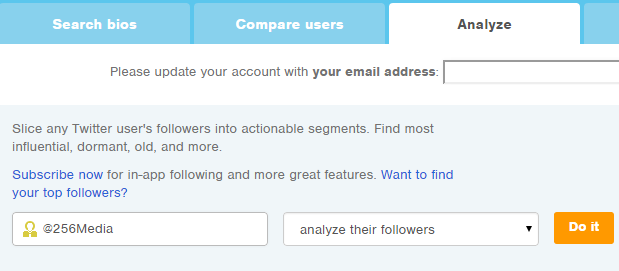 An overview of your data is organised in a list of graphics and pie charts, but you can then delve deeper into each follower by clicking on the 'follower breakdown'.
You can also weed out your most valuable fan base by viewing a little metric called 'social authority'. This data will help you single out the good'uns and weed out the baddies.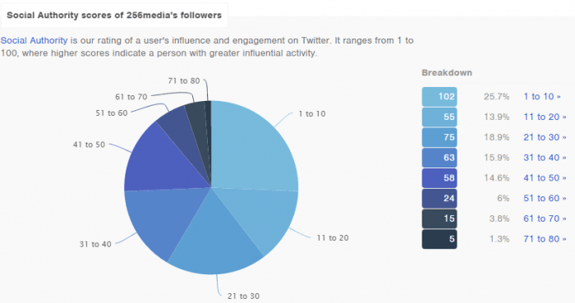 2. Give your Twitter following a spring cleaning
Are you following the right people? Polishing the list of people you follow will give you an all-new and improved Twitter stream – in other words, a rich source of top-notch content and insights.
3. Discover the 'who's-who' in your industry
Followerwonk lets you easily target the cream of the crop in your industry. Its 'Bio search' tool singles out the tweeters with the most social authority as it lets you search by keyword and by location too.
Once you have built a list of industry stars, you can dig deeper and compare them depending on key metrics such as social clout and following using the 'compare users' feature. You can also use this to compare yourself to anyone in the industry.

4. Shameless self-promotion
What's your social authority score? Is it better than your competitor's? If so, don't be modest – tell the world and get it out there.
Great things about this Twitter tool
A lot of data eye candy. All the reports are presented in neat and interactive pie charts (yummy).
You can filter by location. One deflating aspect of many marketing tools out there is that they fail to offer Irish insights or data. It was refreshing to discover that Followerwonk was not one of those tools and can reveal Irish influencers for any industry keyword.
Followerwonk allows you to keep track of your competitor's performance on Twitter and spy on who they're following. (Online it's a good idea to keep your followers close, and your competitors closer).
Want to create a winning Twitter strategy and build a Twitter kingdom? We can help! Get in contact with us here at 256 Media today.