For the modern marketeer, there's a multitude of places to post and share content - from Facebook to MailChimp, Wordpress and Drupal. Yes, this is a sign of the times, and it makes us as happy as Larry.
However, the problem is that these platforms all have their own measurement rules when it comes to uploading images. There's the size of your Facebook cover image to consider, your blog platform, and don't forget that finicky thumbnail for your app. Working out the different pixels and dimensions can get super-annoying, super-fast.
The best way to combat these rules?
With the Google ruler.
The Google page ruler does exactly what it says on the tin, showing users the width and height of any element on a web page. And so we've heard, it's the most popular Chrome extension for measurement with over 100,000 users. Its main use is helping developers design new websites, as it can show the exact position of elements on a page - and it especially comes in handy when measuring elements for responsive design.
However, for the average marketer, the magic of the Google Ruler lies in image re-sizing for the web, as it allows users to measure image dimensions needed for mobile sites, for content marketing platforms and social channels too.
Here's an example of the Google Ruler in action: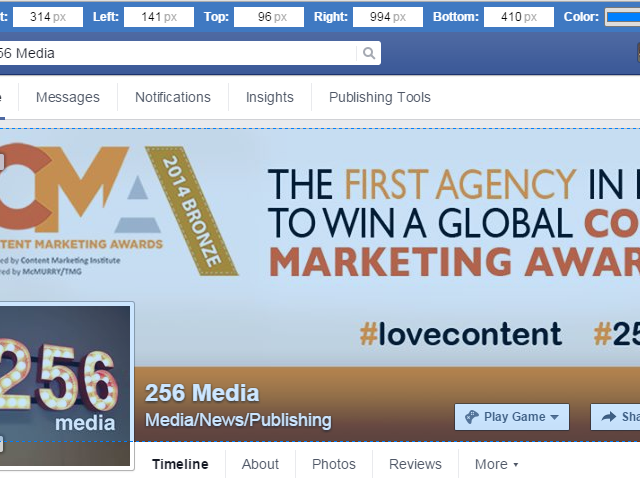 Looks Great! But how do you measure a web page with Google Ruler?
Download the Google Ruler extension for your browser
Click the little ruler tab at the top right hand corner beside the search bar
A blue cursor will appear over your screen
Pull the cursor over the element you want to measure, and adjust the lines as you please
At the top left hand corner you can take note of: pixel width, pixel height, and the margins which tell you exactly where an element lies on the page
For those of you addicted to the Microsoft Snipping Tool (like me), Google Ruler is not similar to taking a screenshot - the screen is still live while you measure. Which is a good thing, because otherwise measuring a responsive website would be impossible!
When you have your image dimensions, you can use any online or desktop photo programme to resize your image; even good old 'Microsoft Paint' will do the job!
So, our conclusive thoughts on this little tool? Google Rules. (Sorry - we couldn't resist!).
Want an all-round method to fill your content platforms with fabulous, optimised content? You can drop us a line any day of the week.