Now, I know I'm dating myself (well, nobody else would), but when I was a young fella going to the P&R disco in Greystones, they used to have 'slow sets'. For most of you, this will require explanation, so …
These were sets where the music was slow, a guy asked a girl up to dance and you danced, well, 'slow'. You put your hands around her midriff, she put her hands around your shoulders and the two of you shuffled around in a circle continuously. Generally, conversation would be stunted on a good day and non-existent on a not so good one. We were teenagers, after all, and half of us were male. It was a tactical minefield, as you would try to draw the two of you closer, while she either conceded ground or not. If it sounds cro-magnon, well, that's pretty much how it was.
'Lobbing the Gob'
A mate of mine (honestly, this wasn't me!) was a great man for 'lobbing the gob' as we called it. If he wasn't getting anywhere in terms of drawing her physically closer, towards the end of the dance he would just 'lob the gob'.
(To those of us visiting this article from beyond Irish shores, this means throwing your open mouth at hers in the hope that it would get a friendly reception. And, no, I'm not making this up).
Needless to say, you needed to be pretty good at handling rejection for this kind of thing. It was a numbers game and the percentages were low.
Many websites I see take me back to the P&R Disco. As marketers, we invest a huge amount in getting ourselves into the disco (advertising in the media frequented by our prospects), plucking up the courage to ask the girl to dance, actually get a 'yes' (get the prospect to visit our site) and then let ourselves down during the dance. Many of us just 'lob the gob' (hope that they like the look of what they see and that'll be enough for them to buy).
It took me quite a few years to realise that if you graft personality onto the package, and don't rush the process, then you – yes, even I! – could improve your conversion rate dramatically. We are working with a couple of major brands at the moment who have invested tremendously in getting dances, but are disappointed with their website conversion rate.
They have spent relatively enormous amounts of money to get the traffic. Brand awareness and site traffic are up by healthy percentages off the back of campaigns. But the sales figure is not quite what was expected, given the health of the other figures. If this sounds familiar, well, chances are, you need to look at your website and ask yourself 'Is my site optimised for conversion?' or am I just 'lobbing the gob'?
Personality
Is the tone of delivery such that the visitor naturally develops an affinity for you, or are they left feeling 'meh – we haven't really bonded'? A combination of design (dresses well), content and tone (personality) can deliver a 'first sight' connection.
Confidence
The girls always liked the guys with confidence, the ones who didn't try too hard because they didn't have to. So deliver your site with a confident tone that is borne of knowing that you have a great solution.
Conversion is a journey, not an event
Typically, it takes 7 to 12 contacts before a prospect is ready to buy. So ask yourself if your website is facilitating this? Is there content there that will bring them back again and again? Is there anything available on your site that is sufficiently attractive for them to surrender their email address? If there is – are you set up to follow up with further content that sustains the relationship? In other words, don't 'lob the gob'. Aim for small steps. Aim for a number. Or an email address.
Do you have the content assets?
Do you have content that is geared to:
Top of the sales funnel: Content that helps the visitor to solve a problem they have (an ebook or 'How to' articles). In other words, be genuinely interested in the prospect and look at what the issues are from their perspective.
Middle of the sales funnel: Once you've got their interest and attention, do you have any assets that convince them that you are the best provider of that solution while they are considering their alternatives?
Bottom of the sales funnel: Content that is designed to get them to move on the deal quickly – Pros and cons, comparison versus alternatives, case studies, webinars, etc.
Do you smoothly guide the sales process?
You may have a fine suite of content available that is tailored to take your visitor through the sales journey, but unless this is easily navigated, you will end up back with your mates. So having dedicated landing pages and clear calls to action as part of your campaign is critical.
What key conversion rates do you need to measure?
This will vary from business to business, but the normal process is to measure your visitors, leads and customers, then determine the following three metrics.
Visits to lead %
Improve this metric by guiding visitors to landing pages with calls to action i.e. a page from where they can download a piece of content that is of sufficient value to them that they will surrender their email address.
Lead to customer %
This metric helps you understand if you are generating sales-ready leads or not. If you can improve this metric, you can improve customer generation without needing to generate additional leads. Improve this figure by following up with emails that deliver content that you know your prospects have an interest in from their first content interaction. Develop their profile further by offering additional content that they should be interested in.
Visit to customer %
This metric helps you see the whole picture. How is your funnel functioning as a whole? Is the traffic you're generating converting into customers? Monitoring these figures each month enables you to see how a particular campaign performs and brings focus to the importance of increasing these ratios. Achieving growth in the figures over time will indicate that you are getting better at delivering quality content and driving better quality traffic.
Content Marketing delivers a 6-fold increase in Website Conversion Rate
Research by the Aberdeen Group indicates that companies using content marketing achieve a multiple of 6 times the conversion rate of those who don't. Your website conversion rate is critical for return on investment. So don't invest all your time getting people to the dance just to shuffle around in a circle. Embrace content marketing and your site can look like the guy in the picture.
FREE OFFER
For the full picture on how to mitigate cart abandonment and achieve higher conversion rates, download our ebook on the subject. This ebook looks at the whole journey and also contains the results of a survey we completed on the adoption rates of various tactics and tools, so you know whether you are ahead or behind your peers. It also highlights the areas that Irish firms are doing well, and not so well, by comparison with our international competitors.
Nice, eh?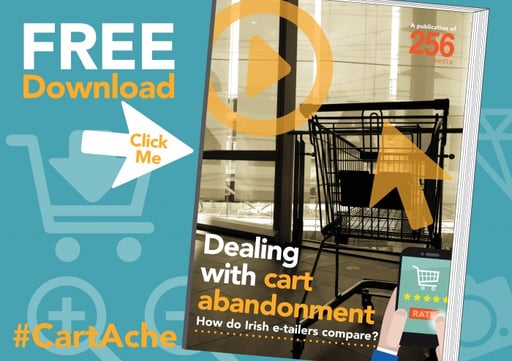 Listen to the podcast discussion of this topic on TodayFM's Sunday Business Show
Check out the podcast of Conall O'Morain of The Today FM Sunday Business Show interviewing Adrian O'Farrell on the topic of websites that 'lob the gob'.