We're big fans of Halloween around these parts. This morning, we donned our gladrags, slathered ourselves in fake blood, and fended off the odd looks we got from the other passengers on the bus.
Halloween is a visual holiday and it's at its most fun when everyone goes all out with costumes, decorations, and a ringing sense of mischief.
To celebrate our love of Halloween, the creative crew in 256 made an interactive video for our Halloween Friday Freebie (complete with original soundtrack!).
Get your fingers at the ready before you hit play and follow the instructions (or else! *Cue evil laughter*).
If you like what you see read on to find out why you may want to consider interactive video as part of your content plan for 2016.
Enter the dawn of visual content and interactive video
Increasingly, brands are meeting an echo chasm of thankless content. It's not enough to be great anymore – you need outreach and innovation and actionable content that's second to none.
With a cluttered digital marketplace to swathe through, every new tool and innovation is a welcome departure for brands and agencies. Video hasn't been hugely embraced in Ireland, though it should be. A recent campaign by EBS reached a massive 168,000 views and counting. That's a lot of eyeballs.
The sentiment on the video was excellent too, with a brilliant engagement rate. Video, when done well, clearly works, and while we're all about what works well, we're also constantly seeking to innovate – which is why we've entered the field of interactive video.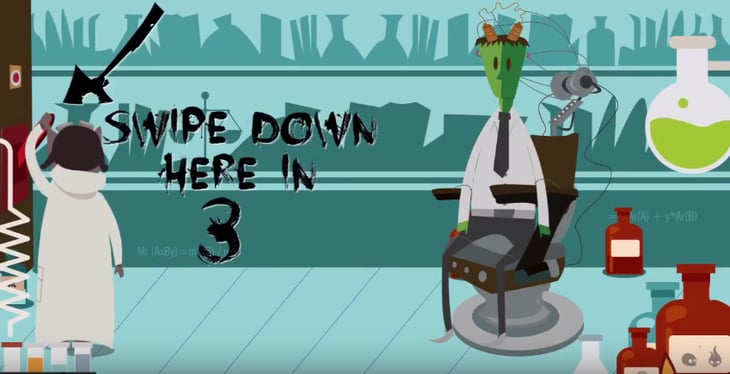 Video is scalable and one of the most effective tools for brand awareness, and interactive videos are a new twist on an old format. A marketer's dream – or a nightmare, if you're using it to bring Frankenstein's monster to life!
Click, swipe, press…engage!
The interesting thing about interactive video is that it's still quite new, and largely scalable. Coldplay created a Webby award-winning interactive video to accompany their song, Ink. The video drew serious acclaim and was a miasma of cool special effects and music that ran more like a game than a music video.
With interactive video, imagination is the limit. If you can think it, animators can probably make it. While we are still in the fledgling days of interactive video, the potential is there: fashion outlets could embrace fully interactive videos that close the loop with a buy button, or bakeries could create recipe videos where you use your fingers to spread butter or crack eggs.
The key to the potential success is the ability to engage your audience in a unique way: interactive video trades in clicking and swiping and pressing buttons. There is no passive scrolling or disengaging your brain: there is active engagement and brand awareness on a whole other level – and all wrapped up in a medium that people already love.
Actively engaging viewers means they're more likely to hang around longer, to stay past Facebook's 3 second point or YouTuber's 30 second mark – to really earn views and awareness.
That's the dream for any brand, right?
Want an interactive video of your own?
Fancy an interactive video of your own? Get in touch with our award-winning team at 256 Media and we can help. In the meantime, follow us on Facebook, Twitter, and Pinterest to keep up with all things content and digital media.