Greetings from Day 1 of Content Marketing World in Cleveland, Ohio, where over 3,400 people from 53 countries are being inspired and educated by some of the leading content marketing practitioners on the planet.
The early theme was set by Joe Pulizzi, head honcho of the Content Marketing Institute, whose uptempo introduction was the precursor to an exclusive look at some of the highlights from the CMI's annual research findings (full reports to be released next month).
But the finding that those that rated their content marketing effective had dropped from 38% to 30% was quite startling and at odds with the high fiving mood. Wasn't it on this same stage last year that Julie Fleischer stood and announced that Kraft Foods were seeing content marketing deliver four times the return on investment that traditional advertising was delivering.
Isn't content marketing the holy grail? Or is content marketing actually wholly frail?
The Hype Cycle and 'the Trough of Disillusionment'
Pulizzi showed us Gartner's Hype Cycle of Emerging Technology, a product lifecycle for new technologies and disciplines. He reckoned we had just passed the 'peak of inflated expectations' and were heading into the 'trough of disillusionment', which we would come out of as the discipline matured and showed ongoing, steady growth.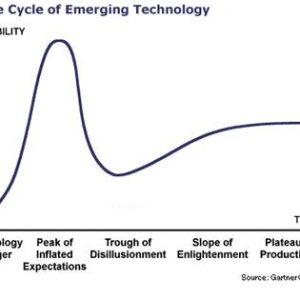 This disillusionment was picked up on by both Kristina Halvorsson of Brain Traffic, and Jay Baer, who went on to identify some of the areas in which content marketers were really struggling. A show of hands demonstrated that very many in the room were on something of a content treadmill, struggling to meet the demands of the schedule and guilty of sometimes pushing stuff out just to get it out and tick the box. Just chatting to some of my fellow attendees, this seems to be endemic in the industry. This 'trough of disillusionment' seemed to me to be based on everyone just being pushed to their limit.
Just say no
As marketers, we want to say 'yes', to be productive and active. These are some of the personality traits that we share. But sometimes we have to say 'no', said Halvorsson.
She cited a paper towel company who 'wanted to be the Red Bull of paper products. They were creating articles such as '20 ways to use paper products in your picnic'. In fairness, she didn't name the company (or their agency) for fear of incriminating anyone. Not surprisingly, they weren't getting traction with their efforts and Halvorsson was called in to see if she could help. The agency was saying that they needed to 'go large' - do more content marketing to see an effect. Halvorsson asked the company, if you weren't doing content marketing, what would you spend the money on? 'Well, our product is great' came the reply, 'so sampling the product is always effective'. And why do people come to your site? 'They want coupons'. Halvorsson's advice was to stop doing content marketing in the way they were.
Jay Baer picked up on the theme with a question to the audience - do you have the passion for content marketing that will see you through when the going gets rough? He told the story of having worked with his group to organise their High School prom. The event went great and was reward for all their hard work. So much so, that he started to dance. With gusto. His mother was present as she worked in the school and was an invigilator (or do they just oversee exams?!). The following he day, he said to her 'So did you see me dance last night, Mom? Thought I really had my groove on there'. (Clearly Jay is not Irish, for about 9 reasons so far in this story!) Her response was 'Yes, I saw you. I think that maybe dancing just isn't your thing'. No matter what you do, your mother will always spot it if it's just not you. And if she doesn't like it, nobody else will. So this is the 'mom test' that he applies to everything he does. Is this 'your thing'?
And in the world of content marketing, it's a test you need to pass, because as Kristina Halvorsson reminded us 'it's hard'.
Strategy is Hard. And Easy.
Strategy in particular, is hard. We need to always ask 'Why?' and not just assume that content marketing is the answer. Firstly, you need a documented strategy, as 1) the research shows that those with a documented strategy are four times as likely to consider their content marketing effective as those that don't and 2) without it you are going to be driving along clifftop roads without a guardrail.
But when it comes right down to it, there are only two things to consider with strategy, said Halvorsson (making what she said was hard sound easy). Business outcomes and customer satisfaction. Focus on those two things and question everything.
Too many are trying to be everywhere when they don't have to be. Challenge everything and commit to making great choices. Your customer will thank you for it. We aren't at the centre of our customer's universe, but we can be there for them when they have a query.
Cleeseland and Cleveland point the way
John Cleese's keynote speech at the end of the day was thought-provoking, hilarious and underscored much of what the opening speakers had identified. The problem was creativity and time. It takes time to be creative. And in today's always on world, it's harder than ever. That's why we have discontent marketers. Cleese, in his inimitable style, was a compendium of insights into the creative process and the power of the unconscious. One such insight was that artists who took the longest over composition (in a test) were more successful and architects who took the longest to make up their minds on decisions (in another test) were also the more creative. For Cleese, it was important to know the deadline and for it to be as far away as possible, not because he was going to spend any more time working on the problem, but because it gave his subconscious longer to work on it.
But therein lies the problem. As an industry, we are taking too much on ourselves under unrealistic deadlines and as a consequence, a lot of the work is poor.
In amongst all of this stress about time needed and the lack of it, and my worrying over the falling reported effectiveness of content marketing as a discipline, it was great to hear the story of a team that has got it so right. Turns out that Cleveland is not just 'the heart of rock'n'roll' - it's also home to a rock star team of content marketers in the Cleveland Clinic. These guys swung the dial back to 'holy grail' in a big way.
The Cleveland Clinic is a high quality medical facility that received 7,430 visits in the month of April 2012. In July 2015, they received over 4,000,000 visits and had gone a long way towards achieving their goal of building a trusted national and international brand. All done through content marketing (full story to follow).
Holy grail? Abso-frooting-lutely!