This tool is simply great. Forms are the lifeblood of digital marketing and conversion. Pretty much any time you want a visitor to your site to take an action you will want them to fill in a form so you capture their data. Here we offer you the ability to easily create a high quality, customisable form in a matter of minutes.
Our Friday Freebie this week is JotForm - a quick and simple, no fuss, free form builder. The second you go to the site you are presented with a customisable form. No sign up. No navigating through the website to find the free tool section. No bombarding text about how great it is or that if you pay you will receive a smorgasbord of amazing internet-breaking options that will change your life.
The form is right there, ready to be made. Simple.
How it works
There are a range of options to choose from that are applied in a simple drag-and-drop format. You can add a range of content depending on the desired form you wish to build.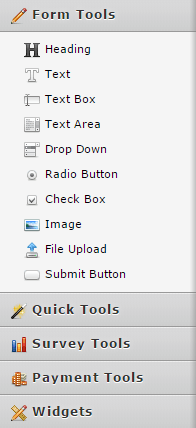 All of the form tools and most of the other tools are available in the free version but certain aspects are not, such as adding a payment option.
To be honest, this tool is so easy to use that it hardly warrants explaining. My suggestion would be for you to click through to the website and just get cracking. It really is that simple.
However, one thing I would mention is that once you have your form built, it can take a minute to figure out how to actually get it onto your website.
Applying the form
After you have your design laid out, go to the tab at the top left and click 'Setup & Embed'.

The 'Themes' option will allow you to add a nice image to the background if you want to add a bit more dazzle to the form. But if you are good to go then click the 'Embed Form' option, after which you will be presented with the following options: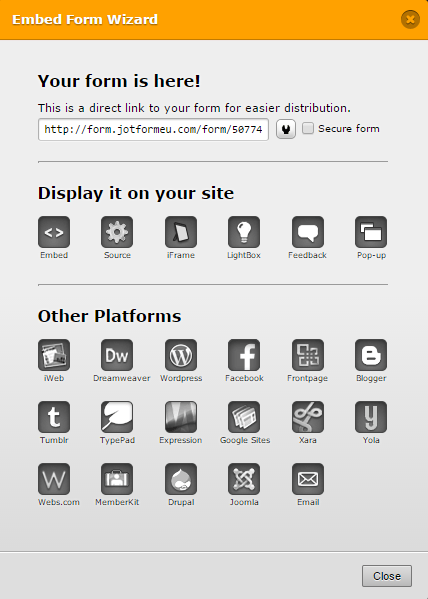 The link at the top will allow anyone to go straight to the form, simply copy and paste it for sending to anyone. Otherwise you can select from any of the other options depending on how you wish for it to be displayed and sent.
And that's all there is to it. You won't truly understand its simplicity until you give it a go for yourself.
The only question remaining is, what do you want the form to do? Here at 256 Media we are masters of Content Marketing strategy and we know how to create a content marketing operation that works for your business. Why not get in touch with us for a free 1 hour consultation?